Candid Coaches: Has coach behavior changed in wake of punishments?
With multiple punishments and firings over the past 18 months, are coaches watching their behavior more closely? We asked 75-plus coaches to find out.
• 4 min read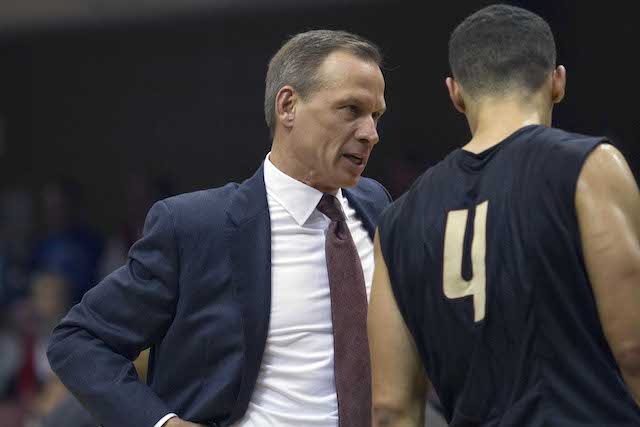 More College Basketball: Early Top 25 (And One) | Coaching changes
CBSSports.com college basketball writers Gary Parrish, Jeff Borzello and Matt Norlander spent the July recruiting period at various NCAA-sanctioned events, where they talked with coaches from all levels. They asked for honest opinions on prospects, players, coaches and issues. They'll be sharing those opinions over a three-week period.
1: Which eligible NCAA player would you take over all others next season?

2: Will a woman be a head coach of a D-I men's program in the next 25 years?
3: Which model best combines the interest for college basketball and the NBA?
4: Should the NCAA remove marijuana from its list of banned substances?
5: Which current high school prospect has the best chance at being an NBA superstar?
6. Will the Power 5 eventually leave the NCAA in college hoops?
7. Which college coach would be best suited to coach LeBron James in a few years?
****
With just over a month until practice can begin for most teams, there is still one school without a head coach: Charleston. The Cougars fired Doug Wojcik earlier this month after investigations into allegations of verbal and physical abuse of players and staffers. School president Glenn McConnell described the firing as "just cause." 
Wojcik is the latest head coach in the past 16 months to be investigated due to verbal or physical abuse of players. The first was Mike Rice, whom Rutgers fired in April 2013 after video surfaced of him throwing balls at players and shoving players, along with directing homophobic slurs at players. Next was Green Bay's Brian Wardle, who kept his job and avoided suspension despite multiple allegations of verbal abuse and misconduct in practice. A disciplinary letter was placed in his file due to the language, but an investigation found that "a good deal of what was alleged did not occur."
While Wardle was not fired, Rice and Wojcik were not so lucky. They were fired due to their behavior during practice. Is this becoming a trend? Are coaches cognizant of what's happening and adjusting the way they coach? We decided to ask that in our latest edition of Candid Coaches.
Mike Rice, Brian Wardle and Doug Wojcik have been fired or punished in the past 16 months. Has that caused you to change your behavior in practice?
Yes: 34 percent 
No: 66 percent
FIVE QUOTES THAT STOOD OUT
"Everything is on video and players instantly talk on social media about a serious issue on the team or secretly tape their coach. If you are foolish enough to act like an idiot to your kids in this day and age, you should be fired. "
"No. We just burn the [practice] films after we done watching them now."
"Truth be told, if they did an investigation of all the programs, 75 percent of us would not have a job. Someone at some point in our career would have taken offense to something we said or did. And that offense would be considered commonplace in the coaching fraternity, but not to a soccer mom or the PC world."
"Those guys deserved what they got, but it's scary that players are capable of just walking into an office and ruining your career. That's in all of our heads now."
"There is a huge difference in being a jackass and a father figure. You can't make a difference in someone's life if they don't respect you. You have to find the line and not cross it. It's tough. But you can't ever put hands on a kid or say certain things. You never could and you just shouldn't ever."
THE TAKEAWAY (BY JEFF BORZELLO)
Before we get into it, a quick note about the "no" answers. Most of them weren't saying that they were overly aggressive before and haven't changed; they were saying that they never acted like that in the first place and therefore haven't changed.
After talking to coaches about these issues the past 16 months, I think it's clear that a large majority of coaches are far more cognizant of their actions than they were two years ago. While some of their behaviors might not have changed, many are more aware of how they need to act toward their players in this day and age. I don't think the news that Rice and Wojcik were aggressive toward their players was earth-shattering; they were known as two of the more intense head coaches in the game. With that said, seeing the Rice video was alarming -- but the Wojcik video didn't have the same sort of damning evidence. Many people thought the Wojcik video of him "throwing" balls at players seemed like a normal drill. I think it woke some people up as to what is considered acceptable nowadays. 
It was obvious most coaches have adapted well to the "new" way of doing things. The Bob Knight style of coaching doesn't really fly anymore with most players; if a player doesn't like it, he will transfer or leave the program. Many schools aren't able to overcome that sort of attrition year after year, and therefore a coach that is overly abrasive to his players usually won't last at a particular school. 
I think there is a fine line between coaching/teaching your players and berating them to the point of no return. Every kid responds differently. Some react better to yelling, some don't learn effectively from people getting in their face. It's a coach's job to figure out what makes each kid tick. But there's still no reason for throwing balls at a player or constantly insulting them, especially when everything is easily recorded and shared to the rest of the world. Nothing is really hidden anymore, and Rice and Wojcik found out the hard way. 
Practices and locker rooms are no longer a place where anything goes. 
And it seems like most coaches are catching on quickly.
Show Comments
Hide Comments
A scandal at New Mexico leads to a rarity for the NCAA Tournament selection committee

These two Hall of Fame coaches have been in the crosshairs of NCAA justice in recent years

Will Kentucky have more than two players taken in the first round of the NBA Draft?
Continues to lobby for a college hoops commissioner; hopes the NBA, NCAA can come together

This development means every Division I job is now filled

The Buckeyes hired Holtmann to replace Thad Matt earlier this month