CBSSports.com Player of the Week: New Mexico's Cameron Bairstow
Cameron Bairstow averaged 22.0 points and 7.5 rebounds in wins over UNLV and San Diego State.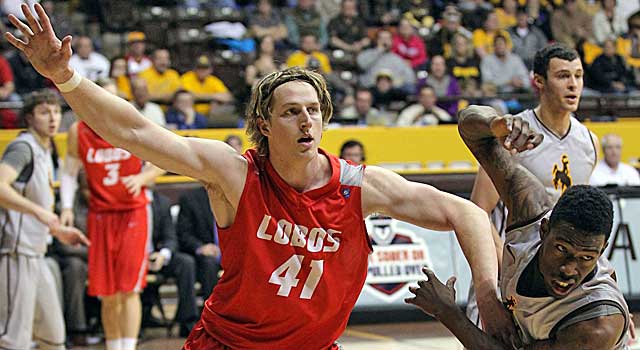 Latest in hoops: Top 25 (and one) | Bracketology | News & notes
It wasn't a "must-win" for New Mexico or anything like that. But Saturday's home game against San Diego State, which was No. 6 in the AP poll at tipoff, was undeniably a big opportunity for the Lobos, if only because it represented the first time since Dec. 7, and the last time this season, that a school ranked in the top-50 of the RPI visited The Pit.
And Cameron Bairstow was terrific.
The senior took 18 shots, made 11 and finished with 26 points and nine rebounds in a 58-44 win over the Aztecs. Combine that with the 18 points and six rebounds from Wednesday's win over UNLV, and Bairstow is the CBSSports.com National Player of the Week.
"I've got the best power forward in the country playing for us in Cam Bairstow," New Mexico coach Craig Neal said after Saturday's win.
Added SDSU coach Steve Fisher: "Bairstow had his way."
The result of all this, combined with Pitt's loss to Florida State on Saturday, has New Mexico ranked in the Top 25 (and one). So, all in all, it was a good week for the Lobos, who are now tied with San Diego State atop the Mountain West standings.
Show Comments
Hide Comments
Our Latest Stories
The Cavaliers used social media Thursday to show support for the 49ers quarterback

The Buckeyes couldn't get a player to dress up, so it was Matta to the rescue

Pressure and criticism forced Neal to transfer from the team his dad coaches
The Mountaineers and Panthers will revive their longstanding series in 2017

A private basketball court, a barbershop, flat screens on every floor, elevated showers and...

Every major team, every big matchup -- and plenty you didn't even know about.