Chris Chiozza rising among 2014 point guards
Chris Chiozza has already picked up two offers since his standout effort in Pittsburgh.
• 1 min read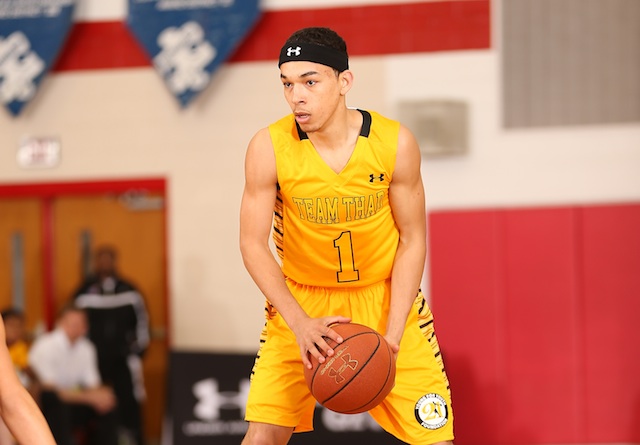 While Leron Black's injury resulted in Team Thad (Tenn.) being knocked out earlier than expected at the Hoop Group Pittsburgh Jam Fest, it also enabled point guard Chris Chiozza to be the go-to-guy.
Chiozza's stock has been rising quickly over the past few months, with more and more schools getting involved.
"Chris is probably the hottest kid in the nation," Norton Hurd, Chiozza's AAU coach, said.
Last week, Seton Hall, Miami and Baylor stopped by White Station (Tenn.) to watch Chiozza, and Florida is also involved. Tennessee and Ole Miss checked out Chiozza on Monday, with the Volunteers extending an offer. USC also offered Chiozza on Monday night.
The 5-foot-10 point guard is guaranteed to draw comparisons to Missouri guard Phil Pressey because of his size and style of play. Chiozza is extremely fast with the ball in his hands, running the break as well as any point guard in the country. 
"He changes directions; you can't keep him out of the paint," Hurd said. "He can score, but he doesn't look to score first option."
Chiozza is a catalyst for Team Thad's fast-paced offense, but he has also improved his ability to consistently knock down shots from the perimeter.
"He's been working on that," Hurd said. "But he's still a pass-first point guard." 
Chiozza is ranked No. 13 among point guards at 247 Sports. 
Show Comments
Hide Comments
Eight of the top nine scorers from this season's team are not returning, but UK will be fi...

A likely All-American, a big-time NBA prospect and an important X-factor to test draft wat...

Kentucky is losing 95 percent of its offense with all of its NBA talent and outgoing senio...
The former five-star recruit has not yet hired an agent

Shareef picked Arizona over UCLA, USC, LSU and others

Stephen Curry, Damian Lillard, C.J. McCollum and Ian Clark didn't come from college powerhouses,...