Clemson takes down Duke in best win of Brad Brownell's tenure
Brad Brownell needed to prove he can beat the best teams in the ACC -- and Clemson did just that on Saturday, knocking off Duke.
• 1 min read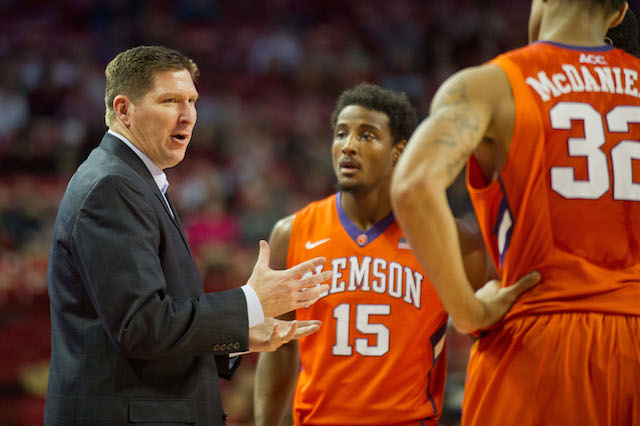 The story coming out of Clemson's win over Duke on Saturday will likely focus on the Blue Devils, as they have now lost two of their last three and are just 1-2 in the ACC.
However, plenty of credit has to go to Clemson for its performance in the 72-59 victory. Three Tigers had double-doubles, including K.J. McDaniels, who is quietly proving himself as one of the more underrated players in the ACC. He had 24 points and 10 boards against Duke, while Jaron Blossomgame had 14 points and 14 rebounds, and Landry Nnoko went for 10 points and 13 boards.
This is an absolutely huge win for head coach Brad Brownell. While there has been nothing publicly said about his status with the Tigers going forward – and there are certainly plenty of coaches around the country that are on hotter seats than him – beating Duke buys him some credit in the Tigers' athletic department. According to Aaron Brenner of the Charleston Post & Courier, Brownell had only defeated two ranked teams in his career at Clemson: Florida State and Virginia. Both were ranked No. 22 at the time of the win, and neither victory really screams "marquee win."
Beating Duke certainly does – no matter if Duke is struggling right now.
Heading into conference play, Clemson had a 9-3 record that looked fairly good on the surface. But the best win was over South Carolina or Temple, and there was a loss at Auburn among the defeats. A 15-point home loss to Florida State on Thursday didn't help convince anyone that the Tigers would actually win some quality games in the ACC.
Then Saturday came, and Clemson's top-12 defense (according to defensive efficiency numbers) stood out. The Tigers held Duke to 34 percent shooting from the field, as the Blue Devils made just 8-for-25 from the field. Jabari Parker was just 5-for-13 from the field, while Quinn Cook was 3-for-14 and finished with eight points.
Offensively, four players scored in double-figures, and the Tigers turned 14 offensive rebounds in 17 second-chance points.
Is Clemson going to be an ACC contender? Probably not, but the Tigers have the defense to pull off a few more surprises when the top-tier of the league comes to town.
And that's big for Brownell.
Show Comments
Hide Comments
Jake Wiley's unusual path has turned him into a rare, true sleeper draft prospect

Diallo could be taken in the first round even though he didn't play a minute for the Wildc...

With the Big Ten tournament moving up a week, CBS will show the AAC Tournament before the Selection...
The Cardinals are No. 7 in the CBS Sports Top 25 (and one)

The Pirates, a No. 9 seed in the 2017 NCAA Tournament, could be a preseason top 25 club no...

The Wildcats' blueprint for this season looks similar to title runs for Kentucky in 2012 and...