College hoops' awesome start keeps going thanks to Huskies, Hoosiers
College basketball's stage is crowded this year, but we've got plenty of time to enjoy everything it can offer.
• 4 min read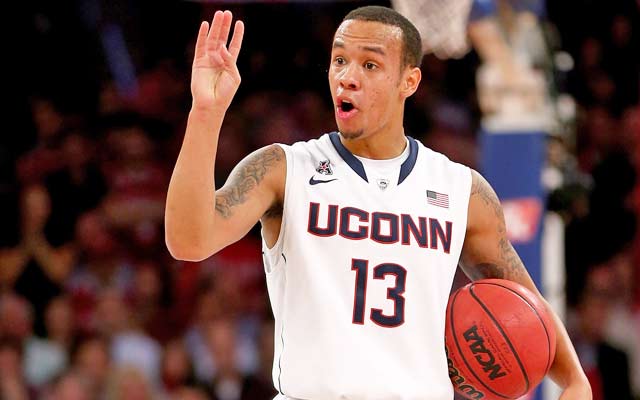 NEW YORK -- At its best, college basketball in the month of November reminds us of why we love it so every March. It's the connecting thread from the previous season to the one that lies ahead. In this sport there are no answers or definitives that come from the 11th month on the calendar. It's all brick and mortar loosely glued together by uncertainty.
And so it's that which is precisely what's great about November. The newness of it all and how it can catch us by surprise. That's what we hope to get from this month. A reintroduction to college hoops, and hopefully a sign that the next 16 weeks have a lot of great that awaits.
On Friday night in Madison Square Garden, the latest edition of what's making the 2013-14 season so special (and setting up for the best campaign in the past 10 years of college hoops) played out between two proud teams with storied histories. Here's the silly part: freshmen weren't a factor. Turns out, that is allowed to happen.
No. 18 UConn held on to knock off Indiana 59-58. It wasn't a gorgeous game. It wasn't an epic game. It was just really absorbing and the latest evidence that college basketball in November is as must-watch and fun as I can ever remember. That's what it was: It was a fun game. A very, very fun game.
"It wasn't going to be about skill, it was going to be about heart," Huskies coach Kevin Ollie said.
And Ollie showed plenty of heart himself. In fact, buzz was that the normally cool second-year Huskies coach was as fiery as anyone has ever seen him during a game. With Hall-of-Famer Jim Calhoun sitting just a few rows behind Ollie, he was channeling the UConn sideline legend.
As for UConn legends, Huskies star point guard Shabazz Napier -- who is clearly one of the must-see players in college hoops this year, and that's saying something -- is making his way to joining the all-time greats from Storrs. He had a game-high 27 points. He treats the ball like a yo-yo and can tilt the court like maybe no one else in the sport right now. IU coach Tom Crean called him a "13-year-pro" and compared prepping for Napier to what NFL coaches must feel like when they have to go against Adrian Peterson.
"We felt like we played one of the best teams in the country tonight," Crean said. "Shabazz Napier is just too good."
Napier, who had people conjuring up images of Kemba Walker's heroics for the Huskies in 2011, was accepting of the compliment.
"That's my big brother," Napier said of Walker, but adding, "I'm not trying to be him."
Napier, who Ollie said embraces the big moments like few others do, had 11 points in the final seven minutes, when leads were exchanged on almost every other possession, and the ones when that didn't happen usually resulted in a tie game. In that sense it was tennis at Madison Square Garden. It was gripping, even if some iffy foul calls, bad shots and predictable turnovers factored in. Hey, that's OK. Remember, it's only November.
The senior Napier was countered by Hoosiers sophomore Yogi Ferrell. Ferrell's built like a linebacker. Crean told me afterward his point guard is still physically recovering from "taking a shot" during play last week, but you'd never know it. Ferrell was fearless, contributing 19 points and demonstrating point guard play that Crean said "was so much better than even where he was at a week and a half ago."
Yogi and Shabazz. Two explosive point guards that exchanged blows and buckets down the stretch. One of the great things basketball at any level can give you is two players of the same style and size going at it one on one. We had it in Manhattan Friday night.
Pragmatically, it's a good sign for the Hoosiers they were even able to hang in this game. Noah Vonleh, the freshman big man who could very well play his way into joining the fab-freshmen conversation down the road, yeah he wasn't a factor at all on Friday. Foul trouble kept him out. Had Crean known Vonleh would be a non-factor (zero points, two rebounds, four turnovers in 10 minutes), would he have thought IU could be within a shot of beating UConn just 90 minutes from the Huskies' campus?
"Honestly, no," he said.
And about that Husky proximity: You'd have never known it inside Madison Square Garden. This felt like Indiana had fallen prey to a new round of conference realignment and the IU fan base had made its way for the Big East tournament final. Electric atmosphere, maybe the best November vibe I've ever experienced in this sport.
"I just see a lot of blue and white," Napier said afterward, downplaying the Hoosier faithful's attendance, which I do believe outnumbered UConn's.
Regardless, it's good to see UConn back on track and eligible for the postseason after APR restrictions didn't allow that last season. There is momentum there.
"Felt like forever since we been in here," Boatright said of playing in the Garden.
But they're back, even if the Huskies never really left. This was one of those reintroductions I mentioned up above. UConn looks capable of doing real damage this year. And winning tonight proved nothing for Ollie, because he remembers the challenges from a year ago. He knows things could've nosedived, yet they never did.
"They don't have to prove nothing else to me," Ollie said. "This is a great team, and I'm not just talking about wins and losses. Togetherness. Judge me how my players compete and how they complete each other. And that's what they did tonight, they completed each other."
Both teams gave us a show, and for now, that's more than enough. College basketball's stage is crowded this year, but we've got plenty of time to enjoy everything it can offer.
So, who's next?
Show Comments
Hide Comments
Collins is set up to be Northwestern's coach for a very long time -- if no one bigger lures...

Eight of the top nine scorers from this season's team are not returning, but UK will be fi...

A likely All-American, a big-time NBA prospect and an important X-factor to test draft wat...
Kentucky is losing 95 percent of its offense with all of its NBA talent and outgoing senio...

The former five-star recruit has not yet hired an agent

Shareef picked Arizona over UCLA, USC, LSU and others