Connecticut the first 7-seed to play for the title, will face No. 8 Kentucky
We don't often get to see 7-seeds this late in the tournament. UConn will be the first to play for the title. And wear their home whites.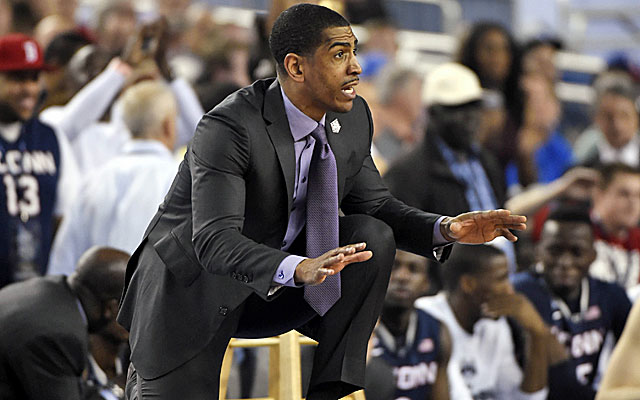 More: Kentucky 74, Wisconsin 73 | UConn 63, Florida 53 | Complete coverage
No. 7 seeds have always had a rough time in the NCAA Tournament.  The only seeds the sevens have played well against are the 10 seeds (their first round opponent), where they are 84-56, and against the 14s and 15s (a combined 3-0). No. 7 seeds are below .500 against every other seed.
On Saturday night, though, Connecticut crossed a new frontier for the seven seeds. The Huskies, already the first seven seed to make the Final Four in the 64-plus team era, is now the first to ever play for the title. The committee started seeding teams in 1979, when the tournament had only 48 teams. Since then, Virginia was the only other seven seed to make the Final Four. That happened in 1984, the last year of the 48-team field.  The Cavaliers lost to Indiana in the national semifinals.
Maybe even more surprising than UConn's appearance is Kentucky's run. The Wildcats make the final as an 8-seed and are only the fourth team to do so. Ironically, the last No. 8 seed to play for the title was Butler in 2011 and they lost to ... UConn. In 1985, Villanova won the championship as an 8-seed, defeating Georgetown in one of the tournament's biggest upsets. Also, in 1980, No. 8 seed UCLA lost to Dr. Dunkenstein and Louisville, and eventually had that tournament appearance vacated.
The combined seed total of 15 blows away the old record of 11, which was set in that 2011 Connecticut-Butler game.
Only one time before has a No. 7 seed faced a No. 8.  That was in 2000, when No. 7 Tulsa lost a regional final to eighth-seeded North Carolina.
Neither of these teams took an easy road to the title game. UConn didn't have to play top-seed Virginia in its region, but did have to play the team that many considered the favorite to be playing this Monday, and that was fourth-seeded Michigan State. The Huskies also beat 10-seed Saint Joseph's, No. 2 Villanova, third-seeded Iowa State and tonight, the overall No. 1, Florida.
Kentucky had to beat three of last year's Final Four teams, and are the only team to have accomplished that feat. First came a win over No. 9 seed Kansas State, which was a seven-point win and relative blowout compared to what followed.
The Wildcats needed a last second shot to rim out to beat top seed Wichita State in what is arguably the best game of the tournament so far. Then, UK had to come from behind to knock off defending champion and in-state rival Louisville. That was followed up by a win over 2-seed Michigan that came when Aaron Harrison hit a 3-pointer with just over two seconds left.  And then, of course, Harrison put them ahead again tonight and when Traevon Jackson's jumper rimmed out, the Wildcats had a win over another 2-seed from the Big Ten.
Finally, we are guaranteed to have a national champion that wasn't a conference champion. Neither Connecticut nor Kentucky won either its conference regular-season or tournament titles. Arizona in 1997 was the last team to win the national championship without a conference title. The Pac-10 (at the time) did not hold a conference tournament that year.
No matter how it turns out, Monday's final will be historic. And classic, if it's anything like the rest of this tournament.
Show Comments
Hide Comments
The former five-star recruit has not yet hired an agent

Shareef picked Arizona over UCLA, USC, LSU and others

Stephen Curry, Damian Lillard, C.J. McCollum and Ian Clark didn't come from college powerhouses,...
The four-year player at VCU will try and make the Colts as a tight end

Letting teams open on a Friday in football season has never made sense

College basketball's season could start earlier