Despite rough finish, expectations are high for Izzo, Michigan State
Tom Izzo's reputation precedes him. Despite a rough midseason stretch that drops his Spartans to a 4-seed, many expect Michigan State to reach the Final Four.
Latest in hoops: NCAA Tournament | Expert Brackets | Coaching Changes
SPOKANE, Wash. -- It got so bad, the Michigan State strength coach sliced his right index finger cutting down the nets Sunday.
"Who told you that?" demanded Mike Vorkapich.
Let's just say a source familiar with Michigan State's seemingly endless parade of injuries this season. What else could go wrong with the Spartans? Vorkapich, in his 18th season, answered that question at the Big Ten Tournament.
Not often do strength coaches help cut down the nets. But the slog had been so painful and arduous for the Spartans that maybe it was fitting that Vorkapich got his turn after the Big Ten Tournament victory against Michigan.
Snip. Oops. One gory flap of skin later, Vorkapich grabbed a Kleenex and got away before anyone noticed.
"Hopefully," he said looking out on the Spokane Arena floor Wednesday, "that's the worst thing we're going to have. I felt like an idiot."
That have been plenty of bloody, gory, painful moments for the Spartans this season. It's largely the reason they're a No. 4 seed. The selection committee had no sympathy regarding a 7-6 finish and third-place standing in the conference.
But with the tournament providing that automatic restart button, they are No. 4 seed with an asterisk. A No. 4 seed with a bullet.
At this point, a No. 4 seed masquerading as a No. 1 going into an NCAA Tournament opening-round East Region game against Delaware. In fact, it's hard to find a bracket jockey who doesn't have Michigan State in their Final Four at this point. Some Las Vegas sports books have the Spartans as the favorite to win it all.
The bandwagon includes one Barack Obama.
"Shoot," Delaware coach Monte Ross said, "I think some of them picked Michigan State. Some of our players."
Tom Izzo had to hold a team meeting to remind his players where they came from. That would be a 3-4 February that was part of a 4-6 finish before the three-game finishing kick in the Big Ten Tournament. This was a team that lost to Nebraska -- at home.
"People were sticking a fork in us," Izzo said. "Rightfully so."
Does anyone even remember Michigan State started the season ranked second? Or spent three weeks at No. 1?
Michigan State now starts the tournament on one of Sports Illustrated's six regional covers. Usually, teams that go from preseason No. 2 to a 4-seed don't make magazine covers.
But that's college basketball, where all that stuff in the middle known as the regular season sometimes is nothing more than a prelude to March.
That's Michigan State this season. At full strength, the Spartans are beastly. Never mind that the great middle between No. 2 ranking and No. 4 seed has -- at times -- stunk like trash left out on the curb too long. Call it Eau De Funk emanating from East Lansing.
"It's like you're a smaller fish in the sea and you're bleeding," senior Adreian Payne said. "There's a lot of fish that want to eat you."
It wasn't for lack of trying by the Spartans. It was a lack of bodies. Izzo has used 15 starting lineups this season. Eleven players have missed at least one game. Each of his top four scorers has missed multiple games. In more than half its games (19 of 34), the Spartans have been without a full lineup.
Payne evaluated his NBA chances, then came back for his senior season only to miss a month (Jan. 7-Feb. 6) with plantar fasciitis. That's irritation of the tissue that runs underneath the foot. Vorkapich described it as a feeling of walking on broken glass. Imagine 6-feet-10 inches and 245 pounds of Big Ten power forward underneath on top of that broken glass.
"I knew that once I got back, we'd be a better team," Payne said.
But between Jan. 4 and March 1, Izzo was without his full rotation. Thursday will mark a first: Michigan State will start the same lineup in six straight games for the first time. That includes the rejuvenating three-game run in the Big Ten Tournament.
That's what has caused a lot of green to go on the Green and White in Vegas. Michigan State in March is gold. Izzo has produced six Final Fours in the past 15 years. Only Mike Krzyzewski (19) has been to more consecutive NCAA tournaments than the Spartans' coach (17).
Dry humor in tow, Ross zeroed in on Izzo's "lack of tournament experience."
"I don't think he's really been in a lot of pressure cooker situations," he added. "So we're going to try to lean on that."
Such is college basketball, where four months of the regular season are spent qualifying for this moment.
"Don't forget, guys: You've earned the right to be a top team," Izzo told his team in that meeting. "We earned it all summer. We were there at the beginning of the year. We were No. 1 for three weeks. Then we earned the right to fall off the face of the earth a little bit."
Right into Adreian Payne's body of water, where the big fish swim.
"We're still bleeding in the ocean right now," he said. "We're just a bigger fish. We're healthy but we're wounded because everybody is picking us."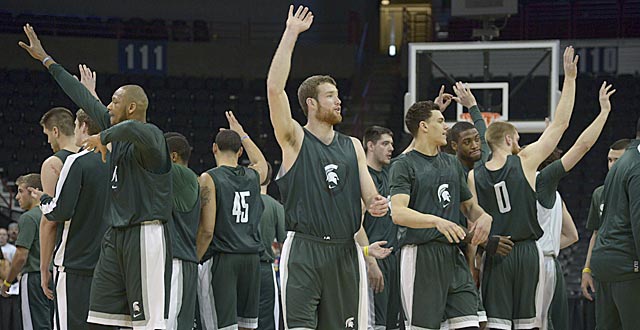 Show Comments
Hide Comments
Motley, who averaged 17.3 points and 9.9 boards, is projected as a borderline first-rounde...

Sharpshooter's return figures to send the program to a place it has been only once before
Gary Parrish and Matt Norlander also discuss UNLV's recruiting class

The five-star big man is part of a surprise late-period recruiting coup by Marvin Menzies

It's time for random observers to stop being outraged by players' decisions