Dichotomy between frosh, returnees developing into key storyline
There are tons of talented freshmen being discussed heading into the season -- but are we forgetting about the stud returnees from last year?
• 3 min read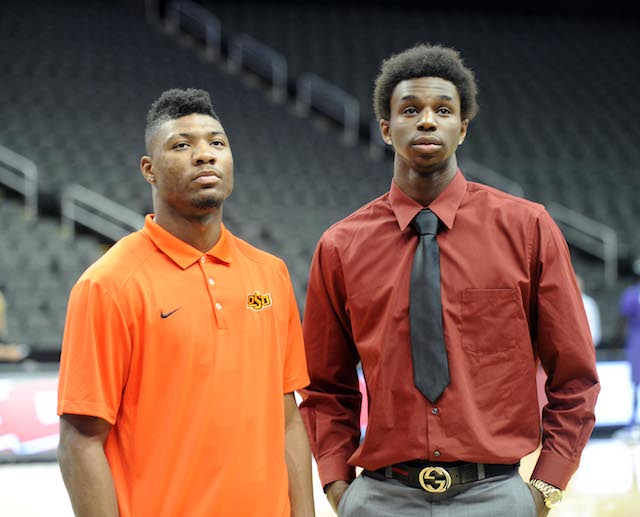 Quick question: who is the most talked-about player heading into the college basketball season?
It's not that hard to figure out. The answer is obviously Kansas Jayhawks freshman Andrew Wiggins . Arguably the most talented high school basketball player in at least the last five years, Wiggins has sky-high expectations. Compared to LeBron James, sharing magazine covers with Wilt Chamberlain and Danny Manning – people want to see a Kevin Durant-type season.
Outside of Wiggins, you can go with Kentucky Wildcats 's Julius Randle – or Kentucky's James Young or Kentucky's Harrison twins. After that? Maybe Duke Blue Devils 's Jabari Parker , who could end up putting up 20 a game for a top-five team.
You get the point – most of the focus for the 2013-14 preseason has been on the newcomers across the hoops landscape.
It's warranted, for sure. The incoming freshman class is one of the best groups to enter college basketball in quite some time – and there are myriad future lottery picks from this high school class of 2013.
But all the attention being paid to the fresh faces has almost pushed the star-studded returnees to the backburner. And if you rewind to the spring, when player after player decided to forgo the NBA draft to come back to college, we were plenty excited for the talent returning from last season.
Marcus Smart passing up the chance to be a top-five pick in order to play his second season at Oklahoma State Cowboys was huge news, same with Creighton Bluejays 's Doug McDermott looking to end his career with another monster season. For a while, it looked like Louisville Cardinals 's Russ Smith would try the NBA – but he also made plans to come back and be an All-American. Gary Harris , Mitch McGary , Glenn Robinson III , Adreian Payne , the list goes on. Each of those players could have gone pro and likely been drafted in the first round, but they decided to come back to college.
And they're all being pushed to the backburner.
I think that's been one of the more interesting storylines as we get ready to tip off the 2013-14 college basketball season: the dichotomy between the excitement over freshmen and the relative lack of attention being paid attention to the returnees.
There's always special enthusiasm reserved for freshmen. After all, no one has seen what they can do at the college level, and therefore the sky is the theoretical limit for most of them. Untapped talent is always more intriguing than something we've already seen for a season or two (or in McDermott and Smith's case, three seasons). That's fine, I completely understand it.
But this season, I feel like it's being taken a new level – and has diminished the excitement surrounding the return of so many potential All-Americans.
And some of the veterans have spoken out about it.
Smart was asked about Wiggins recently:
"They are saying he is the best college player there is and he has not even played a game yet. Of course that hypes me up. It is all talk. He still has to put his shorts on one leg at a time like I do. It is all potential. I am not saying he can't do it. But he has not done it yet."
Similarly, Russ Smith discussed the incoming freshmen with Luke Winn of Sports Illustrated:
"But when I look at [one-and-done] guys in college, I don't see them as anything more than a jar of talent. Once they put it all together they'll have an explosive NBA career . . . If you haven't played a game of college yet, you're still in purgatory. You don't know the ins and outs."
Freshmen vs. returnees. Limitless talent vs. proven production.
Which side will be the biggest story come March?
IUPUI is leaving the Summit League to begin play in the Horizon this season

The former Cardinal's injuries are not considered life-threatening

Archie Miller's debut season at Indiana will be a top-10 storyline in college basketball
Gary Parrish and Matt Norlander discuss last week's NBA Draft and look to next year's

Mizzou's basketball arena has around $1000,00 in damage

The two SEC coaches let everyone know what changes they think should come to the NBA Draft