First place in the ACC at stake in Pitt-Syracuse matchup
Pitt-Syracuse is just one of the intriguing matchups Saturday. Florida State needs to find out if it can hang as well.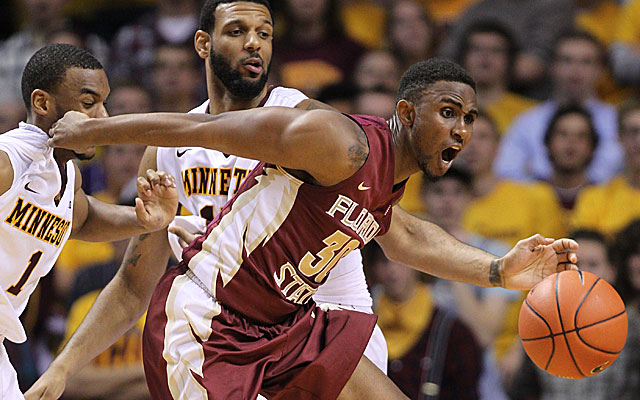 Here are five observations from an exciting week of college hoops along with five games I'll be watching this weekend.
Five observations
1. Richard Pitino has made Minnesota Golden Gophers a legitimate factor in the Big Ten.
The Gophers lost three starters from last year's team that won a game in the NCAA tournament and have completely revamped their style. Minnesota has accelerated the tempo and flustered opponents with a relentless matchup zone that provides a dimension teams aren't used to seeing in the Big Ten.
Andre and Austin Hollins are two critical returning pieces, but the real keys for this team have been the addition of juco point guard Deandre Mathieu along with the incredible improvement of big man Elliott Eliason. The 5-foot-9 Mathieu has been terrific at point guard and had 13 points and five assists in Thursday night's upset win over Ohio State Buckeyes .
Eliason has posted double-doubles in three of Minnesota's five Big Ten games and is averaging 6.8 points, 8.6 rebounds, and 2.7 blocks per game. Last year, Eliason only tallied 2.2 PPG, 3.5 RPG, and 1.1 BPG. The Gophers are 14-4 overall and 3-2 in the Big Ten.
2. Nick Johnson is the early leading candidate for Pac-12 Player of the Year.
I'm well aware of the season Kyle Anderson is having at UCLA Bruins , but Johnson is the best player and leading scorer (16.3) on the best team in the conference as well as the nation. Thursday night in Arizona Wildcats win over Arizona State Sun Devils , Johnson saw time defensively on Sun Devils point guard Jahii Carson and last week against the Bruins he guarded Jordan Adams.
Johnson does it on both sides of the ball and is pound for pound the most important player on the best team in college basketball. When Arizona needs free throws made at the end of close games, they get the ball to Johnson. When the Wildcats need a stop on the perimeter, they turn to Johnson. His presence is maybe the biggest reason Arizona could be the team to take Sean Miller to his first Final Four as a head coach.
3. Andrew Wiggins continues to be under appreciated.
Has anyone ever had a quieter 17-point, 19-rebound game than Wiggins did when Kansas Jayhawks won at Iowa State Cyclones on Monday night? The 6-foot-8 forward owned the glass against the Cyclones and continues to show why he's a terrific player who is getting noticeably more comfortable each time he takes the floor.
Anyone who has a voice seems to be disappointed that Wiggins isn't something more, but it would be nice if people would start appreciating what he is. Still just a freshman in college, Wiggins has shown all the requisites to be a quality NBA starter that will be able to have a significant impact on a regular basis for an awful long time. If only that was enough for people.
4. Saint Joseph's Hawks still has enough firepower to be a factor in the Atlantic 10.
The team that was picked first in last year's Atlantic 10 preseason poll has become the forgotten squad in the conference. By no way am I insinuating that the Hawks should be mentioned yet with Saint Louis Billikens , Massachusetts Minutemen , George Washington Colonials , VCU Rams or Dayton Flyers , but the facts are the facts.
Phil Martelli's team is two possessions away from beating both Creighton Bluejays and UMass, and if they had earned those victories we would be talking about this team having a legitimate chance at the NCAA tournament. Saint Joseph's is 11-5 and 2-1 in league play with a game looming Saturday against Big 5 rival Pennsylvania Quakers at the Palestra. This team still has elite talent and boasts four players --- Langston Galloway, Ron Roberts, DeAndre Bembry and Halil Kanacevic -- who can match up with any quartet in the A-10.
5. Towson Tigers  Jerrelle Benimon is the best mid-major big man in America.
Few players in college basketball are having as big an impact in as many areas of the game as Benimon. The 6-8 forward is averaging 18.4 points, 11.2 rebounds and 4.2 assists per contest while shooting 53 percent from the field. Towson coach Pat Skerry studied tapes of Royce White in the offseason from Iowa State's 2011-12 campaign where Fred Hoiberg used the talented prospect as a point forward and now he's using Benimon the same exact way. The fifth-year senior has Towson off to an 11-6 start and a 2-0 mark in the CAA.
Five games I'll be watching this weekend
Florida State Seminoles at Virginia Cavaliers (Saturday, noon ET)
The Seminoles' only conference loss was against the Cavaliers and they'll be eager for payback. Florida State is getting terrific balance across the board and is one of the longest teams in college basketball. This is a battle between two teams that excel defensively and at times can struggle to score. Keep an eye on Seminoles senior guard Ian Miller, who is quietly developing his all-around game. Miller has four or more rebounds or assists in each of his past three games.
Pittsburgh Panthers at Syracuse Orange (Saturday, 4 p.m. ET)
These two teams may be in a new conference, but the same thing remains at stake. The Panthers and Orange will vie for first place in the ACC when they lock horns at the Carrier Dome. Jamie Dixon has a career 10-4 record against Jim Boeheim and has won six of his past eight meetings in upstate New York. Pitt's zone offense has always been stellar against the Orange and while that will be a major key, look for the Panthers to try and get out in transition. This unit is scoring significantly more than Dixon's teams have in the past, averaging 77.0 PPG.
Indiana State Sycamores at Wichita State Shockers (Saturday, 4 p.m. ET)
The Missouri Valley Conference is more than just the Shockers and this game will be a prime example of why. Greg Lansing has an NCAA-caliber team in the Sycamores and his squad presents the greatest regular-season threat to Wichita State's attempt at a perfect record. Keep an eye on the matchup at point guard in this one between the Shockers' Fred VanVleet and Indiana State's Jake Odum.
Oklahoma State Cowboys at Kansas (Saturday, 4 p.m. ET,  CBS)
At the beginning of the season this was supposed to be a battle of two potential Final Four teams, but I'm not sure if the Cowboys have those capabilities after the loss of starting center Michael Cobbins. Kamari Murphy had a solid game against Wednesday night against TCU Horned Frogs (eight points, eight rebounds) but can he be that productive against the Jayhawks? Kansas clearly looks like the best team in the Big 12 and is getting better each time it takes the floor. It will take a tremendous effort for Oklahoma State to win this game at Phog Allen Fieldhouse.
UNLV Rebels at San Diego State Aztecs (Saturday, 6 p.m. ET, CBS Sports Network)
The Runnin' Rebels might be the most mercurial team in college basketball. UNLV lost at home to Air Force Falcons and Nevada Wolf Pack , but then went on the road and beat New Mexico Lobos on Wednesday at the Pit in Albuquerque. Dave Rice's team has the talent to win the Mountain West, but I'm still not sure if it has the mental toughness to sustain an elite level of play for the rest of the season. UNLV will have to be elite on Saturday when it visits a San Diego State team that won at Kansas and has only lost to top-ranked Arizona. This game sounds more appetizing than the dessert menu at the Carnegie Deli.
Show Comments
Hide Comments
Shareef picked Arizona over UCLA, USC, LSU and others

Stephen Curry, Damian Lillard, C.J. McCollum and Ian Clark didn't come from college powerhouses,...

The four-year player at VCU will try and make the Colts as a tight end
Letting teams open on a Friday in football season has never made sense

College basketball's season could start earlier

Allen will enter his senior season as the most famous college basketball player in years