Five-star Chris McCullough going through recruitment
It was less than a year ago that Chris McCullough broke out during the July live period, but he's become one of the most sought-after prospects in the class of 2014.
• 1 min read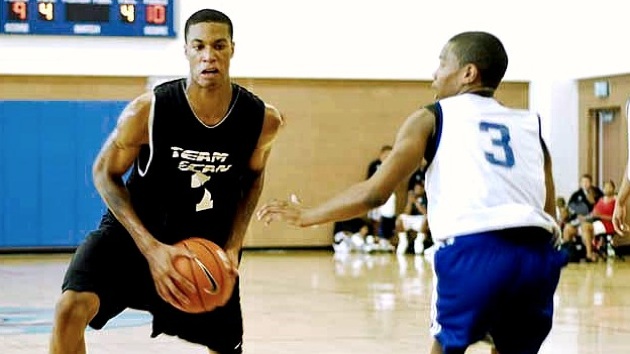 Salisbury School (Conn.) forward Chris McCullough is the No. 9-ranked prospect in the class of 2014. (Five-Star Basketball)
LONG BEACH, Calif. – Last summer, Chris McCullough had a breakout performance during the July live period and established himself as a five-star prospect in the class of 2014.
What does he have in mind as an encore this summer?
"I need to work on my overall game," McCullough said. "Getting stronger, working on my jump shot."
McCullough, a 6-foot-9 New York native who attends Salisbury School (Conn.), is an extremely talented forward that uses his length and athleticism to make plays at both ends. He runs the floor well and can guard multiple positions. While McCullough's offensive game still needs refining, his ceiling is extremely high.
At the Pangos All-American Camp last weekend, McCullough simply attempted to make an impact with his effort level.
"I'm just playing hard, and that was my goal: to come and play hard," he said.
In terms of recruitment, McCullough holds offers from Syracuse, Arizona, Kansas, Connecticut, St. John's, Iowa State, Providence, Rutgers, Louisville, Pittsburgh, Hofstra and Temple, while North Carolina is also showing interest.
The No. 9-ranked prospect plans on trimming his list in the next few months, and wants to take trips to Kansas and Miami (Fla.). For a rising junior, McCullough has already taken plenty of unofficial visits: Syracuse, Villanova, Arizona, Providence, Rutgers, St. John's, Iowa State, Seton Hall and Connecticut.
While McCullough has no official favorite, he did say that Syracuse, St. John's, Arizona and Kansas are coming at him the hardest.
"I have a good relationship with the coaches," he said. 
Show Comments
Hide Comments
A scandal at New Mexico leads to a rarity for the NCAA Tournament selection committee

These two Hall of Fame coaches have been in the crosshairs of NCAA justice in recent years

Will Kentucky have more than two players taken in the first round of the NBA Draft?
Continues to lobby for a college hoops commissioner; hopes the NBA, NCAA can come together

This development means every Division I job is now filled

The Buckeyes hired Holtmann to replace Thad Matt earlier this month