Florida seniors get over 'hump,' advance to their first Final Four
The Gators will take a 30-game winning streak to Dallas.
More NCAA hoops: Tournament bracket | Complete coverage of NCAAs | Latest news
MEMPHIS, Tenn. -- Scoochie Smith swished a jumper that gave Dayton a lead with 6:58 remaining in the first half, at which point the thousands and thousands of Flyers fans that filled FedExForum (even though it's 535 miles from campus) stood and cheered and chanted. Everything was going so well for the double-seeded Cinderella from the Atlantic 10. They looked capable of cutting South Regional nets.
And then Florida went Florida.
And now Florida is back in the Final Four.
"It means a lot,"  sophomore Michael Frazier said Saturday minutes after the Gators recorded a 62-52 victory to advance to their fifth Final Four in school history and third in nine seasons. "We're going to make the most of this opportunity."
Florida closed the first half on a 19-3 run that created a 38-24 advantage, and its defense took over from there. Consider the following as proof: The Gators led by as many as 17 points in the second half, and Dayton never got closer than eight points in the second half, despite the fact that Florida made just five field goals in the final 20 minutes.
"Make no mistake about it -- defense wins them games," said Dayton coach Archie Miller. "Their defense is there every game, and they're great on the glass as well. You don't get very many second shots. ... They have a great system and great personnel."
Miller went on to explain that he hates losing and is completely worn out, but he also seemed capable of recognizing the larger picture, i.e., that he took an out-manned roster to within one game of the Final Four in just his third season as a head coach. The 35-year-old Pennsylvania native spent the past 10 days cementing his place on all lists of bright young coaches, and there's no reason to think he won't continue to do big things at Dayton.
Meantime, how about Florida?
The Gators' lengthy winning streak was overshadowed much of this season even though they've been ranked No. 1 since Feb. 24 because of Wichita State's perfect regular season, but it really is worth celebrating because it's now up to 30 games. Thirty! It's obviously difficult to win 30 straight games regardless of the details, but doing it from a so-called power conference is another level of impressive. The streak dates to Dec. 10 and features victories over Kansas, Kentucky (three times), Memphis, Tennessee (three times), Missouri (twice) and Florida State, and the idea that it's happening without a sure-bet first-round pick in the NBA Draft is a testament to Billy Donovan.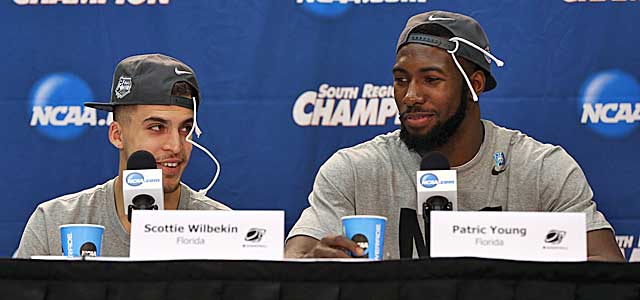 He's a future Hall of Famer with two national titles.
Still, somehow, I think he's probably underrated as a coach.
Either way, Donovan spent a lot of time Saturday talking about how he doesn't view the NCAA Tournament as anything more than a six-game single-elimination event, and that he's never felt like he needed Final Fours or championships to validate Florida's program. From his perspective, winning lots of games and being consistently great is good enough, and how far teams do or don't advance in March isn't always an accurate measuring stick for determining if the season just played was good or bad or something in the middle.
For what it's worth, I agree with him.
I've always agreed with that sentiment.
But that doesn't mean everybody thinks that way, and that's why it was really important for Florida's seniors -- Scottie Wilbekin, Will Yeguete, Casey Prather and Patric Young -- to avoid losing in the Elite Eight for the fourth straight season. Had that happened, they would've never been remembered as the four seniors who won four Sweet 16 games as much as they would've been remembered as the four seniors who lost four Elite Eight games, just like the Buffalo Bills aren't remembered as the NFL team that once won four straight AFC titles as much as they're remembered as the NFL team that once lost four straight Super Bowls.
I'm not saying that's right or fair.
I'm just saying it is.
So it was nice to see Wilbekin, Yeguete, Prather and Young bouncing around the FedExForum court with pieces of net tucked into their hats announcing that they'd just won a regional for the first time. They all said they aren't satisfied, and that's clearly true. But they did seem relieved to get this done and ensure they never again have to answer a question about what it's like to be so close to a Final Four without ever actually getting to a Final Four.
"I'm very happy," Donovan acknowledged, "that they were able to get over this hump."
And now they're just two wins from a national title.
Wilbekin identified that as the goal and focus ... starting now.
"As much fun as this is," Wilbekin said, "there's still more to achieve."
Show Comments
Hide Comments
The information on who harassed John Higgins will now be turned over to the FBI

Some of these future NBA picks might work out, but others won't sniff being drafted

This is a good development for Louisville, which may avoid having its coaches forced to testify...
The athletic guard withdrew from the NBA Draft late Wednesday night

Next step in the case, which began in 2011, is for UNC to face the NCAA's Committee on Inf...

We look at 40-plus teams affected by this year's NBA Draft