Freshman of the Year: Anthony Bennett leads at the midway point
After two months, one thing is clear: Anthony Bennett is the best freshman in the country.
• 4 min read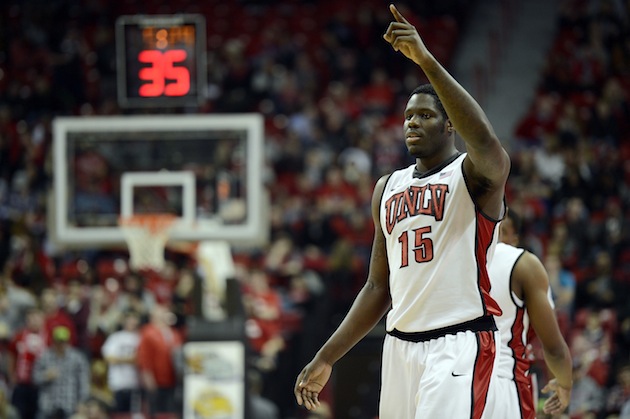 With his dominance offensively and on the glass, Anthony Bennett has been the top frosh so far. (Getty Images)
For the first time this season, we have the same exact top five in the same exact order as one week ago for Freshman of the Year. It's fun to see some movement and shuffling along the top, but it was just too difficult this week. We looked at Shabazz Muhammad moving up after yet another big scoring week, but it's tough to move Ben McLemore despite a couple of subpar performances. Marcus Smart has been outstanding the past two games, so he stays at No. 2. And can we really knock Jahii Carson out of the rankings? After all, he plays nearly every minute for a 13-2 Arizona State team.
Expect to see some different faces in the next couple of weeks. This is usually the point in the season when some newcomers begin to adapt to the college game, while others falter as the schedule gets tougher and defenses begin to focus.
As always, the Freshman of the Year rankings will be released on Tuesdays, along with the Player of the Year rankings. 
1.

Anthony Bennett

-- UNLV
 
Position: Power Forward

Ht: 6-8 Wt: 240

Season Stats: 19.9 PPG, 9.1 RPG

Comment:  Yet to start Mountain West play, Bennett is certainly the Freshman of the Year at the midway point of the season. He has rattled off three straight double-doubles, and averaged 25.0 points and 10.5 rebounds in his two games last week. Bennett will get a chance to prove himself right off the bat in league play. In the first five games, UNLV has road contests at New Mexico, San Diego State and Colorado State -- as well as a home date with Wyoming.
2. Marcus Smart -- Oklahoma State
 
Position: Point Guard

Ht: 6-4 Wt: 225

Season Stats: 14.3 PPG, 6.1 RPG, 4.9 APG, 2.6 SPG

Comment:  Oklahoma State has lost two straight games, but Smart seems to have snapped out of the shooting slump that plagued him for so much of the season. In the last two games -- against Gonzaga and Kansas State, no less -- Smart shot 16-for-26 from the field. He also averaged 24.0 points, 4.5 rebounds and 4.5 assists in those two losses. The Cowboys should get back to their winning ways this week against TCU.
3. Ben McLemore -- Kansas
 
Position: Shooting Guard

Ht: 6-5 Wt: 195

Season Stats: 15.6 PPG, 5.5 RPG, 2.2 APG

Comment:  Kansas has asserted itself as a national title contender over the past few weeks, but McLemore has been somewhat quiet in his past couple of games. He's averaging just 11.0 points and 4.0 rebounds in that span -- although Kansas could take it to another level if he becomes a legitimate go-to-guy. He has the skills and athleticism; he just needs the mindset.  
4. Shabazz Muhammad -- UCLA
 
Position: Small Forward

Ht: 6-6 Wt: 225 

Season Stats: 19.6 PPG, 5.2 RPG

Comment:  While there are questions to how effective Muhammad can be at the next level, there is no questioning how outstanding he has been over the last three weeks. In his last six games, Muhammad is averaging 23.2 points -- and he's showing no signs of slowing down. In his first two Pac-12 games, Muhammad went for 19.5 points and 8.0 rebounds. Trip to Colorado this weekend is intriguing.
5. Jahii Carson -- Arizona State
 
Position: Point Guard

Ht: 5-10 Wt: 175

Season Stats: 16.7 PPG, 3.1 RPG, 5.4 APG

Comment:  For a team with a 13-2 record, Arizona State is getting very little attention nationally -- even after the Sun Devils' win over Colorado. As for Carson, his numbers are down a bit, but he's been effective as a point guard. In two Pac-12 games, he has played 82 minutes (overtime against Utah) and turned it over just four times total. If he can combine that with getting back to his scoring ways, Arizona State could be even better.
Others to Note:
We're not purposely attempting to keep the top five the same, but none of the guys knocking on the door can get over the hump. Baylor's Isaiah Austin is on the verge, as are the Kentucky freshman trio. Nik Stauskas, T.J. Warren and others were also considered.
Gary Harris came to Michigan State as one of the more highly-touted guards in the class of 2012. He started slow because of an injury, but is starting to assert himself: in two Big Ten games, he's averaging 17.0 points.
Trey Burke gets most of the attention for Michigan, and Stauskas is the freshman most people talk about. But Glenn Robinson III has been productive lately, going for 20 points in two of his last three games – and also grabbed 10 boards against Iowa.
Villanova's Ryan Arcidiacono had one of the better freshman starts in the country, but then he went quiet. It seems Arcidiacono has awoken, though. He had 17 against NJIT, then went for 32 in a win over St. John's.
Boston College has a very underrated all-freshman backcourt in Olivier Hanlan and Joe Rahon. The two are combining to average 24.7 points, 7.3 rebounds and 6.2 assists per game.
Grambling hasn't won a game yet, but it's through no fault of guard Terry Rose. The 6-foot-4 freshman leads the nation's newcomers in 3-pointers made per game, while shooting better than 42 percent from behind the arc.
Look for Hawaii's Isaac Fotu over the next couple of weeks. The New Zealand native is coming into his own, scoring in double-figures in seven of his last eight games -- including 29 points against Fullerton.
Freshman leaders -- Points: Anthony Bennett, UNLV (19.9); Rebounds: Jordan Reed, Binghamton (9.9); Assists: Javan Felix, Texas (6.6).
If Wichita State guard Landry Shamet has a breakout season, he could leave early for the N...

Athletic big man finished 3-day trip to Durham, N.C., with trips to USC, Arizona coming up

Calipari's latest viral social media bit comes just three weeks after the Wildcats head coach...
Buddy Boeheim was so impressive at Peach Jam that Gonzaga offered; others showing interest

The truths and myths about the push for 2018's No. 1 recruit to play college hoops a year...

Here are the under-the-radar players who will have breakout seasons in 2017-18