Gregg Marshall Q&A: Coach discusses Shockers' perfect season
Q&A: Gregg Marshall doesn't apologize for Wichita State's schedule. 'We'd be a quality loss for a lot of people,' he says.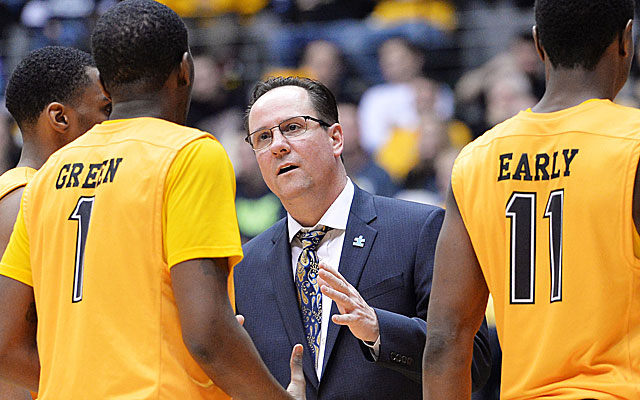 LATEST IN HOOPS: Top 25 (and one) | Bracketology | Bubble Watch
Gregg Marshall has made Wichita State a national program. One year after the Shockers reached the Final Four and lost to Louisville, Marshall has led Wichita State to a 31-0 record heading into this week's Missouri Valley Conference tournament.
Jon Rothstein of CBS Sports Network and CBSSports.com sat down with Marshall to discuss the Shockers' perfect season, Fred VanVleet and where the term "Play Angry" originated.
Jon Rothstein, CBSSports.com: You finished the regular season with a 31-0 record and college basketball hasn't had a team finish that portion of the year undefeated since UNLV did it in 1991. When did it actually set in that your team accomplished a feat of that magnitude?
Gregg Marshall: I guess right after the game. Having the opportunity to talk to Bob Knight about his undefeated team right afterward, that's when it set in. When you achieve something like that, you're grinding the whole time. You're always thinking about what's next and not getting caught up on the big picture. Now we just have to move forward. Our team has been really good the whole year about looking at the next task, the next challenge. Our mindset is simple. We need to get better. We need to find ways to improve as a basketball team.
CBSSports.com: What's it like to finish a season undefeated and then have nearly the entire country debating whether or not you deserve a one seed in the NCAA Tournament?
Marshall: It's humorous. I think that would be the word. Everybody has got an opinion. In this world with blogs and writers and all the different so called experts, everyone has an opinion. You can't please everyone all the time and it's really just the world that we live in. But those detractors out there, they only fuel our fire. We appreciate the detractors for that very reason.
CBSSports.com: You've only beaten one team that's a lock for the NCAA Tournament in Saint Louis. How frustrating is it to attempt to put together a challenging non-conference schedule when so many of the top teams in the country won't agree to play you?
Marshall: It's difficult but it's getting easier. A lot of these detractors say that teams that are in the NCAA Tournament have quality losses on their resume. That's what we'd become. We'd be a quality loss for a lot of people.
CBSSports.com: Everyone knew you had a good team last season but not many people expected you to reach the Final Four. How will the dynamic be different this season as you enter the field of 68 as the hunted instead of the hunter?
Marshall: I'm not sure. We went in as a five seed a few years ago and lost to a very good VCU team that was playing very well. They had won 17 in a row. They were like last year's Oregon team. It was a joke that VCU that year was a 12 seed. The dynamic will be different for us for sure.
CBSSports.com: You said last year after you lost to Louisville that you didn't know if you'd ever get a chance as a coach to potentially get back to that same spot. Is it hard to believe that you've had the season you've had this year after such an amazing run a year ago?
Marshall: It is hard to believe but at the same time if you just watch our players play they make believers out of you pretty quick. They're pretty talented and they play the game the right away. They play at both ends and they're tough. They trust each other on every possession. They're a really good group and a really good basketball team.
CBSSports.com: What's the biggest difference between this year's team and last year's team?
Marshall: We score it better. We've got the experience and the knowledge that we've been there before. That helps with our confidence. We're not surprised at anything that comes our way because we've already seen it.
CBSSports.com: Your point guard Fred VanVleet has an assist to turnover ratio of 4.0 to 1.3. What elements does he bring that separates him from other point guards?
Marshall: He's just a winner. He wins. He won in AAU. He won in high school. I saw him go against teams with four and five high-major BCS prospects and he was by far the highest rated prospect on his team and his team would always win. Those guys who continually take shots at him will ultimately wise up. All he does is win.
CBSSports.com: Certain programs are known for certain slogans. Wichita State's is "Play Angry." Where did that come from?
Marshall: Antoine Carr and Xavier McDaniel were in our locker room last year in February and talked about protecting your home court and the pride you need to have each time you play. We've kind of adopted that mindset ever since.
CBSSports.com: How do you maintain that though? Especially if you're not always being tested every night, which was often the case for your team this year in league play.
Marshall: You just have to have a healthy respect for your opponent. You need to know that you can lose to your opponent, whether it's on your home court or on the road. You just look at the scores every night and it reiterates that it can happen to anyone. That's what so beautiful about 31-0. We're not perfect by any means, but we've never had that type of a moment this season where we didn't get the result that we set out to get.
Show Comments
Hide Comments
The 2017 NBA Draft had more freshmen, and fewer seniors, taken in the first round than ever...

A scandal at New Mexico leads to a rarity for the NCAA Tournament selection committee

These two Hall of Fame coaches have been in the crosshairs of NCAA justice in recent years
Will Kentucky have more than two players taken in the first round of the NBA Draft?

Continues to lobby for a college hoops commissioner; hopes the NBA, NCAA can come together

This development means every Division I job is now filled