Haith, Missouri ready to find out who they are
The 7-0 Missouri Tigers and their talented backcourt can get some attention when they take on West Virginia and UCLA.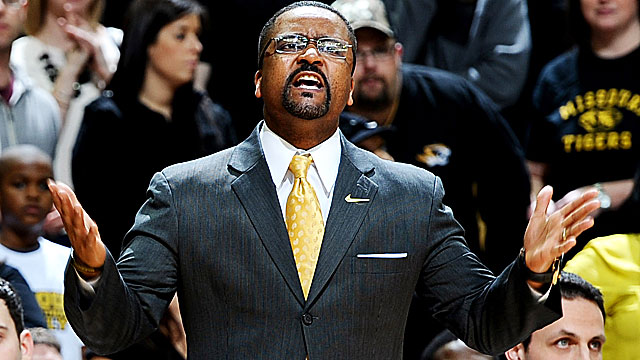 The conversations on the best backcourts in college basketball have yet to include Missouri.
The Tigers haven't gotten the national recognition on the perimeter like programs such as Oklahoma State, UConn, Memphis, or Louisville, but that doesn't mean they're not just as capable.
Missouri's triumvirate of Jordan Clarkson, Jabari Brown, and Earnest Ross has been beyond impressive through the team's first seven games, all wins. The trio is averaging a combined 52.1 points along with 14.9 rebounds per contest and their collective forum will only be enhanced this week as the Tigers face their two toughest opponents so far this season in West Virginia and UCLA (Saturday, 12:30 PM ET, CBS).
"Any time you have three guys that can get you 20 plus points on a given night, you obviously give yourself a chance," Missouri coach Frank Haith said of Clarkson, Brown, and Ross. "That's what we have with Jordan, Jabari, and Earnest. We still have to play inside-out as a team but the new rules have really been to our advantage. All three of our guards can really attack off the dribble and Jabari has gotten better in that area. All three of those guys can shoot the ball too even though Jordan's percentages (22.7 percent from three-point range) don't show it right now."
Haith is also high on freshman point guard Wes Clark, a highly-touted first-year player that played a combined 50 minutes last week against Northwestern and Nevada.
Moving forward, expect to see Clark regularly used at point guard with Clarkson and Brown on the wings and Ross used as an undersized power forward at 6-5.
"We did that in the Nevada game and we'll definitely continue it the rest of the season," Haith said of the smaller lineup.
The biggest surprise though for Missouri?
So far it's 6-9 freshman Jonathan Williams III.
"He's better than we thought," Haith said of Williams, who's averaging 7.3 points and 8.3 rebounds per game. "He's been a pleasant surprise. He got 17 rebounds in a game as a freshman. The big thing with us up front is the Tony Criswell factor. If he can continue to grow, it will give us another guy."
The 6-9 Criswell gives the Tigers an experienced player in the pivot along with 6-10 sophomore Ryan Rosburg. That duo along with Williams has to be consistent on the backboards if this team is going to have a chance to finish in the upper echelon of the SEC.
For Haith, the opportunity to be with his team this week is something he cherishes more than ever, after missing the first five games of the year for his role in the Miami scandal. Haith was head coach of the Hurricanes from 2004-2011.
"I love my job," Haith said. "I love what I do and where I do it. It was good for me to reconnect with my wife and daughter and spend time with my 'other' family during the time I way away. That part of everything was very positive. But my team is my family too and I missed them. I'm grateful that we finally have had some practice time this week. We're taking things up to another level right now with our schedule. We've really got our work cut out for us in our next five games."
And they'll be ready for what lies ahead thanks to their perimeter.
Should Clarkson, Brown, and Ross be regularly mentioned among the elite backcourts in the country?
We'll have a better idea in a few days.
Show Comments
Hide Comments
Motley, who averaged 17.3 points and 9.9 boards, is projected as a borderline first-rounde...

Sharpshooter's return figures to send the program to a place it has been only once before
Gary Parrish and Matt Norlander also discuss UNLV's recruiting class

The five-star big man is part of a surprise late-period recruiting coup by Marvin Menzies

It's time for random observers to stop being outraged by players' decisions