Harvard needs stiffer non-conference schedule next season
Harvard plays UConn, possibly Iowa -- and not much else in non-conference play. It needs a marquee game.
• 3 min read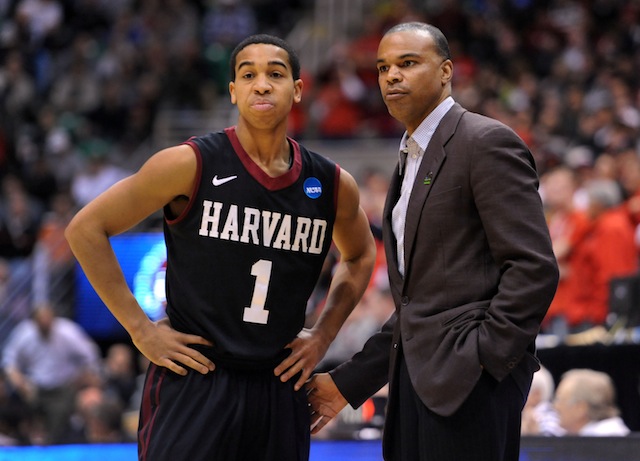 Only 20 teams won 28 or more games this past season. Three of them -- Saint Mary's, Bucknell and Middle Tennessee -- received 11-seeds in the NCAA tournament.
The main reason? Each team had just one top-50 win on its Selection Sunday resume. 
The committee has shown time and time again that teams that don't beat quality opponents out of conference aren't going to be rewarded with home jerseys in the Round of 64. (In most cases, at least. Memphis didn't beat anyone and received a 6-seed.)
Looking for an early candidate for a surprisingly low seed in next year's NCAA tournament? Try Harvard.
The Crimson are going to be ranked in most preseason Top 25 polls. They return nearly everyone (Christian Webster is the only loss) from a team that won the Ivy League and then upset New Mexico in the NCAA tournament. More importantly, suspended starters Kyle Casey and Brandyn Curry should be back in the lineup, and top-100 recruit Zena Edosomwan is poised to dominate the conference. Double-figure scorers Wes Saunders, Siyani Chambers and Laurent Rivard all come back, and role players like Steve Moundou-Missi, Jonah Travis and Kenyatta Smith also return. Hunter Myers is another solid newcomer.
Simply put, Harvard has a chance to make some real noise next season -- and it could have quite the gaudy resume heading into the NCAA tournament.
But will it have any substance? The Ivy League is going to be good, but it's not going to offer any marquee wins for the Crimson.
Harvard should have scheduled several stiff non-conference tests to boost its tournament profile. This past season, the Crimson faced Saint Mary's, Memphis, California, Connecticut, Saint Joseph's and Massachusetts -- all on the road. A schedule similar to that would have been perfect for next year.
Yet it's a fairly barren schedule at this point. There are games against Connecticut and Boston College, and the Huskies should certainly be very good. Outside of that, though, there's not much of note. The Crimson do take part in the Great Alaska Shootout, but that event isn't what it used to be. Iowa should definitely be in tourney contention, but the next-best teams are Denver and Indiana State. Not exactly murderer's row.
Take a hypothetical. Let's say Harvard loses to Connecticut and Iowa and then runs the table in the Ivy League. The Crimson will be 28-2 heading into Selection Sunday, but their best wins would be a home game against Boston College and then a sweep of Princeton (or Penn or Yale or whoever finishes second in the Ivy). Games at Rice and Florida Atlantic aren't moving the needle. Fordham isn't a marquee win. Wins like that are not going to get the Crimson a single-digit seed.
What could be Harvard's saving grace is its preseason ranking. If the Crimson avoid more than one loss in non-league play and then don't slip up in the Ivy, the committee will have a hard time ignoring what should be a top-15 ranking. A Murray State-esque run would also be just fine.
If I were Harvard, I would follow what Long Beach State did in 2011-12: play anyone you can. The 49ers faced Pittsburgh, San Diego State, Louisville, Kansas, North Carolina, Xavier, Kansas State and Creighton. They only won two of those games – but they received a ton of attention in non-league play for their schedule.
Harvard still has a couple spots available for non-conference games. If that's the case, the Crimson should try to get a marquee game on the schedule -- no matter where the game is played.
We know they've got the talent. But who are they going to prove it against?
Show Comments
Hide Comments
The dynamic athlete and electric SG will be one of the biggest names in college hoops next...

The sophomore forward averaged 18.5 points, 12.5 rebounds and 3.1 assists this past season

On the day of the NBA Draft deadline to return It was good news, bad news for Wolverines
Diallo could be taken in the first round even though he didn't play a minute for the Wildc...

M.J. Walker, the No. 26 player in the nation, is FSU's second top-100 recruit in the Class...

Averaged 7.1 points and 5.1 boards in 14.6 minutes a game as UNC's first one-and-done since...