Hot Seat Index: Atlantic Sun
Kennesaw State's Lewis Preston could be in serious trouble in the Atlantic Sun.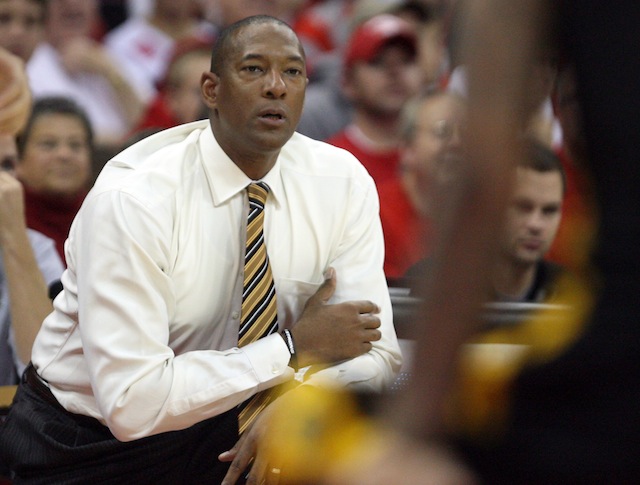 The coaching carousel will kick into high gear soon and, in advance of that event, Eye on College Basketball will prepare you with a league-by-league Hot Seat Index, corresponding with conference tourney play. With assistance and input from Jeff Borzello, I'll talk to coaches in the league and then rate each head coach from 1 to 10.
If you get a 1, you are as safe as it gets. If you're a 10, you might want to start looking for a new gig.
Next up is the Atlantic Sun, which started its conference tournament this week. Remember, 10 is the hottest of the hot seats, and 1 is the coolest:
East Tennessee State: Murry Bartow – After going 179-113 in nine season, a stretch that including NCAA tournament appearance in 2009 and 2010, Bartow went just 10-22 this season. He has one year left on his contract. HOT SEAT INDEX: 4
Florida Gulf Coast: Andy Enfield – FGCU made a major statement earlier this season by beating Miami, and the Eagles ended up finishing second in the league. Enfield has gone 37-27 in his first two seasons at the helm, and has three more on his deal. HOT SEAT INDEX: 2
Jacksonville: Cliff Warren – After spending time at Mount St. Mary's, Siena and Georgia Tech, Warren took over at Jacksonville back in 2005. He was 100-114 in seven seasons, and went just 14-18 this year. He hasn't been to the NCAA tournament yet, but won 20 games in 2009-10 and 2010-11. HOT SEAT INDEX: 3
Kennesaw State: Lewis Preston – Preston has only been with the Owls for two seasons, but he's struggling. He is 6-55 in two years, finishing in last place in the A-Sun standings both times. HOT SEAT INDEX: 7
Lipscomb: Scott Sanderson – While rival Belmont has steadily risen among the mid-major ranks, Lipscomb hasn't been keeping up. Sanderson was 176-179 in 12 seasons heading into this one, and he went 12-18 this year. Lipscomb hasn't been to the dance under his watch. HOT SEAT INDEX: 6
Mercer: Bob Hoffman – With 48 wins the past two seasons, Hoffman is in good shape with the Bears. He is 75-61 in four seasons, winning the league at 14-4 this year. HOT SEAT INDEX: 2
North Florida: Matthew Driscoll – After signing an extension last summer through the 2017-18 season, Driscoll went 13-19 this year. He hasn't been above .500 at all during his four seasons at UNF, with a 44-53 record heading into this year. HOT SEAT INDEX: 4
Northern Kentucky: Dave Bezold – In its first season playing Division-I ball, Bezold led Northern Kentucky to a .500 finish in the Atlantic Sun -- good enough for fourth in the standings. He has been there since 2004. HOT SEAT INDEX: 2
USC Upstate: Eddie Payne – Heading into last season, Payne had won just 27 games total in his four seasons. However, Upstate went 21-13 last season and 16-16 this year. He might need another good year next season. HOT SEAT INDEX: 5
Stetson: Casey Alexander – In his second season at Stetson, Alexander led the Hatters to a third-place finish in the standings at 11-7. He is 24-35 overall during his two years, but they are on the way up. HOT SEAT INDEX: 3
Show Comments
Hide Comments
Sharpshooter's return figures to send the program to a place it has been only once before

Gary Parrish and Matt Norlander also discuss UNLV's recruiting class
The five-star big man is part of a surprise late-period recruiting coup by Marvin Menzies

It's time for random observers to stop being outraged by players' decisions

Plenty of decisions are still hanging in the air, calls that will help shape the 2017-18 s...