Hot Seat Index: MVC coach on hottest seat is Drake's Phelps
Mark Phelps of Drake could be sitting on the hottest seat in the Missouri Valley.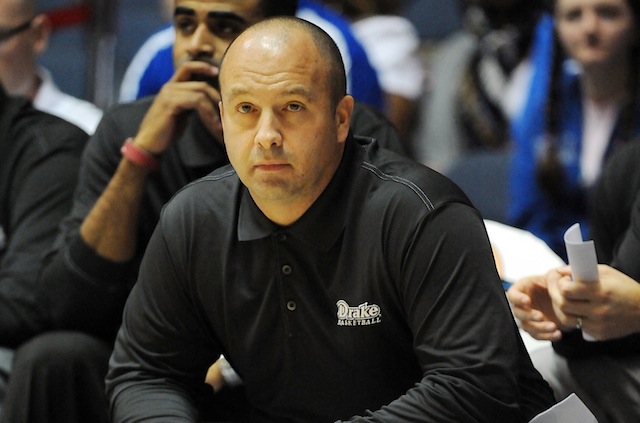 The coaching carousel will kick into high gear soon and, in advance of that event, Eye on College Basketball will prepare you with a league-by-league Hot Seat Index, corresponding with conference tourney play. With assistance and input from Jeff Borzello, I'll talk to coaches in the league and then rate each head coach from 1 to 10.
If you get a 1, you are as safe as it gets. If you're a 10, you might want to start looking for a new gig.
Next up is the Missouri Valley, which began its conference tournament on Thursday. Remember, 10 is the hottest of the hot seats, and 1 is the coolest:
Bradley: Geno Ford -- Didn't inherit much from Jim Les and won just seven games his first season, but the Braves went 16-15 this season and came out on top in seven league games. Ford has the program moving in the right direction after two seasons. HOT SEAT INDEX: 3
Creighton: Greg McDermott -- Made the right decision three years ago to leave Iowa State and it's been a storybook script for both he and his son, Doug. The Bluejays made the NCAA tourney last season and will return after a 24-7 season and a regular-season league title. HOT SEAT INDEX: 2 
Drake: Mark Phelps -- This is a tough call because Phelps has won more games than any coach in the history of the program in his first five years at the helm. However, the Bulldogs were 14-16 this year and finished 7-11 in league play, a step back from last year's 16-8 mark and 9-9 conference record. The worst thing that ever happened to Phelps was Keno Davis taking the program to the NCAA tourney just before he bolted for Providence. HOT SEAT INDEX: 7 (has since been fired) 
Evansville: Marty Simmons -- Entered the season with a 67-88 overall mark and went .500 overall and in league play last year. The Aces are 18-13 this season and finished in fourth in the conference. The question will be how the program fares once senior Colt Ryan leaves after this season. HOT SEAT INDEX: 4 
Illinois State : Dan Muller -- Went 17-14 and 8-10 in his rookie season. The expectations were higher, but the alum and former Vandy assistant had to deal with disciplinary issues and it cost him early in league play. HOT SEAT INDEX: 2 
Indiana State:  Greg Lansing -- This is universally considered one of the most difficult jobs in the league and Lansing has gone to the NCAA tournament already in his three seasons at the helm. He entered the season 38-29 and finished fifth with a 17-13 overall mark and a 9-9 record in league. The Sycamores were inconsistent, but had some impressive wins. HOT SEAT INDEX: 2
Missouri State: Paul Lusk -- Paul Lusk took over for Cuonzo Martin two years ago and went 16-16 and 9-9 in the league his rookie campaign and just 10-21 and 7-11 in conference this season. Lusk had to rebuild, and the key will be how he does over the next couple of seasons. Initial contract was a five-year deal through 2016. HOT SEAT INDEX: 3
Northern Iowa: Ben Jacobson -- He always has that win against Kansas on his resume. Jacobson is now 147-84 overall, went to the NCAA tourney in 2009 and 2010 -- and finished third in the league this season with a 18-13 record and a 11-7 mark in conference. He stuck around a couple of years ago when he could have bolted for more money, and that helps give him job security. HOT SEAT INDEX: 2
Southern Illinois: Barry Hinson -- He returned to the league and took over a Southern Illinois program that has fallen on hard times. The Salukis were 14-16 and finished last in the league at 6-12, but Hinson should get time -- as long as he makes progress. Signed a five-year deal last offseason. HOT SEAT INDEX: 2
Wichita State: Gregg Marshall -- He might not be all that well-liked by his peers, but the guy flat-out wins. The Shockers were 109-61 in his tenure entering the season and, despite losing the core of his team, nearly won the regular-season title. Wichita went 24-7 overall and 12-6 in league play. The lone knock on him?  He's only gone to one NCAA tourney since taking over. HOT SEAT INDEX: 2
Show Comments
Hide Comments
The information on who harassed John Higgins will now be turned over to the FBI

Some of these future NBA picks might work out, but others won't sniff being drafted

This is a good development for Louisville, which may avoid having its coaches forced to testify...
The athletic guard withdrew from the NBA Draft late Wednesday night

Next step in the case, which began in 2011, is for UNC to face the NCAA's Committee on Inf...

We look at 40-plus teams affected by this year's NBA Draft