Hot Seat Index: Pressure mounting on Nevada's Carter in Mountain West
Who's feeling pressure in the Mountain West? Nevada's David Carter needs to have a good year next season.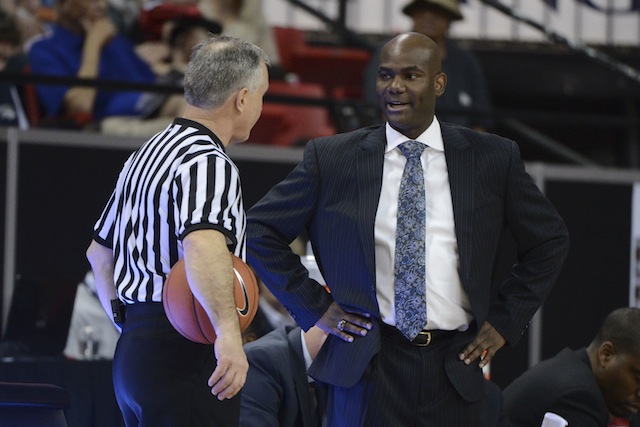 The coaching carousel will kick into high gear soon and, in advance of that event, Eye on College Basketball will prepare you with a league-by-league Hot Seat Index, corresponding with conference tourney play. With assistance and input from Jeff Borzello, I'll talk to coaches in the league and then rate each head coach from 1 to 10.
If you get a 1, you are as safe as it gets. If you're a 10, you might want to start looking for a new gig.
Next up is the Mountain West, which tipped off its conference tournament on Tuesday. Remember, 10 is the hottest of the hot seats, and 1 is the coolest:
(For all of our Hot Seat Index posts, click here.)
Air Force: Dave Pilopovich -- Former assistant took over when Jeff Reynolds was fired two years ago and Pilopovich has done a nice job. The Falcons were 13-16 and 3-11 in 2011-12, but finished the regular season 17-12 and 8-8 in the league -- which was sixth in what has been a loaded Mountain West conference. HOT SEAT INDEX: 3
Boise State: Leon Rice -- He finished 21-9 and 9-7, good for a tie in fourth place, in Year 3 of his tenure. The Broncos won 22 games and finished in second place in the WAC in his first season before taking a dip a year ago, with a 13-17 overall record in the program's first season in the MWC. The former Zags assistant has really done a nice job at Boise. HOT SEAT INDEX: 3
Colorado State: Larry Eustachy -- Took over a team that went to the NCAA tourney a year ago and was constructed by former coach Tim Miles, but Eustachy has gotten this team to live up to the hype. The Rams were 24-7, 11-5 in league play and finished in second place in the league, behind only New Mexico. HOT SEAT INDEX: 2
Fresno State: Rodney Terry -- This is the second year at the helm for the former Texas assistant, and he's won 24 games since he took over. The Bulldogs were 11-18 this season and 13-20 in his first season. Fresno was seventh in the WAC in his rookie campaign and seventh this season in the Mountain West. HOT SEAT INDEX: 4
Nevada: David Carter -- The expectations are high in Nevada after the success Trent Johnson and Mark Fox enjoyed with the Wolf Pack. Carter's results have been erratic, winning 21 games in 2009-10, winning 13 in 2010-11, 28 last season and going 12-19 and 3-13 in league play this season. The Wolf Pack finished last in league play and got knocked out in the first game of the conference tournament by Wyoming. Carter needs to rebound next season with a strong season. HOT SEAT INDEX: 5 
New Mexico: Steve Alford -- After three NIT appearances in his first four seasons with the Lobos, Alford has gotten it going the last two seasons. UNM was 28-7 and 14-2 in league play in 2011-12 and won the league outright this season after 26 wins and a 13-3 conference mark. Alford is about as safe as it gets in this league. HOT SEAT INDEX: 2
San Diego State: Steve Fisher -- Has taken this program from complete irrelevance to where it's been a consistent Top 25 program the last few years. The Aztecs are set to go to their fourth straight NCAA tourney and have won at least 20 games each of the past five seasons. Whenever Fisher decides to retire, assistant Brian Dutcher will take the reigns. Fisher is 67 and will decide when he wants to hang it up. HOT SEAT INDEX: 1
UNLV: Dave Rice -- The Runnin' Rebels alum took over after Lon Kruger went to Oklahoma and led the program to a 26-9 record and a 9-5 league mark in his first season in 2011-12. He has been stellar on the recruiting trail, but this year's team underachieved despite a 23-8 mark and a third place finish in the MWC. Rice is still in great shape, but the expectations are high in Vegas. HOT SEAT INDEX: 2
Wyoming: Larry Shyatt -- He returned to Laramie for his second stint in 2011, and has won 40 games in two seasons. The Cowboys went to the CBI a year ago, and were all set to go to the postseason again before guard Luke Martinez was suspended for an off-court incident. Wyoming hasn't been the same and finished 4-12 in league play. HOT SEAT INDEX: 3
Show Comments
Hide Comments
Calipari's decision not to suspend Derek Willis could end up backfiring on him down the ro...

The 6-foot-2 combo guard will probably be on our list of the best dunkers in the sport

There was a close race for who coaches say they would want coaching their own sons.
The big event will circulate through NYC, Indy and Chicago

The Privateers do their part to help Louisiana after its historic rainfall and floodings

Swofford is unwilling to make any "premature" decisions concerning North Carolina's controversial...