Hot Seat Index: SEC
Auburn's Tony Barbee and Mississippi's Andy Kennedy have the hottest seats in the SEC.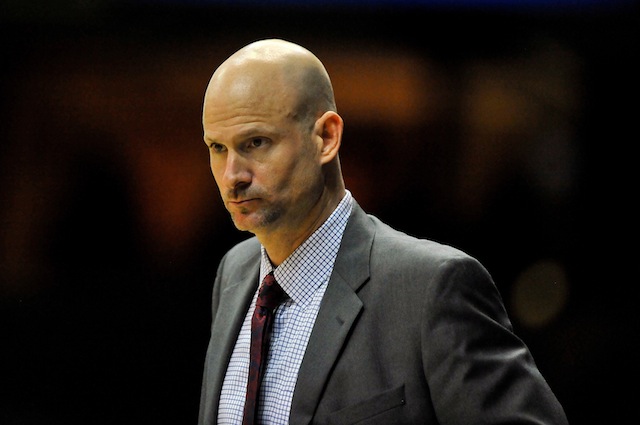 The coaching carousel will kick into high gear soon and, in advance of that event, Eye on College Basketball will prepare you with a league-by-league Hot Seat Index, corresponding with conference tourney play. With assistance and input from Jeff Borzello, I'll talk to coaches in the league and then rate each head coach from 1 to 10.
If you get a 1, you are as safe as it gets. If you're a 10, you might want to start looking for a new gig.
Next up is the SEC, which tipped off its conference tournament on Wednesday. Remember, 10 is the hottest of the hot seats, and 1 is the coolest:
(For all of our Hot Seat Index posts, click here.)
Alabama Crimson Tide : Anthony Grant -- Since coming over before the 2009-10 season from VCU, Grant has led Alabama to three 20-win seasons – but only one NCAA tournament appearance. The Tide are squarely on the bubble this year, but Grant has already led them to as many 20-win seasons in four seasons than predecessor Mark Gottfried did in his final seven years. He's signed through the end of 2019. HOT SEAT INDEX: 3
Arkansas Razorbacks : Mike Anderson -- Anderson has had somewhat of a disappointing two years, as the Razorbacks' road woes have kept them out of the NCAA tournament. He's 37-27 in two seasons, but he's got five more years on his contract. The fact that he is from the Nolan Richardson era and is popular in the area doesn't hurt. HOT SEAT INDEX: 3
Auburn Tigers : Tony Barbee -- In his third season at Auburn, Barbee is just 35-59, including this season's last-place finish. He has never finished better than next-to-last in the league. He has four more years on his deal (which could easily be bought out with football money), but the feeling is he gets another year to turn things around. HOT SEAT INDEX: 6
Florida Gators : Billy Donovan  -- Donovan could essentially coach at Florida as long as he wants, with his back-to-back national titles and 410-164 record over 17 seasons in Gainesville. The Gators won the SEC title this season and have reached back-to-back Elite Eights. HOT SEAT INDEX: 1
Georgia Bulldogs : Mark Fox -- The Bulldogs exceeded expectations this season, going 15-17 despite a lack of talent on the roster. Heading into this year, Fox was 50-46 in three seasons, with one NCAA tournament appearance in 2011. He has three more years on his deal. HOT SEAT INDEX: 4
Kentucky Wildcats : John Calipari -- Despite a 21-10 record this season, Calipari is obviously safe in Lexington. He is the best recruiter in the country and is coming off a national championship season. With an unbelievable recruiting class coming in next season, the Wildcats could compete for a title again. HOT SEAT INDEX: 1
LSU Tigers : Johnny Jones -- It's his first season after coming over from North Texas, and the Tigers are 19-12 this year, including a 9-9 record in the SEC. After leading North Texas Mean Green to six straight above-.500 seasons, he will have time to get LSU back in the hunt. HOT SEAT INDEX: 2
Mississippi State Bulldogs : Rick Ray -- It's been a rough first year for Ray. He had to deal with four season-ending injuries and a few suspensions, and the team was already lacking players. Going 9-21 isn't great on the surface, but it's impressive for Ray, given what he had to work with. HOT SEAT INDEX: 2
Missouri Tigers : Frank Haith -- Haith has been burdened by the NCAA's investigation of Miami this year, but the penalties don't seem too severe for him. He's not out of the woods, but it doesn't look like it will cost him his job. As for the Tigers, they are 23-9 this year and went 30-5 last year. HOT SEAT INDEX: 3
Ole Miss Rebels : Andy Kennedy -- Kennedy's future in Oxford could depend a lot on what happens this Sunday. The Rebels are on the bubble, and Kennedy could really use an NCAA tournament appearance -- something he doesn't have during his time at Mississippi. He was 125-78 in six seasons, and 23-8 this year. While he has reached 20 wins in six of seven seasons, the lack of a tourney trip is noticeable. HOT SEAT INDEX: 7
South Carolina Gamecocks : Frank Martin -- Martin came over from Kansas State Wildcats  before this season, and he's going to need time to instill his style with the Gamecocks. They went 14-18 this season, finishing next-to-last in the league standings. HOT SEAT INDEX: 2
Tennessee Volunteers : Cuonzo Martin -- Martin has done a solid job since arriving at Tennessee before last season, but the Volunteers didn't make the NCAA tournament last year and are on the bubble this year with a 20-11 record. He's dealt with some injuries this year, but a tourney invitation would help. Things could heat up if they get left out. HOT SEAT INDEX: 3
Texas A&M Aggies Billy Kennedy -- The Aggies haven't done great in his first two seasons since leaving Murray State Racers , as Kennedy is 32-33 so far. They finished in 11th place this year, their first season in the SEC. HOT SEAT INDEX: 3
Vanderbilt Commodores : Kevin Stallings -- Before this year, Stallings was 261-159 in 13 seasons, and he had won at least 20 games in seven of his previous nine seasons, including six NCAA tournament appearances. This season, the Commodores were below .500 but did go 8-10 in the SEC and won their first conference tourney game. Moreover, Vanderbilt isn't the easiest job around. HOT SEAT INDEX: 3
Show Comments
Hide Comments
Five-star point guard Collin Sexton hits an amazing trick shot at Atlantis in the Bahamas

We asked which coach would be the most fun to hang out with and trade war stories at the b...

Also, Cincinnati, Iowa, UAB and Wyoming headline a new tournament in the Cayman Islands in...
The addition of Nebraska transfer Andrew White gives Syracuse a legitimate dog in the ACC...

As a college graduate, he's eligible to contribute immediately for the Orange

One of college basketball's best annual games could be killed off because of TV greed