Hot Seat Index: Southern Conference
Furman's Jeff Jackson leads a few coaches from the Southern Conference that could be on the hot seat.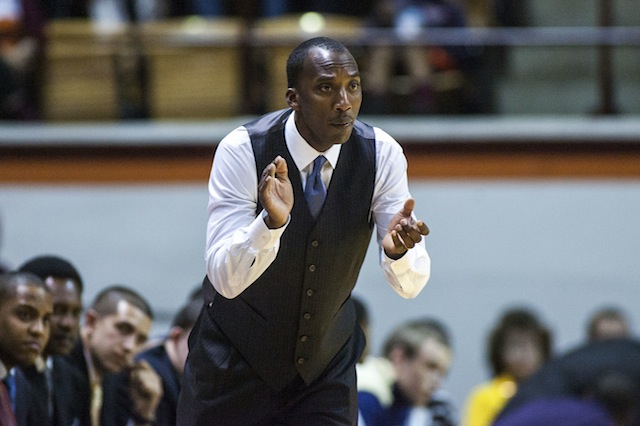 The coaching carousel will kick into high gear soon and, in advance of that event, Eye on College Basketball will prepare you with a league-by-league Hot Seat Index, corresponding with conference tourney play. With assistance and input from Jeff Borzello, I'll talk to coaches in the league and then rate each head coach from 1 to 10.
If you get a 1, you are as safe as it gets. If you're a 10, you might want to start looking for a new gig.
Next up is the Southern Conference, which tipped off its conference tournament on Friday. Remember, 10 is the hottest of the hot seats, and 1 is the coolest:
Appalachian State: Jason Capel – There were some questions raised when Appalachian State first went with Capel, and he has gone 43-48 in three seasons – finishing third, fifth and second in the division. They went 10-8 in the league this season. HOT SEAT INDEX: 4
Charleston: Doug Wojcik – In his first year after coming over from Tulsa, Wojcik finished second in the division behind Davidson with a 22-9 overall record and 14 wins in the conference. He has four more years on his deal. HOT SEAT INDEX: 2
Chattanooga: John Shulman – Shulman has struggled in his last four years, going just 55-73 since making the NCAA tournament back in 2009. The Mocs were 13-18 this season, finishing in fifth-place in the North division. Shulman, who has one year left on his deal, has been to two NCAA tournaments in nine seasons. Chattanooga, though, is working with an interim AD and Chancellor and might not have a permanent one in place for a couple of months. HOT SEAT INDEX: 6
The Citadel: Chuck Driesell – It's not an easy job, but Driesell is struggling. He has gone 24-67 in three seasons at the helm, finishing 8-21 this year and 6-24 a season ago. In each of his three seasons, the team has finished fifth or worse in the division. HOT SEAT INDEX: 5
Davidson: Bob McKillop – The safest coach in the league, McKillop has been to five NCAA tournaments and was 427-271 in 23 seasons with the Wildcats prior to this one. This year, Davidson went 17-1 in the league and cruised to a regular-season championship. HOT SEAT INDEX: 1
Elon: Matt Matheny – Prior to this season, Matheny was just 38-56 in three season – but he led Elon to a North Division title this season, going 20-10 overall. Before he took over, the Phoenix had suffered through three consecutive sub-.500 Southern campaigns. HOT SEAT INDEX: 2
Furman: Jeff Jackson – Jackson has been with the Paladins for seven seasons now, going 84-130 during that stretch. This year, they are just 6-23 and finished with the worst record in the conference. He hasn't been to the NCAA tournament yet, and Furman has struggled since winning 22 games in 2011. HOT SEAT INDEX: 7
Georgia Southern : Charlton Young – Young has shown the ability to consistently attract solid talent to play for the Eagles, but the optimism is starting to fade. They went just 13-18 in the regular season, and he was 29-65 in three seasons prior to this one.  HOT SEAT INDEX: 6 (UPDATE: Young was fired on March 11.) 
Samford: Bennie Seltzer – In his first year running the show, Seltzer led the Bulldogs to a 5-1 start in league play before fading and finishing at 9-9. They were 11-20 overall and tied for third in the division. After last season, athletic director Martin Newton, who took over the department in 2011, handpicked Seltzer as the new head coach, so he has some time. HOT SEAT INDEX: 2
UNC-Greensboro : Wes Miller – There was plenty of hype surrounding the Spartans heading into the season, after Miller took over on an interim basis last season and led them to a division title. However, they have been a major disappointment, finishing last place in the division with an 8-21 overall record. HOT SEAT INDEX: 3
Western Carolina: Larry Hunter – Prior to last season, Hunter had the Catamounts on a three-year streak of above-.500 records, but they have gone 30-36 in the past two years. He has not been to an NCAA tournament since taking over in 2005, but he has finished third-or-better in the division in each of the past five seasons. HOT SEAT INDEX: 3
Wofford: Mike Young – After making the NCAA tournament in 2010 and 2011, the Terriers went 19-14 last year – but are just 13-18 this season, their first sub-.500 year since 2007. He was 156-153 in 10 seasons heading into this year. The interesting thing about Wofford is that no one has a contract – essentially meaning everyone works on a one-year deal. HOT SEAT INDEX: 3
Show Comments
Hide Comments
Our Latest Stories
Connecticut flattens Oregon and is now two victories from its fifth national title in a ro...

North Carolina's point guard is dinged up with injuries to both ankles

The freshman point guard is a projected top-10 pick
SportsLine's computer ran over 10,000 simulations, and came up with a winner you might not...

Gary Parrish and Matt Norlander also spent time on Kansas and Kentucky

The former Duke star trolled Kentucky after their last-second loss to UNC