Howland tops Oregon State's list to replace Robinson
Former UCLA coach Ben Howland, Montana coach Wayne Tinkle and Arizona assistant Damon Stoudamire are atop the Beavers' wish list.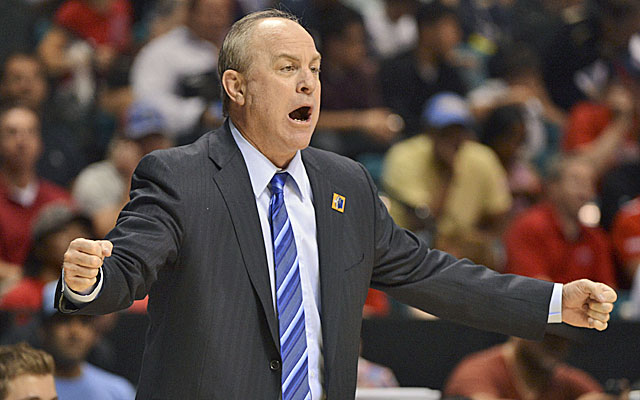 More hoops: Parrish: Oregon St., Howland look like a match | Coaching Changes
If Ben Howland wants to coach next season, he'll get the opportunity at Oregon State.
According to multiple sources, Howland -- the former head coach at both UCLA and Pittsburgh -- is the Beavers' top choice for a replacement for Craig Robinson, who was fired on Monday morning.
Attempts to reach Howland on Monday night were unsuccessful.
After speaking with Marquette about its head coaching vacancy last month, Howland also did not gain any traction with the openings at both Missouri and Tennessee and would have to take the rebuilding job in Corvallis if he chose to return to college coaching next season.
According to sources, Howland initially only wanted to take a job in the top half of a conference so he would have a better chance to win immediately, but after being unsuccessful at Marquette, Tennessee and Missouri, his perspective may have changed.
Oregon State will lose its top five scorers from last season but the Pac-12 is in a situation right now as a league where the conference is somewhat wide open for the near future after Arizona.
A rebuilding situation with the Beavers would be arduous for Howland, now 57, but it also represents an opportunity to build a program at the BCS level in the Pac-12.
While Howland is Oregon State's first choice, Montana coach Wayne Tinkle and Arizona assistant Damon Stoudamire are also atop the wish list of Beavers' athletic director Bob De Carolis.
Howland has a career record of 399-208 and took UCLA to three consecutive Final Fours from 2006-2008.
His last year in Westwood was also a success despite being fired. In 2012-13, Howland led the Bruins to a Pac-12 regular-season title and three wins over Arizona en route to a 25-10 season.
Show Comments
Hide Comments
The 2017 NBA Draft had more freshmen, and fewer seniors, taken in the first round than ever...

A scandal at New Mexico leads to a rarity for the NCAA Tournament selection committee

These two Hall of Fame coaches have been in the crosshairs of NCAA justice in recent years
Will Kentucky have more than two players taken in the first round of the NBA Draft?

Continues to lobby for a college hoops commissioner; hopes the NBA, NCAA can come together

This development means every Division I job is now filled