Illinois lands another transfer: Oregon State's Ahmad Starks
Illinois has seen four players transfer since the end of the season -- but the Fighting Illini have also added four transfers, most recently Ahmad Starks from Oregon State.
• 1 min read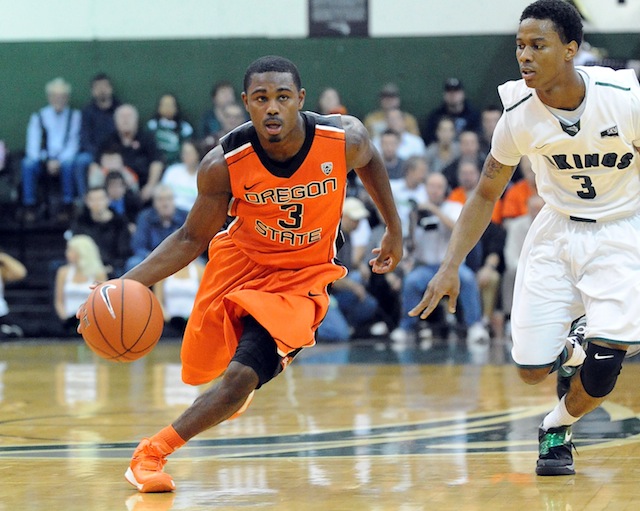 Since John Groce took over at Illinois, he has made major splashes in the transfer pool, picking up two before last season -- and another three since the end of this past season.
Groce added yet another one on Tuesday night, as Oregon State guard Ahmad Starks decided he was going to Champaign.
"It's the state school," Starks told ESPNChicago.com. "It's always been big for me. I always liked watching it growing up, watching Dee Brown and those guys. I took a visit when Bruce Weber was the coach. I liked the situation there, and it didn't work out. Being close to home, the alumni situation -- all of it is huge. They have a great fan base."
Starks is a 5-foot-9 point guard from Chicago who played at legendary Whitney Young High School. At the end of April, he announced he wanted to leave the Beavers and be closer to his grandmother back home. According to reports, he will seek a family hardship waiver to play immediately.
Starks joins a talented group of transfers that includes Aaron Cosby (Seton Hall), Darius Paul (Western Michigan) and Jon Ekey (Illinois State). Cosby and Paul will sit out the upcoming season, but Ekey is eligible immediately as he pursue a graduate degree. Drake transfer Rayvonte Rice sat out last season and will play next season. Sam McLaurin (Coastal Carolina) just played his final season in Champaign.
If Starks is eligible immediately, he joins a team that needs plenty of offensive help. The Fighting Illini lost their top two scorers in Brandon Paul and D.J. Richardson along with senior forwards McLaurin and Tyler Griffey. Groce also saw four players leave after the season due to transfer, with the latest being sophomore forward Myke Henry.
Tracy Abrams and Joseph Bertrand return on the perimeter, with Nnanna Egwu up front. A five-man freshman class -- plus Rice and Ekey -- will have to make an immediate impact.
Starks averaged 10.4 points and 2.3 assists last season.
Show Comments
Hide Comments
It's time for random observers to stop being outraged by players' decisions

Plenty of decisions are still hanging in the air, calls that will help shape the 2017-18 s...

Once again coaches are participating in Oakland coach Greg Kampe's charity event
The Tar Heels point guard was the Most Outstanding Player of the 2017 Final Four

A list of every player who is testing the waters for the 2017 NBA Draft, a record 182 guys

The MVC is looking for a school to replace Wichita State, which left for the American Athl...