INFOGRAPHICS: Mercer becomes 18th 14 to beat a No. 3
A more common upset than you might first think.
• 1 min read
The first game of Friday picked up right where Thursday left off: With some terrific basketball and even more people's brackets doubling as tinder.
Mercer's 78-71 win over Duke in the Midwest region signaled the 18th time in 30 seasons that a No. 14 seed has beaten a No. 3. Below, you can see that Mercer was the least-liked 14 among CBSSports.com users in the Round of 64.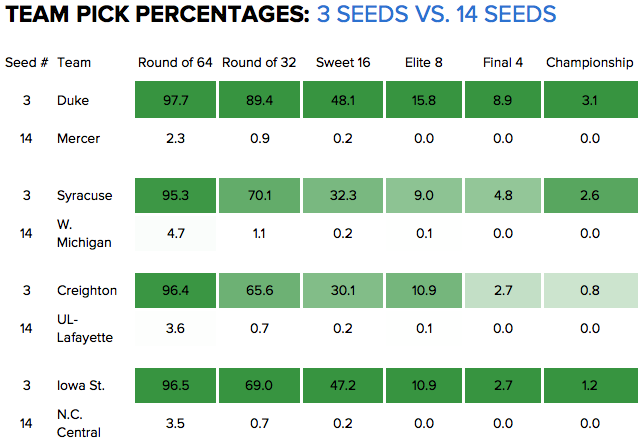 In terms of history, we've now had a 14 win in back-to-back seasons. It's nice, but nothing compared to that run from 1986-1992 in which a No. 14 won at least one game every time.
We've only had two tourneys in the modern era (64/65/68 teams) that have seen two 14s win. But we're only halfway done this year. Creighton plays UL Lafayette shortly, and Iowa State goes up against North Carolina Central Friday night.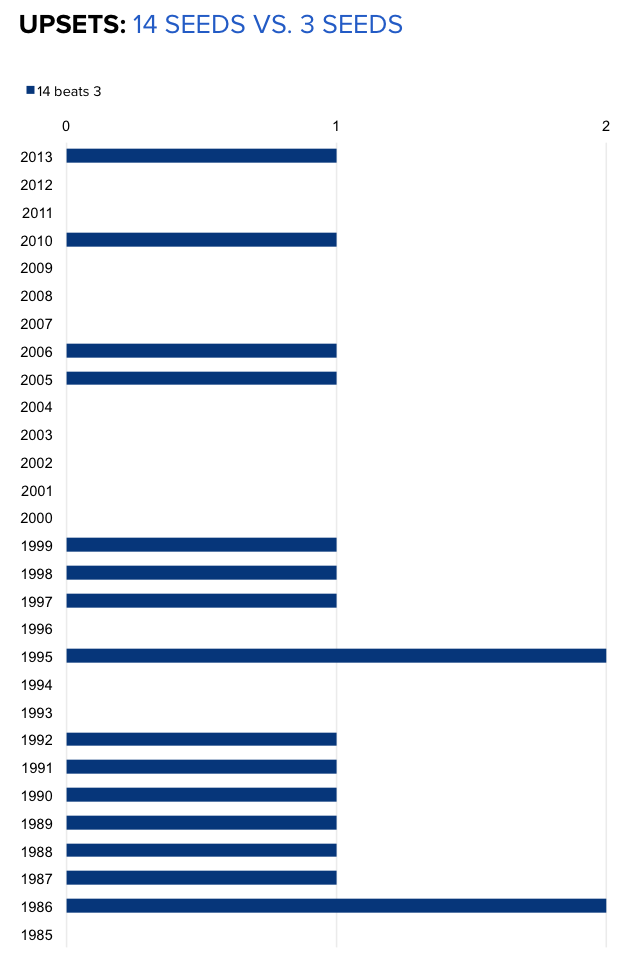 The 14s-over-3s since the field expanded.
| | | | |
| --- | --- | --- | --- |
| Year | Winner | Loser | Score |
| 2013 | Harvard | New Mexico | 68-62 |
| 2010 | Ohio | Georgetown | 97-83 |
| 2006 | Northwestern State | Iowa | 64-63 |
| 2005 | Bucknell | Kansas | 64-63 |
| 1999 | Weber State | North Carolina | 76-74 |
| 1998 | Richmond | South Carolina | 62-61 |
| 1997 | Chattanooga | Georgia | 73-70 |
| 1995 | Old Dominion | Villanova | 89-81 (3OT) |
| 1995 | Weber State | Michigan State | 79-72 |
| 1992 | East Tennessee State | Arizona | 87-80 |
| 1991 | Xavier | Nebraska | 89-84 |
| 1990 | Northern Iowa | Missouri | 74-71 |
| 1989 | Siena | Stanford | 80-78 |
| 1988 | Murray State | NC State | 78-75 |
| 1987 | Austin Peay | Illinois | 68-67 |
| 1986 | Cleveland State | Indiana | 83-79 |
| 1986 | Arkansas-Little Rock | Notre Dame | 90-83 |
Show Comments
Hide Comments
The 2017 NBA Draft had more freshmen, and fewer seniors, taken in the first round than ever...

A scandal at New Mexico leads to a rarity for the NCAA Tournament selection committee

These two Hall of Fame coaches have been in the crosshairs of NCAA justice in recent years
Will Kentucky have more than two players taken in the first round of the NBA Draft?

Continues to lobby for a college hoops commissioner; hopes the NBA, NCAA can come together

This development means every Division I job is now filled