Is Duke's lack of consistent inside play a fatal flaw?
Duke's glaring weakness is its lack of interior consistency. But will that keep the Blue Devils from reaching the Final Four?
• 2 min read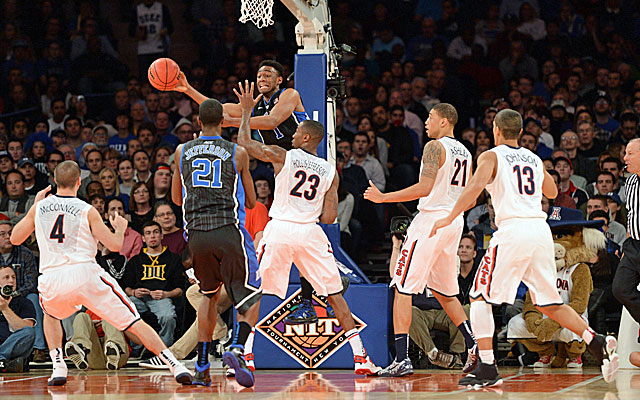 NEW YORK -- On paper, Duke's lack of size didn't appear to matter much against Arizona in Friday's 72-66 loss. The Blue Devils were only outrebounded by eight, actually had more offensive boards than the Wildcats, and were only outscored in the paint by one point.
But that certainly doesn't tell the entire story.
Arizona essentially had free reign once its players got into the lane off the dribble or forced Duke to rotate defensively. There's simply no rim protector waiting there for the Blue Devils -- or even someone who can intimidate opponents into changing their shots or kicking it out. The team's two blocks came courtesy of Jabari Parker.
Arizona's big man trio of Kaleb Tarczewski, Brandon Ashley and Aaron Gordon combined for 33 points and 18 rebounds.
And at the other end, Duke's center position tandem of Amile Jefferson and Josh Hairston was a complete non-factor offensively. They combined for zero points on Friday, attempting one shot between them. Given Duke's perimeter talent and ability to create matchup problems with guys like Parker and Rodney Hood, the Blue Devils would be much more dangerous if they could get something from their big guys.
"We can't get a guy from the developmental league or a guy on a 10-day contract," Duke coach Mike Krzyzewski said. "This is who we have. And we have good players."
Friday wasn't an isolated incident, either. Against Kansas a few weeks ago, Perry Ellis dominated Duke's post players to the tune of 24 points and nine rebounds. And Kansas' guards consistently got into the lane and finished at the rim without much of a deterrent. East Carolina did the same thing, and Vermont shot 31-for-41 from inside the arc.
Is it a fatal flaw, though? Could Duke's lack of interior play at both ends of the floor keep the Blue Devils from being a national title contender?
I still don't think so.
There aren't many teams in the country with the size of Arizona and Kansas. Those teams can throw out at least three future NBA players in the frontcourt every night -- the programs that can say that are few and far between. Duke is going to win a lot of games just because of its absurd talent and depth along the perimeter (having Parker and Hood helps, too). Despite getting outplayed inside in its two losses, Duke was leading for much of the game both times. It's not like they were getting steamrolled in every facet of the game because their interior play was subpar.
The Blue Devils don't need double-doubles from their big guys, or dominant performances inside. They just need Jefferson or Hairston to provide something on a consistent basis. An offensive rebound and putback here, a drop-step and finish there.
Compared to the Kansases and Kentuckys of the world, Duke won't match up in the frontcourt. Krzyzewski knows he doesn't have the length to go toe-to-toe on the low block.
Duke has strengths in enough other areas to overcome its deficiencies.
Plus, it's only November. The Blue Devils have time to adapt. Even without free agency.
Show Comments
Hide Comments
The information on who harassed John Higgins will now be turned over to the FBI

Some of these future NBA picks might work out, but others won't sniff being drafted

This is a good development for Louisville, which may avoid having its coaches forced to testify...
The athletic guard withdrew from the NBA Draft late Wednesday night

Next step in the case, which began in 2011, is for UNC to face the NCAA's Committee on Inf...

We look at 40-plus teams affected by this year's NBA Draft