Jaylon Tate looks to distinguish himself from talented teammates
Despite being surrounded by a number of high-major prospects in both high school and AAU, Jaylon Tate has done a good job of proving that he has plenty of talent on his own.
• 1 min read
CHARLOTTESVILLE, Va. – On the high school scene, Jaylon Tate plays alongside Jabari Parker and Kendrick Nunn. During the spring and summer AAU circuit, Nunn, Paul White, Alex Foster and several others surround Tate.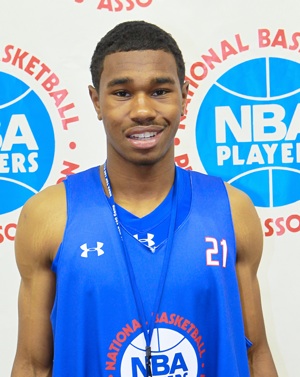 Jaylon Tate is ranked No. 25 among point guards in the class of 2013. (Davide DePas)
As he has proven over the past couple of months, though, Tate has plenty of talent himself.
"I've been playing good so far. AAU was good," Tate said. "I want to get better as a player, just to learn from the experience. I'm trying to get more college looks, improve weaknesses."
CBSSports.com ranks the 6-foot-2 Simeon (Ill.) prospect as the No. 25-best point guard in the class of 2013. Tate is thin, but he can handle the ball and likes to get his teammates involved. Over the weekend at the NBPA Top 100 Camp, he showed aggressiveness when getting to the rim, and his length was effective on the defensive end.
Tate is uncommitted, but has a number of schools making an effort to land him.
"It's going good, just taking my time," Tate said. "Not rushing."
Missouri, Xavier, Providence, Illinois, DePaul, Northwestern, Butler and Missouri State have all extended offers, while UCLA and Maryland are showing interest. Tate has taken trips to DePaul, Missouri, Missouri State, Northwestern, Illinois and Xavier.
"I definitely want to visit UCLA," Tate said of possible official visits in the fall. "And get back to Missouri, Xavier and Illinois."
He also said that he would interested in checking out Butler and Maryland this summer on potential unofficial visits.
"I'm looking for a good coach, and a style of play that fits me," Tate said. 
Archie Miller's debut season at Indiana will be a top-10 storyline in college basketball

Gary Parrish and Matt Norlander discuss last week's NBA Draft and look to next year's

Mizzou's basketball arena has around $1000,00 in damage
The two SEC coaches let everyone know what changes they think should come to the NBA Draft

It's not an outstanding slate, but the Big Ten has good opportunities with the most interesting...

The 2017 NBA Draft had more freshmen, and fewer seniors, taken in the first round than ever...