John Calipari discloses THE TWEAK, and it's hilarious and brilliant
The Kentucky coach finally came clean on his much-talked-about late-season adjustment. What he says it was wasn't nearly as important as what it accomplished early last month.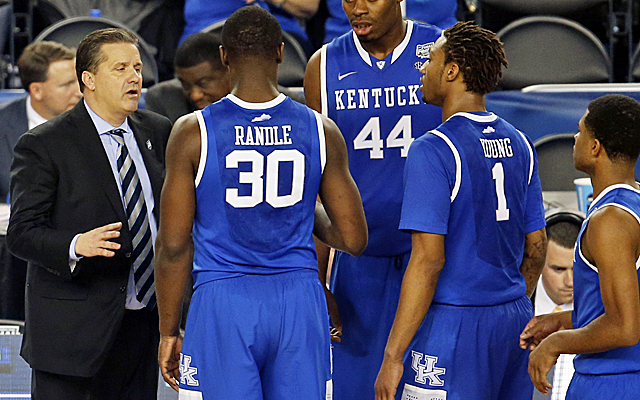 Latest in hoops: NBA Early Entries | Latest News | Coaching Changes
There was a moment during Wisconsin's run to the Final Four when somebody asked Bo Ryan how he turned things around after his Badgers lost five games in a six-game stretch in the first half of the Big Ten schedule, and Ryan basically answered by saying he simply adjusted some things the way he always does, and they worked, and whatever.
He didn't make a big deal about the changes because they weren't a big deal.
They were the same types of changes all coaches often implement.
Which is what makes John Calipari both hilarious and brilliant.
Calipari was faced with a similar basketball crisis in late March when his Kentucky team lost to Arkansas at home, to South Carolina on the road and to Florida by 19 points in a span of 10 days to finish 12-6 in the SEC and fall completely out of the Associated Press poll. In the middle of that, after the loss to South Carolina, I called Kentucky the nation's most disappointing team for the second year in a row, and no smart person argued because when you start a season ranked No. 1 and end up as a No. 8 seed in the NCAA Tournament, you are, by definition, a big disappointment. My statement, in real time, was true.
So things were bad -- so bad even some UK fans were turning on Calipari.
They were questioning whether his approach of almost exclusively recruiting one-and-done prospects could work unless Anthony Davis was one of the one-and-dones. They were wondering whether a new philosophy needed to be adopted. They were wilding out.
At which point Calipari introduced THE TWEAK.
He talked publicly but coyly about THE TWEAK while suggesting that if he'd just tweaked earlier this roster filled with eight future NBA Draft picks wouldn't have finished tied with Georgia in the SEC standings, and, almost immediately, I recognized it for what it was, i.e., a mental Hail Mary designed to erase the previous four months of underachieving and create the illusion of a fresh start. If Calipari could convince his team that it was fixed, perhaps his team would actually get fixed, and, hey, it was worth a shot, right?
THE TWEAK was also more than that, though.
It wasn't just a mind game with Kentucky's players.
It was mind game with the media and Kentucky's fans, too.
Suddenly, nobody was writing or talking about UK's disappointing season. Everybody was instead speculating about the THE TWEAK, point being that Calipari realized that his program was under attack and decided the best way to change the conversation was to create a new conversation about a mysterious tweak. Needless to say, it worked, which isn't surprising because I've seen Calipari do this before.
The year was 2003.
Calipari was coaching Memphis.
I was the Memphis beat writer at The Commercial Appeal.
The Tigers' best player that season was Chris Massie, and he'd just led Memphis to its first NCAA Tournament since 1996. His story was interesting because he was a high school dropout turned junior college star, and I went to his hometown in Texas to tell his story. Then, heading into the Round of 64 game against Arizona State, I published his story, and the immediate reaction was positive, not because I'd filed some beautiful story but because the story was a classic tale of a person overcoming obstacles to achieve something, and people tend to enjoy those stories. So people, for the most part, I believe, enjoyed that story.
Then came the game with Arizona State.
Memphis was favored, and the Tigers were ahead by a point at the half. But they still lost 84-71, ensuring Calipari would enter his fourth season with zero wins in the NCAA Tournament. Memphis fans were fired up, as I'm certain you can imagine.
Are we sure he's the right person for the job? Why are we paying this guy all of this money? Larry Finch was fired after making the NCAA Tournament in four of his past five seasons. So why are we settling for this?
That Memphis fans were just as crazy to question Calipari then as UK fans were to question Calipari last month is beside the point. The point is that Calipari was getting attacked by his own fans, and so guess what he did? He started talking publicly about my story on Massie and how it messed with Massie's head and how he couldn't believe the local paper would try to embarrass a young man in that way, and he created the impression that the newspaper story cost his team as opposed to Rob Evans' halftime adjustments.
Just like that, Memphis fans were no longer attacking Calipari.
They were attacking me!
It was the weirdest thing -- how Calipari essentially took all of the criticism directed at him, redirected it at me and my employer, and changed the conversation completely. And I'll be honest: I wasn't even mad. I was, more than anything, impressed by Calipari's ability to flip the script, so to speak, and I've always thought that was part of what makes him great, his unique ability to manipulate large groups of people.
Which brings me back to THE TWEAK.
It was essentially the same thing.
Calipari would never disclose THE TWEAK during the season because to do that would be to end the speculation, which would end the conversation, and what would be the point of THE TWEAK if there wasn't constant speculation and conversation attached to it? Beyond that, lacing it in secrecy gave his players something over which to bond, and the whole thing really was awesome, and I mean that sincerely. The problem, of course, was that someday Calipari would have to disclose THE TWEAK because he promised to do so after the season, and that disclosure came Monday when he went on television and said THE TWEAK was -- ready for this? -- telling point guard Andrew Harrison to pass more.
Seriously, THE TWEAK, according to Calipari, was getting his point guard to pass.
Hilarious, right?
(That's what point guards are supposed to do anyway!)
That Calipari went on TV and explained, with a straight face, that the secret to UK's turnaround was discovering, after 31 games, that his point guard needed to pass is the funniest thing, and it doesn't matter that Harrison did actually pass more going forward because, as The Sporting News' Mike DeCourcy pointed out, he also shot more. He did everything more. And, either way, Kentucky advancing to the national title game had less to do with that than it did with the fact that the Wildcats, out-of-nowhere, turned into one of the nation's hottest 3-point shooting teams, and the fact that Wichita State's Fred VanVleet missed a 3-pointer at the buzzer in the Round of 32, and the fact that UK's Aaron Harrison became the clutchiest clutch-shooter in the history of the NCAA Tournament.
Want to point to a reason for UK's turnaround, point to those things.
But pointing to THE TWEAK is silly.
That said, it worked.
Boy, did it work -- and not because Kentucky made the national championship game. Nope, THE TWEAK worked way before that, specifically the moment folks stopped talking about UK finishing 12-6 in the SEC and started talking about anything other than UK finishing 12-6 in the SEC. The goal was to change the conversation, and that the course of a season was also later changed was little more than an added bonus, if not a total coincidence.
Show Comments
Hide Comments
Gary Parrish and Matt Norlander also discuss UNLV's recruiting class

The five-star big man is part of a surprise late-period recruiting coup by Marvin Menzies
It's time for random observers to stop being outraged by players' decisions

Plenty of decisions are still hanging in the air, calls that will help shape the 2017-18 s...

Once again coaches are participating in Oakland coach Greg Kampe's charity event