Kansas big man Tarik Black assumes spotlight with Joel Embiid out
With star big man Joel Embiid out for the Big 12 tourney, Tarik Black suddenly becomes a very vital play for Kansas.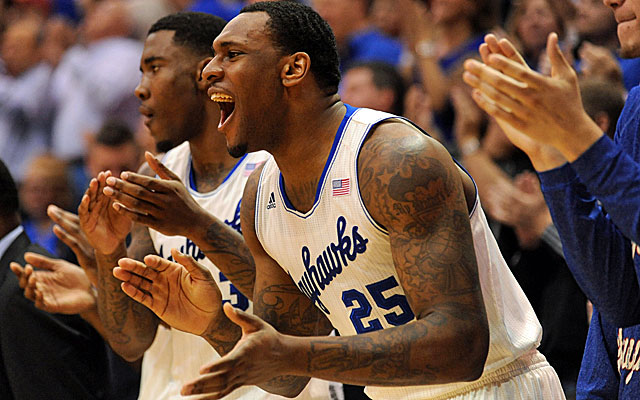 Latest in college hoops: Top 25 (and one) | Bracketology | Bubble Watch
1. Tarik Black is all of a sudden a critical piece for Kansas.
Bill Self announced on Monday night that his starting center Joel Embiid won't play in the Big 12 tournament and might not return until the latter rounds of the NCAA Tournament. What does that mean for the Jayhawks? A bigger role for Tarik Black (4.8 points, 3.3 rebounds). The 6-9 big man transferred to Kansas from Memphis to be part of a deep run in the field of 68 and now he'll get a chance to have a major role on one of the more talented teams in the country. Black has been a bit of an afterthought this season because of Embiid's presence, but he's still a player that boasts NCAA Tournament experience and has regularly competed against other elite big men. Put the 6-9 veteran in bold print. He'll stay there until when and if Embiid comes back healthy.
2. Nebraska's Tim Miles was named Big Ten Coach of the Year -- because of two transfers that sat out a year.
Miles is a great coach and has now rebuilt three programs -- North Dakota State, Colorado State, and now Nebraska -- but this particular rebuilding job has been on the back of two transfers. Terran Petteway and Walter Pitchford were non-factors at Texas Tech and Florida two seasons ago, and now they've turned into major pieces on a team that finished fourth in the Big Ten. The 6-6 Petteway averaged 3.1 points two years ago while playing for the Red Raiders and now is tallying 18.0 points and 4.9 rebounds. Pitchford, meanwhile, was an unknown with the Gators and has turned himself into a lethal pick-and-pop big man, averaging 9.4 points while shooting 41.7 percent from three-point range. What am I getting at here? Both of these players benefited from a red-shirt year. So often we hear of kids attempting to get a waiver to play immediately when they transfer -- why? Here's an example of two players who sat out, worked on their games, and are now reaping the benefits. If you transfer, you should sit a year -- period. If you need to know a few reasons why, ask Petteway and Pitchford.
3. In exactly three years VCU has gone from CAA contender to national force.
It was just 36 months ago that the Rams lost to Old Dominion in the CAA title game and had to wait to hear their name called on Selection Sunday. What's happened since is something nobody could have predicted. VCU was selected for the 2011 NCAA Tournament, then went to the Final Four and took off nationally as a program. Since that magical run three years ago, Shaka Smart has led the Rams to back-to-back trips to the field of 68 and a third one is set to happen in the next few weeks. But before VCU can take its aim at another magical run in March, the Rams' program had other major news on Monday. The Rams announced that the university will begin building a $25 million practice facility that will be adjacent to the Siegel Center, where the Rams' play their home games. This is beyond huge for VCU's program. Smart has been able to make the Rams a perennial national force without some of the resources of other Top 20 programs. That all changes with the addition of a practice facility, which is expected to be ready in approximately 15 months.
4. Average offensive teams should fear Manhattan in the NCAA Tournament.
The Jaspers beat Iona 71-68 in Monday night's MAAC title game and could be a nuisance to play in the field of 68, especially if their opponent struggles to score in the half court. Manhattan coach Steve Masiello is a disciple of Rick Pitino, and implements the same philosophies as his mentor. The Jaspers press for 94 feet and then slide back into a match-up zone that forces the opponent to run their offense as far away from the basket as possible. Manhattan isn't a great offensive team, but it has the depth, experience and toughness to give a power-conference team a 40-minute battle in about 10 days. Four of the Jaspers starters -- Mike Alvarado, George Beamon, Ashton Pankey and Rhamel Brown -- are in at least their fourth season of college basketball. That's big time seasoning for a mid-major.
5. Delaware will be able to compete against smaller, more skilled teams in the NCAA Tournament.
The field of 68 is all about matchups, and that's why the Blue Hens will have a chance to be competitive in their first game if they're fortunate to draw a smaller team that focuses on spacing and skill. Monte Ross' team won the CAA title on Monday night with a dramatic one-point win over William & Mary and has three high-level perimeter players in Jarvis Threatt, Devon Saddler and Davon Usher. Delaware focuses on isolation sets and ball screens in an effort to put the ball in the hands of those three players as much as possible. The Blue Hens also start a fourth guard in 6-2 junior Kyle Anderson, who tallied nine points Monday night. This team generally plays with one post player -- Carl Baptiste -- a rugged fifth-year senior who dominated William & Mary in the title game and finished with 24 points and eight rebounds. Delaware has its flaws, like any other mid-major, but it can be a tough out in the NCAA Tournament if it gets the right matchup. Earlier in the season, the Blue Hens were very competitive against Villanova -- a smaller team -- because Threatt, Saddler and Usher were able to penetrate and score due to limited length and athleticism up front. It will be interesting to see who this team draws in the field of 68.
Show Comments
Hide Comments
Motley, who averaged 17.3 points and 9.9 boards, is projected as a borderline first-rounde...

Sharpshooter's return figures to send the program to a place it has been only once before
Gary Parrish and Matt Norlander also discuss UNLV's recruiting class

The five-star big man is part of a surprise late-period recruiting coup by Marvin Menzies

It's time for random observers to stop being outraged by players' decisions