Kansas freshman Joel Embiid to see back specialist in California
The possible No. 1 overall has missed the Jayhawks' past two games.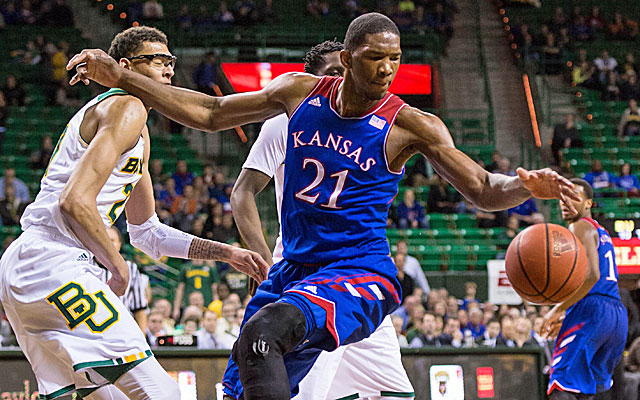 Latest in college hoops: Top 25 (and one) | Bracketology | Bubble Watch
Kansas center Joel Embiid, the possible No. 1 overall pick in the 2014 NBA Draft, flew to Los Angeles on Sunday to get a second opinion on a lower back injury that's caused him to miss the past two games, a source close to the program told CBSSports.com.
Embiid is scheduled to meet with a back specialist on Monday morning.
Initially, Kansas officials only described the injury as a lower-back strain. But KU coach Bill Self acknowledged to the Kansas City Star late Sunday that Embiid's issues are more "significant" than a lower-back strain. The 7-foot freshmen is supposed to return to campus late Monday or early Tuesday, a source told CBSSports.com on Sunday.
The Jayhawks will play either Oklahoma State or Texas Tech on Thursday in the quarterfinals of the Big 12 tournament at the Sprint Center in Kansas City. KU is 2-1 this season without Embiid, who is averaging 11.2 points and 8.1 rebounds per game.
Show Comments
Hide Comments
Coaches share stories of the exorbitant amounts of cash they've spent to watch recruits each...

The 6-foot-10 forward was one of the Bruins' best defenders in his lone season

Catch up on the top 10 players in the class of 2017 and the biggest storylines from Las Ve...
Jonathan Mills led Southern Miss to 27 victories in the 2012-13 season.

The rising prospect died early Monday morning in ​a nightclub shooting

Virginia freshman Jay Huff launches from the foul line -- or just about -- for this vicious...