La Salle's Giannini hopes transfer rules remain strict for players
John Giannini brought La Salle to the Sweet 16 last season. At A-10 media day Tuesday, he opined on his worries for college hoops, should transfer rules change to benefit players.
• 2 min read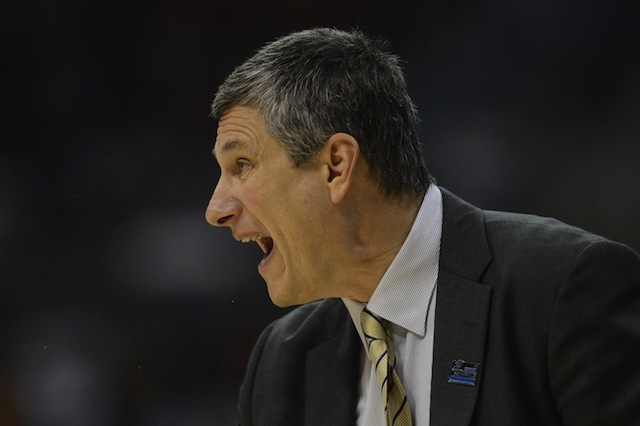 NEW YORK -- Count Dr. John Giannini among the coaches who believe one change to the transfer system could be detrimental to college basketball.
The number of college basketball players hopping from one school to another has been a topic of discussion over the past couple of years, and with the ongoing debate over how the NCAA should hand out exceptions to redshirt waivers, coaches continued the discussion at Tuesday's Atlantic 10 media day. Giannini offered more concern than others, citing his belief that the transfer numbers are too high already and are in jeopardy of bloating further in the near future if regulations aren't implemented.
Across the sport coaches aren't exactly split in how they think transfers should be handled, but if Giannini, who brought La Salle to the Sweet 16 last season, had his way, all players would be required to sit a year, regardless. Giannini said eliminating restrictions on transfers would cause the sport to have "50 percent turnover on rosters annually."
He added "tampering would be off the charts," meaning the big programs would be prone to plucking key players from smaller schools in a relentless effort to improve their roster and, in doing so, improve their chances at making/winning in the NCAA tournament.
"Every freshman on every basketball team wonders whether they made the right decision," Giannini said. "There comes a day and you wonder, Could I have gone somewhere bigger? I wonder if I made the right choice. One hundred percent of kids have that thought. They also have a lot of external pressures, too. If a kid doesn't play a lot, they come home, look at the phone and see their texts. 'What's up? What's going on with the coach? Why aren't you playing more?' Most teams can only play seven or eight guys."
The need for immediate gratification for players in the modern era has led to more instability between programs, according ot Giannini. Players are apt to get up and leave -- despite the headaches that come with transferring -- because they aren't receiving the playing time in their first or second year they feel entitled to. It's more immediate gratification.
"And on the other side, a kid's playing well, that kid will try to move up," Giannini said. "The Big Ten did a study that said 40 percent of kids transfer before their eligibility is up."
With no mandatory one-year waiting period for players following a transfer, Giannini said it would be impossible to build a program at most schools outside of the major conferences because the unknowns for what types of players you would be assured from year to year would become much less evident.
The NCAA might very well look into its transfer guidelines and whether or not it should make significant alterations to waiver exemptions for players. Opinion remains divided among coaches and those who follow the game over whether the 400-500 players per year that are transferring is really epidemic-level turnover. Without debate: basketball coaches are still opinionated and vested in how the game's players are treated, whether it be for the benefit of the programs, the players, or the coaches themselves.
Show Comments
Hide Comments
The 2017 NBA Draft had more freshmen, and fewer seniors, taken in the first round than ever...

A scandal at New Mexico leads to a rarity for the NCAA Tournament selection committee

These two Hall of Fame coaches have been in the crosshairs of NCAA justice in recent years
Will Kentucky have more than two players taken in the first round of the NBA Draft?

Continues to lobby for a college hoops commissioner; hopes the NBA, NCAA can come together

This development means every Division I job is now filled