Last of the Unbeatens: Five remain as conference play heats up
With Ohio State falling on Tuesday, only five schools remain without a loss.
• 2 min read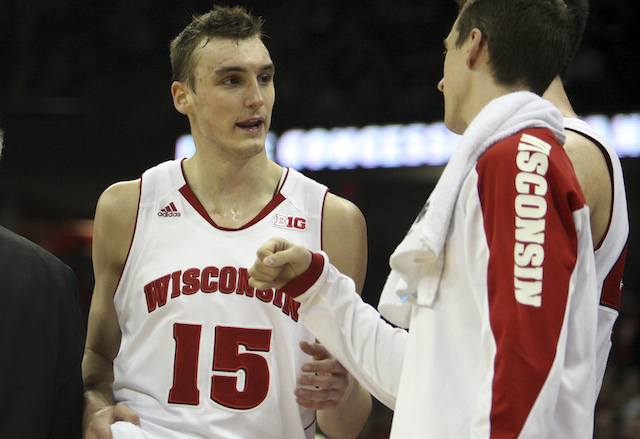 Welcome back to our feature, "Last of the Unbeatens," where we run through each of the undefeated teams remaining in the country – as well as where they might suffer their first loss.
And now we're down to five. With Oregon losing to Colorado over the weekend and Ohio State falling to Michigan State in overtime on Tuesday night, there are only a handful of undefeated teams left in the country. Conference play is heating up, meaning every game is a test for the final five.
Iowa State already survived a top-10 test this week, while Syracuse won an ACC road game on Tuesday. But it wouldn't be a shock to see this list chopped to four by next week.
What they've done recently: Arizona obviously won both games last week, but it was a mixed bag. The Wildcats steamrolled Washington State, holding the Cougars to 25 points, but then they struggled with Washington before pulling away down the stretch. It's not going to be easy to survive this week, though. The Los Angeles swing is up, with a trip to UCLA and the Bruins' zone defense up next.
Next game: Jan. 9 at UCLA
Next possible loss: Jan. 9 at UCLA
What they've done recently: The Orange survived their first road game in the ACC on Tuesday, cruising past Virginia Tech. That was on the heels of a tough home game against Miami in which the Orange scored just 49 points in the win.  Now comes the hard part: three of the next five games are on the road, with the home contests against North Carolina and Pittsburgh.
Next game: Jan. 11 vs. North Carolina
Next possible loss: Jan. 11 vs. North Carolina
What they've done recently: For most of Sunday's game against Iowa, it looked like the Badgers' unbeaten run would end. But then Fran McCaffery got thrown out of the game, the tide turned, and Wisconsin survived. Up next is a home tilt against Illinois, and then a road trip to Indiana next week. One thing to note about the Badgers' Big Ten schedule: they get Ohio State and Michigan State at home, and don't have to go on the road to either place.
Next game: Jan. 8 vs. Illinois
Next possible loss: Jan. 8 vs. Illinois
What they've done recently: Tuesday was supposed to bring a tough test for Iowa State, but DeAndre Kane made sure it wasn't all that difficult. The Cyclones rolled by 15. Now comes the difficult part: at Oklahoma, home vs. Kansas, at Texas, home vs. Kansas State, at Kansas, home vs. Oklahoma, at Oklahoma State. Iowa State won't get through that unscathed – but will they still be in the Big 12 title hunt?
Next game: Jan. 11 at Oklahoma
Next possible loss: Jan. 11 at Oklahoma
What they've done recently: Another week, another two double-digit victories for Wichita State. First was a 15-point road win at Southern Illinois, then the Shockers returned home and beat Northern Iowa. Three of the next four games are at home, with the lone road game at Missouri State. Illinois State has some pieces, but Wichita State should get by on Wednesday.  
Next game: Jan. 8 vs. Illinois State
Next possible loss: Jan. 11 at Missouri State
Show Comments
Hide Comments
These two Hall of Fame coaches have been in the crosshairs of NCAA justice in recent years

Will Kentucky have more than two players taken in the first round of the NBA Draft?

Continues to lobby for a college hoops commissioner; hopes the NBA, NCAA can come together
This development means every Division I job is now filled

The Buckeyes hired Holtmann to replace Thad Matt earlier this month

A Mizzou freshman is in trouble and coach Cuonzo Martin says the matter will be handled 'i...