Last of the Unbeatens: Trip to Pitt could trouble Syracuse
Two unbeatens still remain -- will Syracuse fall on Wednesday? Wichita State looks more and more likely to continue winning.
• 3 min read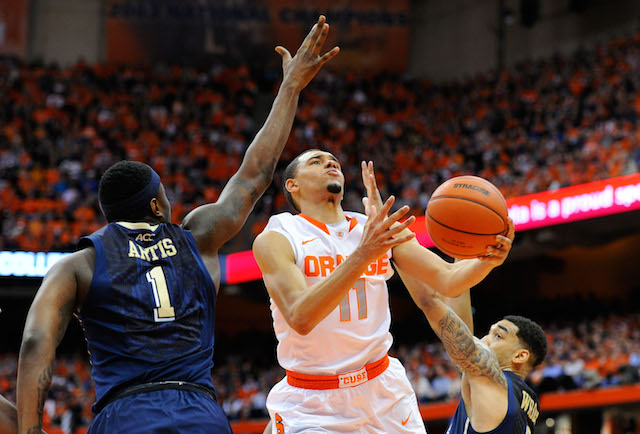 Welcome back to our feature, "Last of the Unbeatens," where we run through each of the undefeated teams remaining in the country – as well as where they might suffer their first loss.
There are still two teams unbeaten, but there is a completely different feeling about each of the teams.
After last week's wins at Indiana State and Northern Iowa, it's beginning to look more and more like Wichita State could end the regular season with an unbeaten record. The Shockers continue to impress, and the number of potential pitfalls on the schedule have diminished greatly.
And on the other side, there's Syracuse – which could see its unbeaten record end as early as Wednesday. The Orange face Pittsburgh on Wednesday, and Panthers' head coach Jamie Dixon has had plenty of success against Syracuse in the past.
Could this list be down to one next week?
Syracuse (23-0)
What they've done recently: The Orange didn't look consistently dominant in their two games last week, but they handled Notre Dame by six at home, and then beat Clemson by 13 on Sunday. They are now 10-0 in the ACC, and have the school's longest winning streak in almost 100 years. Both Notre Dame and Clemson tried to slow the game down, but the Orange were able to win at that speed, too.
Feb. 12 at Pittsburgh: This could be where Syracuse suffers its first loss. Pittsburgh hasn't looked very good against NCAA tournament-caliber opponents, losing home games to Duke and Virginia two weeks ago before struggling to overtime wins against Miami and Virginia Tech. However, the Panthers took Syracuse to the wire at the Carrier Dome last month, and Dixon has experience and success going against the 2-3 zone.
Feb. 15 vs. North Carolina State: Mark Gottfried's troops have had their moments this season, beating Tennessee and Florida State, and they also have a go-to-guy in T.J. Warren that is capable of carrying the Wolfpack. They have won five of their last six games after taking down Wake Forest on Tuesday. Transition defense and making shots against the zone will be the keys for them.
Feb. 19 vs. Boston College: This is certainly the easiest game left on the schedule for Syracuse. After this one, Syracuse has to travel to Duke, Maryland and Virginia in back-to-back-to-back games. Boston College does have some talented pieces at the top of its roster, but the Eagles have been one of the biggest disappointments in the country this season. Syracuse won the first meeting by 10.
Wichita State (26-0)
What they've done recently: Last week was the stretch everyone had circled for when Wichita State might lose its first game. First was a road trip to Indiana State, the second-best team in the Missouri Valley. The Shockers had some trouble, but ended up with a seven-point win. Then they were at Northern Iowa, which had won 10 in a row at home prior to February. Wichita State handled that one, too.  Tuesday night wasn't as easy as expected, but the Shockers beat Southern Illinois in the second half.
Feb. 16 at Evansville: Wichita State had some trouble with the Purple Aces on February 1, winning by 14 after some struggles early. Evansville has dropped four in a row and sits at just 3-9 in the Missouri Valley. If the Purple Aces have any chance at an upset, they need to hold their own on the glass and find ways to get easy points at the free-throw line. It doesn't seem likely.
Feb. 19 at Loyola (Chicago): This could be a trouble spot for Wichita State, although I don't imagine the Shockers will fall. The Ramblers have been tough to beat at home, with eight of their nine wins this season coming in the Gentile Center. Milton Doyle has been one of the more prolific freshman scoring guards this season, but the Ramblers need to take care of the ball and make perimeter shots.
Feb. 22 vs. Drake: The Shockers return home to face a Drake team that they beat by 17 on the road just three weeks ago. In that one, Wichita State got too many easy looks in the paint, and also grabbed too many offensive rebounds. Drake has the ability to get hot from 3-point range, and the Bulldogs need to making their outside jumpers to stay in the game. 
Show Comments
Hide Comments
Motley, who averaged 17.3 points and 9.9 boards, is projected as a borderline first-rounde...

Sharpshooter's return figures to send the program to a place it has been only once before
Gary Parrish and Matt Norlander also discuss UNLV's recruiting class

The five-star big man is part of a surprise late-period recruiting coup by Marvin Menzies

It's time for random observers to stop being outraged by players' decisions