LeBron James: 'I would quit basketball' if I was on Northern Iowa
LeBron James discussed the embarrassment of giving up a 12 point lead in 44 seconds, as Northern Iowa did against Texas A&M in the second round of the NCAA Tournament.
• 1 min read
Texas A&M's furious comeback at the end of regulation against Northern Iowa is still making ripples across the basketball world. After all, storming back from 12 points down in less than a minute in regulation is the largest deficit overcome to win in college basketball history. 
For Texas A&M fans it was pure elation. For Northern Iowa it was a heartbreak of the worst kind. LeBron James showed very little sympathy for the Panthers when asked about the comeback, telling ESPN's Dave McMenamin he would "quit basketball" if he played for Northern Iowa.
LeBron on the A&M comeback over UNI: "I would quit basketball. If I was on Northern Iowa, I would quit."

— Dave McMenamin (@mcten) March 23, 2016
James has already ruffled feathers with his social media behavior recently, but this is a below-the-belt shot at a team that is already hurting after the crushing defeat.
Of course, there is also the other side of the coin with Texas A&M's continued elation.
March 21, 2016
And if you've been living under a rock, here is the full comeback at the end of regulation in what ended up being a 92-88 double overtime win.
If you missed the last 44 seconds of regulation of the A&M/UNI game, here it is: https://t.co/CNZk1ErRUx#MarchMadness #NeverQuit

— Evie Van Pelt (@OleMissEvie) March 21, 2016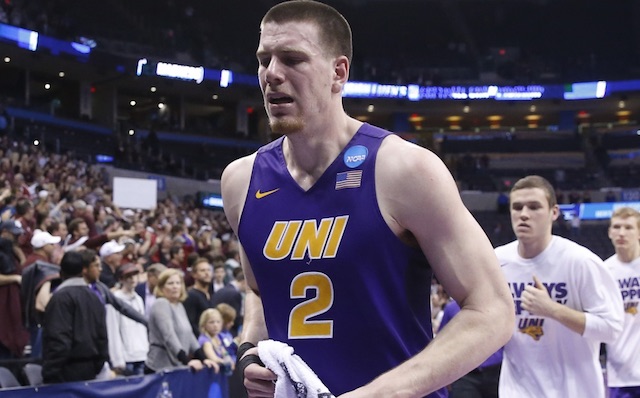 Show Comments
Hide Comments
The Tar Heels point guard was the Most Outstanding Player of the 2017 Final Four

A list of every player who is testing the waters for the 2017 NBA Draft, a record 182 guys

The MVC is looking for a school to replace Wichita State, which left for the American Athl...
Self's one of the very best, but he's changing his attack strategy to help his chances nat...

Collins is set up to be Northwestern's coach for a very long time -- if no one bigger lures...

Eight of the top nine scorers from this season's team are not returning, but UK will be fi...