Mark Few confirms Tommy Lloyd is Gonzaga's coach-in-waiting
Bill Grier had the tag before he left. Then Leon Rice was slated to succeed Mark Few at Gonzaga before he went to Boise State. Now it's 'Zags assistant Tommy Lloyd who is the coach-in-waiting in Spokane when Few calls it quits.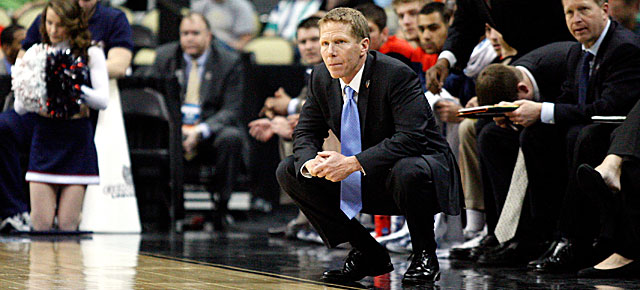 When Mark Few has had enough of Gonzaga, there is a plan in place. (Getty Images)
Mike Hopkins is the coach-in-waiting at Syracuse when Jim Boeheim calls it a career. Brian Dutcher has the identical title at San Diego State when Steve Fisher retires. Tim Jankovich holds the same distinction under Larry Brown at SMU. 
Gonzaga also has a successor plan going forward. 
At one point, it was slated to be Bill Grier, who ultimately understood that Mark Few wasn't leaving Spokane anytime soon and decided to take the job at San Diego. Then the honor belonged to Leon Rice, who again came to the conclusion that it was more intelligent to leave for Boise State than stick around.
Now, if and when Few decides to retire, assistant Tommy Lloyd will be the guy who takes over the reins of the West Coast Conference power. 
"That's accurate," Few told CBSSports.com. "I've been blessed to have terrific assistants. People focus on his ability to get European guys, but Tommy can coach, recruit and develop players. He's also extremely well thought-of with all the former players." 
Lloyd, 37, is best-known for his ability to recruit outside of the U.S. borders. He's helped the 'Zags land Ronny Turiaf, Elias Harris and Kevin Pangos, but Few said he brings far more than recruiting to the table. 
"He does everything," Few added. 
The question here, though, becomes whether Lloyd will stick around long enough in Spokane to replace Few -- or follow Grier and Rice, who understood that Few almost certainly will retire at Gonzaga -- and take a head coaching job elsewhere. 
Few will turn 50 in December and has led the 'Zags to the NCAA tournament in each of his 13 years at the helm. He admitted he has no timetable for how long he'll stick around as the head coach. 
"I love it at Gonzaga," Few said. "I'm just happy we've been able to have a plan in place -- and Tommy will do a terrific job once I decide to retire." 
Buddy Boeheim was so impressive at Peach Jam that Gonzaga offered; others showing interest

The truths and myths about the push for 2018's No. 1 recruit to play college hoops a year...

Here are the under-the-radar players who will have breakout seasons in 2017-18
Duke coach says sometimes troubled guard played hurt last season, adding, 'I'm really proud...

Michigan, Marquette, California, LSU and VCU are also in the 34th annual field

The expected rise of Missouri figures to be a storyline once they start playing for real