Mark your calendar: 30 games to watch in conference play
Here are 30 games that could decide regular-season championships -- and seeding in the NCAA tournament.
• 4 min read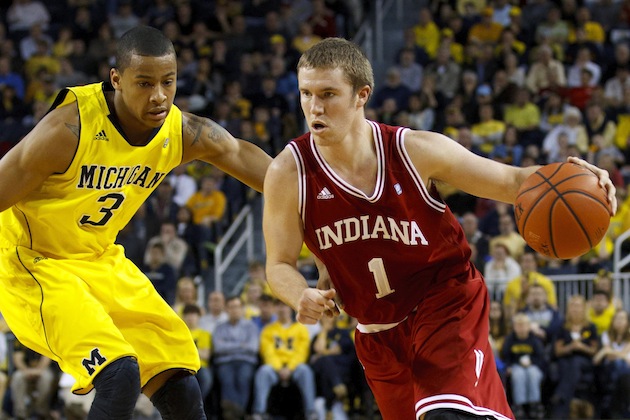 When Indiana faces Michigan on the final day of the season, there could be plenty on the line. (US Presswire)
When doing midseason look-aheads for college football, it's easy to pick out the games that matter going forward. After all, the regular season shapes the national championship game, so there are normally one or two games every weekend that actually have an impact on which two teams play for the title. In college basketball, it's obviously different. It's difficult to project which games over the final couple weeks of the season will be bubble battles, and which games will be mostly irrelevant toward the NCAA tournament hunt and the conference race. With that said, the 2012-13 season is shaping up to feature a wild conference campaign with far more questions than answers heading into the meat and potatoes of the season.
We hope these 30 games provide some insight into how the final standings will look.
1. Indiana Hoosiers at Michigan Wolverines (March 10): Given how loaded the Big Ten is, both teams will have a couple knocks in league play. But this one could decide the regular-season champ --– and Player of the Year?
2. Louisville Cardinals at Syracuse Orange (March 2): The second-tier of the Big East continues to beat up on each other, meaning these two could battle for the title.
3. Missouri Tigers at Florida Gators (Jan. 19): Kentucky will be a factor by March, but right now the two best in the league are Missouri and Florida. Which team gets the early lead?
4. UNLV Rebels at San Diego State Aztecs (Jan. 16): The Mountain West is loaded at the top, but these two are the favorites. The first punch will be landed here.
5. Wichita State Shockers at Creighton (March 2): Wichita State was supposed to be down this season, but the Shockers are neck-and-neck with Creighton. MVC could be decided.
6. Minnesota Golden Gophers at Indiana Hoosiers (Jan. 12): Are the Golden Gophers a real player in the Big Ten race? They could send a message with a win in Bloomington.
7. Florida Gators at Kentucky Wildcats (March 9): I'm already excited to see what Kentucky looks like in two months. Will this game have an impact on the SEC title?
8. Michigan at Indiana (Feb. 2): Both teams could still be in the top five or 10 by this time, and the winner gets a big edge in the Big Ten title race.
9. Syracuse at Louisville (Jan. 19): While the second meeting between the two could decide the Big East, the first one will also be heavily-anticipated.
10. Duke Blue Devils at NC State Wolfpack (Jan. 12): Does Duke have any competition in the ACC this season? NC State has tons of talent, and it's starting to put it together.
11. UCLA Bruins at Arizona Wildcats (Jan. 24): Will the Pac-12 have any sort of excitement this season? A win here by UCLA would add to the suspense.
12. Butler Bulldogs at VCU Rams (March 2): With up to five or six teams capable of winning the Atlantic 10, this game could either decide the title -- or decide fourth place.
13. Notre Dame Fighting Irish at Syracuse (Feb. 4): Notre Dame has been flying under the radar, but a win in the Carrier Dome would go a long way toward establishing legitimacy.
14. Florida at Missouri (Feb. 19): Because the SEC is so bad toward the bottom of the league, both teams could still be in the top 10 when this game is played.
15. San Diego State at UNLV (Feb. 16): The Mountain West regular-season title could be on the line, or a knockout punch could be landed by whichever team won the first meeting.
16. Creighton Bluejays at Wichita State (Jan. 19): The second meeting could decide the regular-season title, but this one will be a big first step for the winner.
17. Kansas Jayhawks at Kansas State Wildcats (Jan. 22): Kansas is the heavy favorite to win the Big 12 – and the Jayhawks might go undefeated. Kansas State could have other ideas.
18. Michigan State Spartans at Ohio State Buckeyes (Feb. 24): Neither team will be in the Big Ten title race, but it's always a tight contest -- and it could help for seeding in March.
19. Duke at North Carolina (March 9): Doesn't matter how much UNC is struggling right now -- this game is always must-watch television.
20. Michigan at Minnesota (Jan. 17): Michigan has to play at Ohio State before this one, but the Wolverines could still be undefeated. Minnesota would get some pop with a win here.
21. Duke at Maryland Terrapins (Feb. 16): Maryland had a gaudy nonconference record, but the talent is there. Moreover, this is a fun head-to-head series that's about to end.
22. Syracuse at Georgia Bulldogs (March 9): The Hoyas are a potential third-place team in the Big East, but the bigger picture story is the rivalry coming to a close.
23. San Diego State at Wyoming Cowboys (Jan. 19): Will Wyoming still be undefeated at this point? If so, the Cowboys can stake their claim with a big home win over the Aztecs.
24. Oklahoma State Cowboys at Baylor Bears (Jan. 21): Both teams are fighting for second in the Big 12 – and just think about the athletes in this one. Loads of talent on both sides.
25. Pittsburgh Panthers at Cincinnati Bearcats (Feb. 9): Despite shaky Big East starts from both, one of these should be squarely in the mix to finish third in the league.
26. Saint Louis Billikens at Temple Owls (Jan. 12): Two more Atlantic 10 teams capable of winning the league. Kwamain Mitchell vs. Khalif Wyatt is fun to watch, too.
27. Illinois at Michigan State (Jan. 31): The jury is still out on Illinois, despite its win over Ohio State. Will either of these teams be in the mix for first place by this point?
28. New Mexico at Colorado State Rams (Feb. 23): Two of the five Mountain West teams that will be a factor all season -- and this could be for NCAA tournament lock status too.
29. Gonzaga Bulldogs at St. Mary's Gaels (Feb. 14): This game has become one of the best games to watch late in the season. Gonzaga could be undefeated in the WCC at this point.
30. Belmont Bruins at Murray State Racers (Feb. 7): Both teams are capable of winning a game in the NCAA tournament -- but only one can be the outright winner of the Ohio Valley.
For more college basketball news, rumors and analysis, follow @EyeOnCBB on Twitter, subscribe to our RSS Feed and subscribe to our College Basketball Newsletter. You can follow Jeff Borzello on Twitter here: @jeffborzello
The two SEC coaches let everyone know what changes they think should come to the NBA Draft

It's not an outstanding slate, but the Big Ten has good opportunities with the most interesting...

Mizzou's home court was damaged in the incident
The 2017 NBA Draft had more freshmen, and fewer seniors, taken in the first round than ever...

A scandal at New Mexico leads to a rarity for the NCAA Tournament selection committee

These two Hall of Fame coaches have been in the crosshairs of NCAA justice in recent years