Marquette's last-second win keeps brackets perfect
Vander Blue not only saved Marquette, he saved tons of perfect brackets.
Vander Blue's layup with 1.0 second left helped Marquette beat Davidson and send the Golden Eagles to the round of 32 -- but it also helped keep plenty of brackets perfect.
Had Davidson held on to win, it would have left just 1.9 percent of brackets still perfect. As it stands, 15.7 percent are currently flawless.
That will undoubtedly change soon.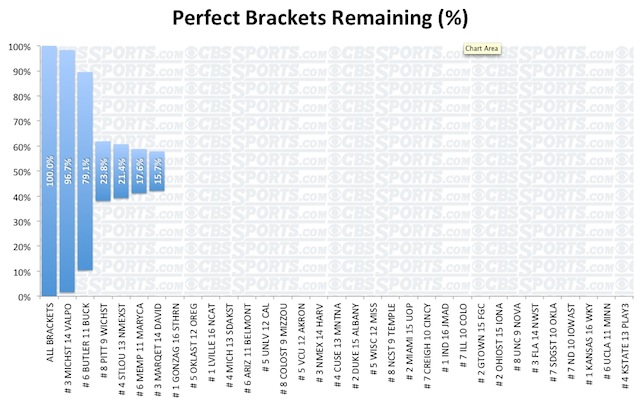 Show Comments
Hide Comments
The 6-foot-10 forward was one of the Bruins' best defenders in his lone season

Catch up on the top 10 players in the class of 2017 and the biggest storylines from Las Ve...

Jonathan Mills led Southern Miss to 27 victories in the 2012-13 season.
The rising prospect died early Monday morning in ​a nightclub shooting

Virginia freshman Jay Huff launches from the foul line -- or just about -- for this vicious...

Led by seniors Nigel Hayes and Bronson Koenig, the Badgers are the class of the Big Ten