Maryland needs to build off win over Duke
Maryland's win over Duke puts it in the conversation for an at-large spot, but its work isn't done yet.
• 2 min read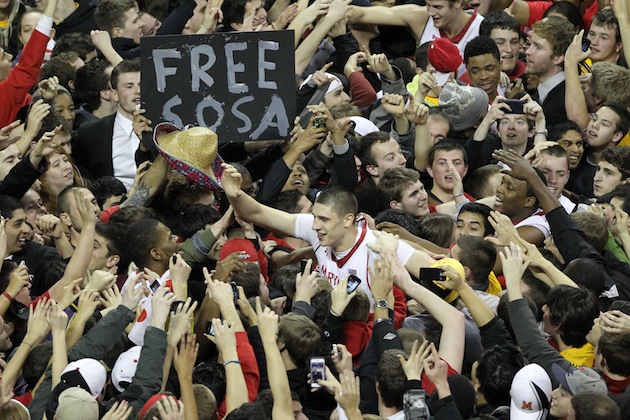 Maryland picked up a much-needed marquee win over Duke on Saturday night. (US Presswire)
Don't make Saturday's win over Duke your national championship, Maryland .
That's the best advice I can give the Terrapins, who picked up their best win of the season by beating the Blue Devils, 83-81. It wasn't easy for Maryland, which blew a 10-point lead with 3:39 left but escaped when freshman guard Seth Allen knocked down two free throws with fewer than three seconds remaining. Quinn Cook's 3-point attempt at the buzzer didn't fall, and the Terrapins had the marquee win they so desperately needed.
Of course, once Maryland got the win, many people immediately jumped to the "This is the win that will put the Terps in the NCAA tournament" school of thought. Well, not so fast. Heading into the weekend, Maryland was barely on the bubble. It was at least 10 spots away from the final few places in the field. Maryland had lost six of its last 10 games, and the two best wins of the season were over North Carolina State and Stony Brook. That's it. As a result, it was tough to find a projected bracket that seriously considered the Terrapins.
More on college basketball
Related links
More college hoops coverage
The win against Duke changes some of that, but not everything. Maryland needs to build off this win, and not just make it a blip on the screen of a non-NCAA tournament resume.
Three of Maryland's next four games are on the road, where the Terps haven't exactly been a juggernaut. The Terrapins are 2-4 in true away games, with the wins coming at Northwestern and Virginia Tech . Boston College, Clemson, <span data-shortcode= Tech" data-canon="Georgia Bulldogs" data-type="SPORTS_OBJECT_TEAM" id="shortcode0"> and Wake Forest are all "inferior" teams, but that could be a blessing and a curse. On the bright side, all four are winnable games. Win four in a row, and Maryland suddenly has an impressive road record, a 10-6 ACC campaign, and far better computer numbers than it does now. On the flip side, any loss in that four-game stretch would likely be slotted in the "bad loss" category.
To end the regular season, Mark Turgeon and Co. have a home game against North Carolina and a road game at Virginia. Those two games could decide Maryland's NCAA fate -- if the Terrapins don't fade away after Saturday's win.
Big wins have been a springboard for bubble teams in the past, but they have also been random bright spots for mediocre profiles. Maryland has to make sure Saturday's win is the former.
To put it simply: this can't be the biggest moment of Maryland's season.
For more college basketball news, rumors and analysis, follow @EyeOnCBB on Twitter, subscribe to our RSS Feed and subscribe to our College Basketball Newsletter. You can follow Jeff Borzello on Twitter here: @jeffborzello
Show Comments
Hide Comments
The 2017 NBA Draft had more freshmen, and fewer seniors, taken in the first round than ever...

A scandal at New Mexico leads to a rarity for the NCAA Tournament selection committee

These two Hall of Fame coaches have been in the crosshairs of NCAA justice in recent years
Will Kentucky have more than two players taken in the first round of the NBA Draft?

Continues to lobby for a college hoops commissioner; hopes the NBA, NCAA can come together

This development means every Division I job is now filled