Maryland pulls away from Notre Dame in second half for win
Maryland outscores Notre Dame 49-32 in the second half for a victory that confirms the Terrapins have what it takes to reach the NCAA tournament.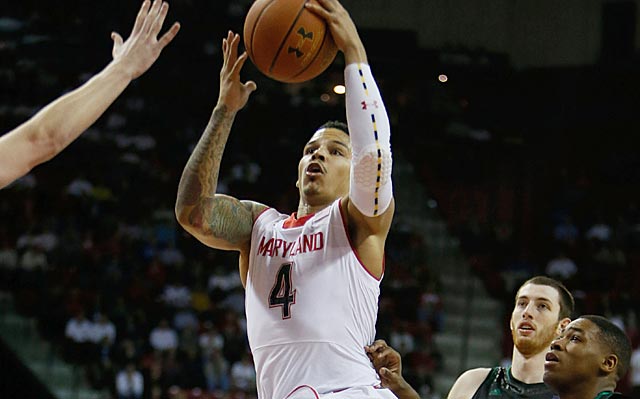 COLLEGE PARK, Md. -- Eventually Maryland was going to click.
Eventually the Terps would resemble the team that many believed would reach the NCAA tournament this season.
Eventually Mark Turgeon's team was going to snap out of the funk that saw them lose their last two ACC games by a combined 44 points.
That eventuality happened during the second half against Notre Dame on Wednesday night at the Comcast Center.
Trailing the Irish by nine at half time, Maryland outscored Notre Dame 49-32 in the second stanza en route to a 74-66 victory.
"That's a really good win for us," Turgeon said. "I told them at halftime that we weren't playing the way we were capable of playing. There was a lot of pressure. We had to win this game."
With the win, Maryland improves to 11-7 overall and 2-2 in ACC play.
The Terps shot 3-16 from 3-point range in the first half and struggled to score, but then things really got clicking after halftime.
Seth Allen's three-point shot with just under 12 minutes to play gave Maryland a 39-36 lead that it would never relinquish.
The lefty point guard missed the season's first 12 games with a foot injury, but showed in the second half why he's such a pivotal piece to the Terps' puzzle.
Allen made several key outside shots and ran Maryland's offense with the poise of a veteran, finishing with 14 points, four assists, and no turnovers in 27 minutes.
"He's definitely the X-Factor," Turgeon said of Allen. "He's been better defensively. Hopefully he's the X-Factor for us when we go on the road too."
The biggest thing the Terps showed when they put this game out of reach?
Balance.
Maryland had six players score more than seven points against Notre Dame but no one scored more than 17.
The core of Allen, Dez Wells (team-high 17 points), Nick Faust (13 points), Jake Layman, Evan Smotrycz, Shaquille Cleare, and Charles Mitchell are all underclassmen and should progress as the season moves along.
At 11-7, the Terps have a long way to go to get back into the NCAA picture, but this team's nucleus along with next year's incoming freshmen -- Dion Wiley, Romelo Trimble, Jared Nickens, and Trayvon Reed -- should give this team a strong nucleus when they enter the Big Ten in 2014-15.
But before that happens, Maryland has to finish this season in the ACC.
After his team's performance in the second half against Notre Dame, Turgeon has to feel better about his team's chances as they undertake that challenge.
"It gives me hope," Turgeon said of Maryland's second-half performance. "It tells me that guys are getting the messages we're trying to tell them."
Show Comments
Hide Comments
Motley, who averaged 17.3 points and 9.9 boards, is projected as a borderline first-rounde...

Sharpshooter's return figures to send the program to a place it has been only once before
Gary Parrish and Matt Norlander also discuss UNLV's recruiting class

The five-star big man is part of a surprise late-period recruiting coup by Marvin Menzies

It's time for random observers to stop being outraged by players' decisions