Memphis guard Joe Jackson turns his game and season around
Joe Jackson looked like a beaten player back in November after Memphis' slow start, but he has regained his form as the Tigers dominated the Conference USA schedule and now head into the NCAA tournament.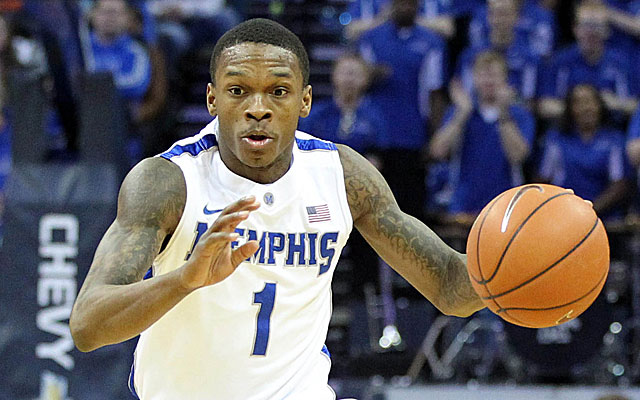 AUBURN HILLS, Mich. -- Joe Jackson went M.I.A. He wasn't anywhere to be found, not in the locker room, not with the rest of his teammates at the team meal, and not even in the hotel lobby of the Atlantis Resort in the Bahamas.
Memphis' point guard was hiding.
He was up in his hotel room wondering what the hell had just transpired. A day earlier, it was Havoc that tore through Memphis' favored son, ripping his game and confidence to shreds. The VCU vaunted pressure forced Jackson into seven turnovers in just 20 minutes. Then, against Minnesota, he sat on the bench for 33 of 40 minutes as another Memphian, Andre Hollins, torched the Tigers for 41 points.
"I was disappointed," Jackson said. "Mad."
Embarrassed.
Jackson had worked hard in the offseason to make sure it didn't happen again. In his first two seasons in college, he struggled at times in the regular season before turning it on and winning Conference USA tournament MVP honors. This wasn't supposed to happen again. Yet here we were just four games into the year, and Josh Pastner had already yanked the starting point-guard duties away. Publicly taken Jackson off the ball and given the reigns to Chris Crawford.
But Jackson, as he has done each season, showed the mental toughness and resiliency that continue to make him a fan favorite in his hometown. Despite the fact that he hasn't necessarily lived up to the McDonald's All-American and savior hype when he opted to remain in Memphis to play his college ball, Jackson still has the backing of his city. This time, though, Jackson has battled back earlier than usual. He hasn't just turned it on for three games in the conference tourney; he won C-USA Player of the Year honors in leading the Tigers to a perfect 16-0 mark in league play.
"I could have folded," Jackson said.
No doubt. How much can one kid take? He has had the weight of an entire city on his slender, 6-foot, 170-pound frame. Everyone knows him no matter where he goes. He has been almost too honest about the adversity that he has faced in his first couple seasons, refusing to blame others or offer excuses.
"He wasn't in a good spot," Pastner said of Jackson's mental state following the loss to Minnesota. "It was bad."
Jackson went upstairs to his room in a state of disbelief, according to his roommate on that road trip, Ferrakohn Hall. He was confused about his role, unsure of what Pastner wanted from him on the court. He's not a true point guard -- instead possessing more of a scorer's mentality and game -- but he was expected to get his teammates easy looks while also making certain he put points on the board.
"It was definitely tough for him," Hall said. "He came in the room and said, 'What do I do?'"
Pastner said he was taking away the point-guard duties, but it was more of a psychological ploy to get both Jackson and Crawford going than anything else. It worked, as Jackson responded after the Minnesota loss with 16 consecutive games in double figures. Jackson still has the ball in his hands plenty but also plays off the ball and can focus more on scoring when Crawford runs the team. He shot 30 percent from beyond the arc his first two seasons in college but has made 46 percent of his shots from deep this year and also had nearly twice as many assists as turnovers in league play.
"You can't fight what you are," Hall said of Jackson.
A scoring point guard and a tough kid who continues to battle the expectations and adversity that has and will continue to plague him as long as he's wearing a Tigers uniform. Jackson, who is on track to graduate this summer in a little more than three years, still hasn't completely mastered the way to deal with the pressures that come with once being deemed the new King of Memphis, but he has certainly improved in that area. He's now able to more effectively block out the outside influences and also move on quickly after poor decisions on the court or bad games instead of being unable to move forward.
Memphis enters Thursday afternoon's Round of 64 contest against Saint Mary's looking for its first NCAA tournament win during the Pastner regime. Jackson makes it clear that this is not just another game, not for him or his teammates. A win would likely put the Tigers against Tom Izzo and Michigan State with an opportunity to go to the Sweet 16. Jackson understands the skeptics who question the lackluster league that the Memphis Tigers currently reside in, but they also understand that this team is different than the one that left the Bahamas with a 1-2 mark.
"We're a different team, an elite team, when Joe plays like he has since the Bahamas," Pastner said. "That's why we struggled early. When Joe plays with great energy and intensity, we're good enough to get to Atlanta."
Atlanta? We'll see about that. But what I do know is that this isn't the same Joe Jackson whom I saw back in the Bahamas.
Show Comments
Hide Comments
Shareef picked Arizona over UCLA, USC, LSU and others

Stephen Curry, Damian Lillard, C.J. McCollum and Ian Clark didn't come from college powerhouses,...

The four-year player at VCU will try and make the Colts as a tight end
Letting teams open on a Friday in football season has never made sense

College basketball's season could start earlier

Allen will enter his senior season as the most famous college basketball player in years