Miami rebuilds depleted roster through impact transfers
Two months ago, there was little optimism in Coral Gables. Now, Miami has renewed promise -- and it's because of transfers.
• 2 min read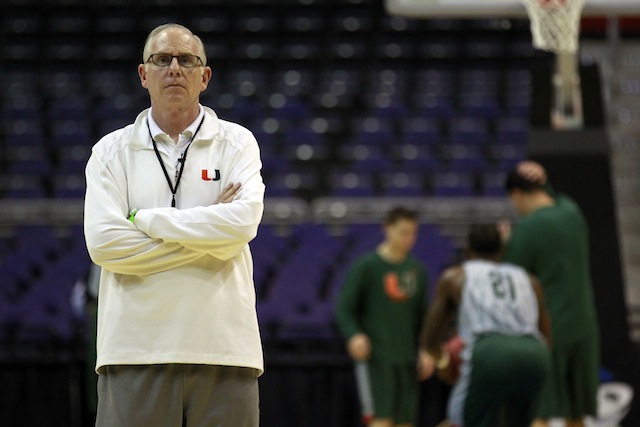 Heading into the offseason, Miami had serious questions going forward. The Hurricanes were losing five seniors, and All-American point guard Shane Larkin was likely to declare for the NBA Draft.
After a historical season in which the Hurricanes won the ACC regular-season and tournament championships, the future wasn't very bright in Coral Gables.
Two months later, there's a much different feeling about the potential at Miami. The optimism is there, and the talent is being restocked faster than expected.
The main reason? Transfers.
Just like Iowa State and Missouri and UNLV and Illinois the past couple of years, the Hurricanes are turning to the transfer market in order to rebuild the roster. And it's working like a charm.
First, Miami picked up Kansas State transfer Angel Rodriguez, one of the best point guards on the market. Rodriguez wanted to move closer to home, and his family lives in Puerto Rico. He also played his high school ball near Miami. Hoping to receive a waiver to play immediately, Rodriguez is 50/50 to suit up in 2013-14, according to sources.
Then last week, the Hurricanes welcomed back Donnavan Kirk, a DePaul transfer who started his career under Frank Haith at Miami. Kirk isn't a dominant big man, but he can play immediately and provides a battle-tested body in the paint.
And on Monday, Miami made another big move. Texas transfer Sheldon McClellan, one of the most prolific scorers still available, decided to head east. McClellan averaged more than 13 points with the Longhorns, and will bring scoring punch in two seasons after sitting out the 2013-14 campaign.
It's not far-fetched to say Miami has the best transfer class in the country, and the feeling in the Hurricanes' program is the same.
Suddenly, Miami could be a factor in the ACC if Rodriguez gets a waiver. He's an experienced point guard and playmaker who can be a focal point of the offense. Him getting a waiver would be an absolute game-changer for the Hurricanes. Throw in the return of guard Rion Brown and potential breakout candidate Tonye Jekiri, and Larranaga has an interesting trio to combine with Kirk.
Of course, this doesn't even count the six non-DI transfers the Hurricanes are also welcoming. The fascinating part about that group is the fact two of them will be counted toward football scholarships: forward Derrick Griffin, a top-150 basketball talent, and point guard Corn Elder. DeAndre Burnett is a gunner, and Davon Reed is a versatile perimeter option. James Kelly, a 6-foot-7 power forward, was ranked among the top 25 junior college players in the country.
Another key aspect in Miami's rebuilding process has been a better balance in classes. Having five productive seniors (plus Larkin) leave at once is difficult for any program. Larranaga likely won't have to worry about this sort of thing for a long time now. There will be five seniors leaving after the upcoming season, but Miami is better-prepared for it. No matter what, the 2014-15 Hurricanes will feature one of the best backcourts in the country in Rodriguez and McClellan plus a plethora of young prospects who will have contributed during their first seasons in the program.
Miami won't win the ACC again this year. If Rodriguez doesn't get a waiver, the Hurricanes might not even make the NCAA tournament.
But with nine newcomers entering the program -- including arguably the best transfer class in the country -- the rebuilding process is already much further along than anticipated.  
Show Comments
Hide Comments
Eight of the top nine scorers from this season's team are not returning, but UK will be fi...

A likely All-American, a big-time NBA prospect and an important X-factor to test draft wat...

Kentucky is losing 95 percent of its offense with all of its NBA talent and outgoing senio...
The former five-star recruit has not yet hired an agent

Shareef picked Arizona over UCLA, USC, LSU and others

Stephen Curry, Damian Lillard, C.J. McCollum and Ian Clark didn't come from college powerhouses,...