Michigan now atop the Big Ten after winning at No. 3 Michigan State
This has become one of the more surprising turn of events in college basketball.
• 2 min read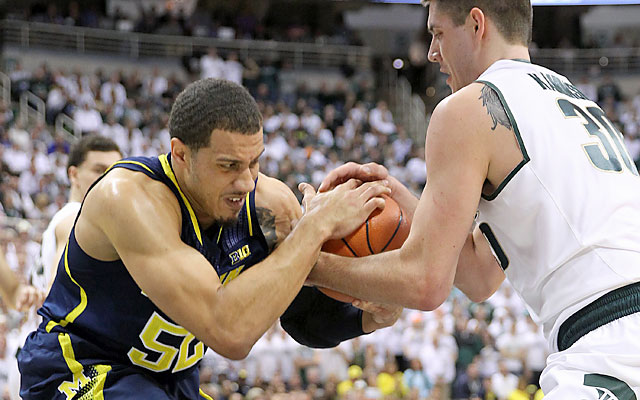 Nobody -- not one person outside of Ann Arbor, and even that might not need qualifying -- had Michigan undefeated and leading the Big Ten seven games into the conference slate.
But that's where we stand, as the Wolverines just won 80-75 at Michigan State, giving the Spartans their first loss since Dec. 4. MSU, No. 3 in the country, is now 18-2 and a 7-1 Big Ten team.
The Wolverines are now 15-4 and 7-0 in the league. Freshman Derrick Walton, Jr. and sophomore Nik Stauskas led the Wolverines with 19 points apiece, Staukas hitting 5-of-6 from 3-point range. Gary Harris had a career-best 27 points go to waste in leading Sparty.
It was a physical game, a rivalry tilt with a lot of passion, some ugly play, and really wound up as a showing that proved Michigan's going to have to be taken seriously going forward. You don't get to 7-0 in the Big Ten and not have the capability of reaching the second weekend of the NCAA tournament.
It was the third straight win over a team ranked in the AP top 10 for Michigan (at Wisconsin Jan. 18 and vs. Iowa on Wednesday). It's the first time since Iowa in 1987 that any team has won back-to-back-to-back games against top-10 teams. And this was win No. 11 in coach John Beilein's career over a group ranked 10th or better. As a program, Michigan wasn't faced with three straight games against top-10 foes in 51 years. To win all those games, with two of them coming on the road? Ridiculous.
From a possible bubble team to a group with a dossier that warrants discussion as a No. 3 seed right about now. This is an unpredictable turnaround, and now I wonder if Michigan can sustain this going forward and avoid hitting another skid, like the three-losses-in-five-games rut (albeit, two of those losses to Duke and Arizona).
The Spartans were playing without two starters, big men Adreian Payne (foot) and Branden Dawson (hand). They'll be vital for MSU's title hopes. But Michigan, as it's done for most of the season, was without big man Mitch McGary, who most likely won't see time for the rest of the year due to back surgery.
Michigan was able to win in large part due to reliability from the foul line. The Wolverines shot 25 for 30 from the stripe.
You can't judge or take anything away from MSU losing at home here. I think Payne is the most pivotal player for the Spartans, even if Harris is the best. MSU is still the better option, in my opinion, to pick to make the Final Four. When healthy, MSU has the best first six in the country (in this writer's opinion). But Michigan's made things interesting in the Big Ten, and that group is proving yet again that John Beilein -- who took this team to the national title game last year! -- is still among the underappreciated achievers in major college coaching.
Show Comments
Hide Comments
The 2017 NBA Draft had more freshmen, and fewer seniors, taken in the first round than ever...

A scandal at New Mexico leads to a rarity for the NCAA Tournament selection committee

These two Hall of Fame coaches have been in the crosshairs of NCAA justice in recent years
Will Kentucky have more than two players taken in the first round of the NBA Draft?

Continues to lobby for a college hoops commissioner; hopes the NBA, NCAA can come together

This development means every Division I job is now filled