Monthly Injury Report: Who's out and who will be back soon?
It's time for our monthly update to the Injury Report. Check inside for the most comprehensive injury report you will find on the Web.
by

Eye on Col Basket staff

• 8 min read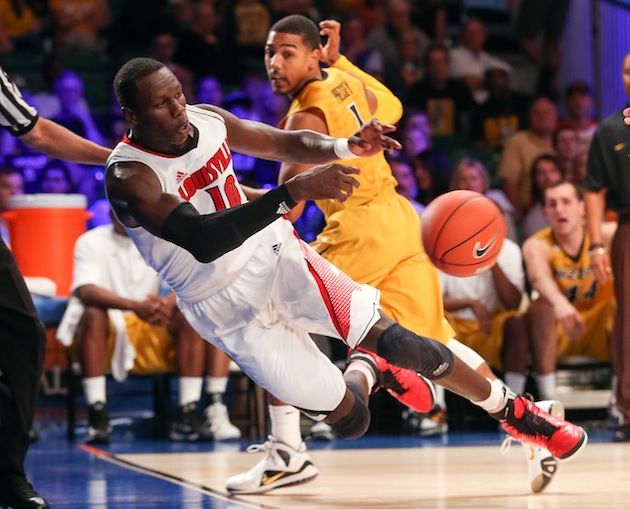 Louisville's Gorgui Dieng will miss a couple more weeks after undergoing wrist surgery. (US Presswire)
By Jeff Borzello and Jeff Goodman
Last month, we provided the most comprehensive injury report on the Web -- and it's time for an update. While some players have returned from offseason or early season injuries, there are others still on the mend. Duke's Marshall Plumlee could be back within two weeks, while Oklahoma State's Brian Williams is likely to be back sooner than expected. Meanwhile, Tennessee's Jeronne Maymon continues to have his return date pushed back -- and Montana star Will Cherry might come back as early as this weekend. As we will do every month, below is a look all the injuries -- major and minor -- from around the country. 
We made an effort to compile each of the significant injuries, but if we missed anyone, feel free to shoot us an email (jeff.borzello@cbsi.com, jeff.goodman@cbsinteractive.com) or send us a tweet (@jeffborzello, @GoodmanCBS).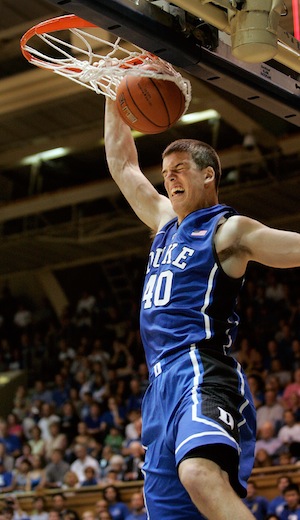 Duke's Marshall Plumlee could be back within two weeks from a foot injury. (US Presswire)
ACC

Dennis Clifford, Boston College -- Sprained ankle, likely out two more weeks (12-6)
Jordan Daniels, Boston College -- Transferring

Devin Coleman, Clemson -- Torn Achilles, will redshirt
Jaron Blossomgame, Clemson -- Broken leg, will redshirt
Bernard Sullivan, Clemson -- Slight concussion, day-to-day
Milton Jennings, Clemson -- Suspended two games, will play Saturday vs. Arizona
T.J. Sapp, Clemson -- Transferring

Seth Curry, Duke -- Left shin injury, missed last game
Andre Dawkins, Duke -- Redshirting this season
Marshall Plumlee, Duke -- Left foot, expected to play Dec. 19

Ian Miller, Florida State -- Playing with bone bruise in right foot

Corey Heyward, Georgia Tech -- Torn ACL, out for season

Garrius Adams, Miami -- Knee, out indefinitely (could redshirt)
Bishop Daniels, Miami -- Leave of absence for academic purposes

Marcus Paige, North Carolina -- Strained left shoulder, probable for Saturday

Thomas De Thaey, N.C. State -- Left program and returned home

Malcolm Brogden, Virginia -- Rehabbing from foot surgery, will redshirt
Jontel Evans, Virginia -- Foot, status unclear

Daniel Green, Wake Forest -- Torn ACL, out for season  

Big East

DeAndre Daniels, Connecticut -- Back, questionable for Friday's game (12/7)

DeJuan Marrero, DePaul -- Torn ACL, out for season

Tyler Adams, Georgetown -- Has not been cleared, will not play this season

Gorgui Dieng, Louisville -- Out 4-6 weeks after wrist surgery (11/27)
Mike Marra, Louisville -- ACL, out for season
Mathiang Mangok, Louisville -- Not cleared to play this season
Angel Nunez, Louisville -- Concussion, no timetable for return

Todd Mayo, Marquette -- Academically ineligible for first semester

John Johnson, Pittsburgh -- Transferred to Penn State

Vincent Council, Providence -- Hamstring, out 6-8 weeks (11/14)
Kris Dunn, Providence -- Shoulder, could return Dec. 18
Ricky Ledo, Providence -- Partial qualifier (academics), will not play this season
Bryce Cotton, Providence -- Knee, played Dec. 6, day-to-day

Greg Lewis, Rutgers -- Knee, could redshirt this season (10-28)

God's Gift Achiuwa, St. John's -- Could redshirt this season
Orlando Sanchez, St. John's -- Waiting for NCAA decision on classification

Patrik Auda, Seton Hall -- Broken bone in foot, likely out for season
Aaron Geramipoor, Seton Hall -- Right ankle soreness, day-to-day

Ty Johnson, Villanova -- Transferring

Big Ten

Derek Elston, Indiana -- Torn meniscus, out two months (10-25) - should return after Christmas
Hanner Mosquera-Perea, Indiana -- Suspended nine games by NCAA; will return Dec. 15
Peter Jurkin, Indiana -- Suspended nine games by NCAA; will return Dec. 15

Josh Bartelstein, Michigan -- Ankle, out until January
Max Bielfeldt, Michigan -- Ankle, day-to-day

Kenny Kaminski, Michigan State -- Shoulder, out 4-6 months (9-17)

Jershon Cobb, Northwestern -- Suspended for season
Nikola Cerina, Northwestern -- Ankle, out a couple more weeks

Tim Frazier, Penn State -- Torn ACL, out for season
Pat Ackerman, Penn State -- Suspended indefinitely

Josh Gasser, Wisconsin -- Torn ACL, out for season
Duje Dukan, Wisconsin -- Will redshirt this season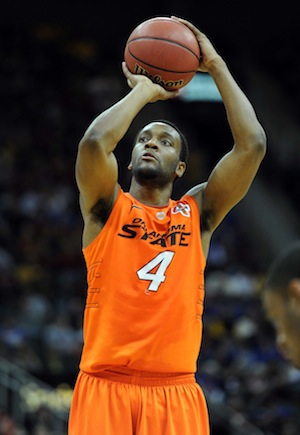 Originally expected to miss the season, Brian Williams could return in January. (US Presswire)
Big 12

Bubu Palo, Iowa State -- Suspended indefinitely

Zach Peters, Kansas -- Left the program
Landen Lucas, Kansas -- Potentially redshirting this season

Shane Southwell, Kansas State -- Foot, should return this weekend (12/6)
Jordan Henriquez, Kansas State -- Back, should return this weekend (12/6)

J.P. Olukemi, Oklahoma State -- Torn ACL, out for season
Brian Williams, Oklahoma State -- Broken wrist, expected to return in January

Jaylen Bond, Texas -- Left foot, out indefinitely (12/6)
Myck Kabongo, Texas -- Sitting out as NCAA continues investigation

Aaron Ross, Texas Tech -- Torn ACL, out for season

Aaron Durley, TCU -- Torn ACL, out for season
Amric Fields, TCU -- Knee, out for season

Volodymyr Gerun, West Virginia -- Suspended by NCAA for first six games, can play Saturday (12/6)

Pac-12

Calaen Robinson, Arizona State -- Will sit out season

Ricky Kreklow, California -- Foot, day-to-day

Angus Brandt, Oregon State -- Torn ACL, out for season
Daniel Gomis, Oregon State -- Leg injury, out for season

Anthony Brown, Stanford -- Hip, out for season

Josh Smith, UCLA -- Will transfer
Tyler Lamb, UCLA -- Will transfer

Maurice Jones, USC -- Academics, out for year (has since transferred to Iowa State)

David Foster, Utah -- Foot, out for season, won't return next year

Shawn Kemp Jr., Washington -- Torn patella tendon in knee, could return Saturday (12-6)
Scott Suggs, Washington -- Sprained foot, could return Saturday (12-6)

Will Diliorio, Washington State -- ankle, out 2-3 weeks (12-7)
Demarquise Johnson, Washington State -- Ruled partial qualifier
Reggie Moore, Washington State -- Dismissed from team
SEC

Andrew Steele, Alabama --  Sports hernia, length still undetermined
Carl Engstrom, Alabama -- Knee,  length still undetermined

Shareif Adamu, Auburn -- Suspended indefinitely
Chris Denson, Auburn -- Academically ineligible for first semester, could return Dec. 11

Cody Larson, Florida -- Left team
Anthony Hickey, LSU -- Suspended indefinitely, violation of team rules

Derrick Millinghaus, Mississippi -- Torn meniscus, scheduled to return Saturday (12/6)
Jason Carter, Mississippi -- Dismissed from team, violation of team rules (12/6)

DeAndre Applewhite, Mississippi State -- Torn ACL, out for season
Jacoby Davis, Mississippi State -- Torn ACL, out for season
Jalen Steele, Mississippi State -- Wrist, out another month (12-6)
Shaun Smith, Mississippi State -- Dismissed from team
Kristers Zeidaks, Mississippi State -- Dismissed from team

Michael Dixon, Missouri -- Left program

Carlton Geathers, South Carolina -- Fractured kneecap, expected back in January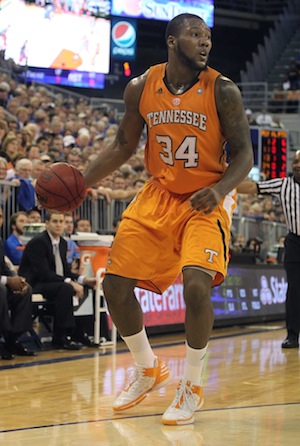 The return date for Tennessee's Jeronne Maymon continues to be pushed back. (US Presswire)
Jeronne Maymon, Tennessee -- Knee, expected back in January (12-7)
Derek Reese, Tennessee -- Shoulder, could be cleared to practice in January (12/7)
Dwight Miller, Tennessee -- Knee, out indefinitely (12/7)

Shawn Smith, Texas A&M -- Ruled partial qualifier; can practice, not play

Dai-Jon Parker, Vanderbilt -- Suspended indefinitely (12/7)

A-10

Chris Harrison-Docks, Butler -- Transferring
Chrishawn Hopkins, Butler -- Dismissed from program (now at Wright State)

J.T. Thompson, Charlotte -- Knee, day-to-day

Matt Kavanaugh, Dayton -- Suspended for season

Mamadou Datt, Duquesne -- Ineligible for first semester (academics), returns Dec. 19

Chris Gaston, Fordham -- Knee, expected to return in December

David Pellom, George Washington -- Wrist surgery, expected to be back in early December (12-7)

Kyle Molock, Saint Joseph's -- Torn ACL, will redshirt this season
Ronald Roberts, Saint Joseph's -- Thigh bruise, day-to-day

Kwamain Mitchell, Saint Louis -- Broken foot, out until late December

Javorn Ferrell, UMass -- Foot, could miss the season
Cady Lalanne, UMass -- Suspended indefinitely (12/6)

Jordan Burgess, VCU -- Partial qualifier (will not play this season)
Mo Alie-Cox, VCU -- Partial qualifier (will not play this season)
Darius Theus, VCU -- Knee, day-to-day

Myles Davis, Xavier -- Ruled ineligible, out for season
Jalen Reynolds, Xavier -- Ruled ineligible, out for season

CAA

Maurice Jeffers, Delaware -- Freshman, will redshirt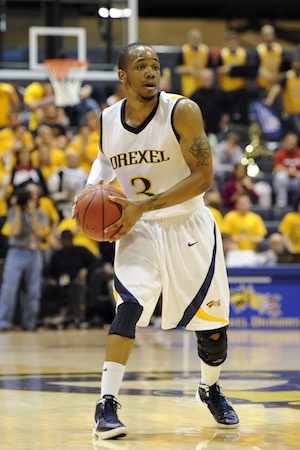 Chris Fouch tearing his ACL was a crippling hit for Drexel and its preseason hype. (US Presswire)
Chris Fouch, Drexel -- Torn ACL, out for season

Shaq Stokes, Hofstra -- Suspended indefinitely, arrested
Jimmy Hall, Hofstra -- Suspended indefinitely, arrested
Kentrell Washington, Hofstra -- Suspended indefinitely, arrested
Dallas Anglin, Hofstra -- Suspended indefinitely, arrested

Jonathan Lee, Northeastern -- Foot, expected to return in early January (12-7)
Kwesi Abakah, Northeastern -- Torn ACL, out for season

C.J. Gettys, UNC-Wilmington -- Shoulder, out for season

C-USA

Danrad "Chicken" Knowles, Houston -- Not joining program this season

Kelvin Amayo, Marshall -- Eligible second semester
Kareem Canty, Marshall -- Not cleared to play this season
Yous Mbao, Marshall -- Concussion, out indefinitely

Blaise Mbargorba, SMU -- Shoulder, day-to-day

Rashad Smith, Tulsa -- Lower leg, out indefinitely
Brandon Swannegan, Tulsa -- Foot, out indefinitely

K.C. Whitaker, UAB -- Ankle, out indefinitely (12/7)

Matt Wills, UTEP -- Partial qualifier, will miss season

Missouri Valley

Anthony Fields, Bradley -- Broken hand, out 4-6 weeks (11-2) -- sitting out season as transfer

Josh Jones, Creighton -- Passed out 12/6, hospitalized

Mike Samuels, Indiana State -- Broken foot, out for the year

Jamar Gulley, Missouri State -- Torn ACL, out for season

Deon Mitchell, Northern Iowa -- Bone bruise, day-to-day (12/7)

Chase Heins, Southern Illinois -- Knee, out three months
Diamond Taylor, Southern Illinois -- Suspended indefinitely
Bola Olaniyan, Southern Illinois -- Ineligible this season

Ehimen Orupke, Wichita State -- Ankle, day-to-day

Mountain West

Justin Hammonds, Air Force -- Ineligible first semester

Jesse Carr, Colorado State -- Torn ACL, out for season

Braeden Anderson, Fresno State -- Not yet cleared to play, decision expected any day

Demetris Morant, UNLV -- Will redshirt this season
Daquan Cook, UNLV -- Will redshirt this season
Mike Moser, UNLV -- Groin, day-to-day

Shakir Smith, Wyoming -- Dismissed from team

WCC

Stephen Rogers, BYU -- Knee; giving up basketball
Chris Collinsworth BYU -- Leg; giving up basketball

Duda Sanadze, San Diego -- Ineligible this season

Paul McCoy, St. Mary's -- Knee, out until January
Tim Williams, St. Mary's -- Fractured patella, out indefinitely (12/7)

Other Significant Injuries
Quincy Diggs, Akron -- Suspended for season
Anton Grady, Cleveland State -- Knee, out indefinitely
Junior Lomomba, Cleveland State -- Foot, day-to-day
Kyle Casey, Harvard -- Withdrawn from school for year
Brandyn Curry, Harvard -- Withdrawn from school for year
Julian Boyd, LIU-Brooklyn -- suspended for first two league games
C.J. Garner, LIU-Brooklyn -- suspended for first two league games
Jamal Olasawere, LIU-Brooklyn -- suspended for first two league games
Troy Joseph, LIU-Brooklyn -- suspended for first two league games
Erik Etherly, Loyola (Md.) -- Sprained shoulder, out for one month (11/24)
R.J. Williams, Loyola (Md.) -- Suspended, eligible to return Jan. 17
Bill Edwards, Miami (Ohio) -- Torn ligaments, out indefinitely
Will Cherry, Montana – Broken foot, could return as early as Dec. 8 (12-7)
Zay Jackson, Murray State – Sentenced to 30 days in jail, suspended for season
Latreze Mushatt, Murray State - Achilles, could return after Christmas
Jeffrey Moss, Murray State -- Foot/ankle, out indefinitely
Chris Jones, North Texas -- Foot, questionable for Saturday's game (12/7)
Nate Wolters, South Dakota State -- Ankle, has missed two games, day-to-day
Rakeem Brookins, Siena -- Personal issues, out indefinitely (12/7)
Danny Berger, Utah State -- Hospitalized after collapsing at practice 12/4
Ryan Broekhoff, Valparaiso -- Mononucleosis, shouldn't miss any time
The 2017 NBA Draft had more freshmen, and fewer seniors, taken in the first round than ever...

A scandal at New Mexico leads to a rarity for the NCAA Tournament selection committee

These two Hall of Fame coaches have been in the crosshairs of NCAA justice in recent years
Will Kentucky have more than two players taken in the first round of the NBA Draft?

Continues to lobby for a college hoops commissioner; hopes the NBA, NCAA can come together

This development means every Division I job is now filled