Nation's top two players heighten excitement for signing period
Nerlens Noel and Shabazz Muhammad are ranked No. 1 and No. 2, respectively, in the class of 2012. Neither player has decided where he will be playing college basketball next season. As a result, the anticipation for the spring signing period is as big as it's been in recent memory.
• 3 min read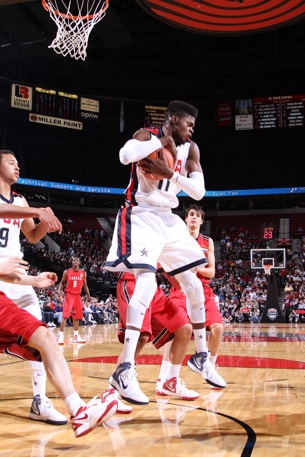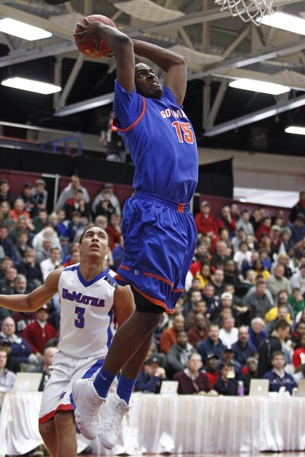 Nerlens Noel (left) and Shabazz Muhammad will make their college decisions on Wednesday evening. (NBA, US Presswire)
The spring signing period has decreased in meaning over the past few years, as it usually features just a few sporadic decisions over its four-plus weeks. The early signing period in November condenses everything into a seven-day period, but recruits have from April 11 to May 16 to sign papers in the spring.
This year will be different.
There are still six five-star prospects yet to make their college decisions, including the top two players in the country. Another handful of top-100 recruits have waited to decide, meaning there is plenty to be hashed out over the next few weeks.

RELATED: Predictions on the rest of the top uncommitted prospects 
Arizona has the No. 1 recruiting class in the country heading into the late signing period, but that is not set in stone. Kentucky has a good chance at finishing on top, as the Wildcats are pursuing the top four players left on the board. UCLA is in the running, with the Bruins going after two top-25 prospects. Don't count out North Carolina State, either, if the Wolfpack can land its two primary targets. 
What has everyone buzzing about the next few days, though, are the decisions of Nerlens Noel and Shabazz Muhammad. Noel and Muhammad are ranked No. 1 and No. 2, respectively, in the class of 2012 and will both announce their decisions on Wednesday evening. It's difficult to get a read on either recruitment, which has only heightened the anxiety and excitement for the fanbases involved. Many people say that the proliferation of social media has made recruiting predictable and official announcements obsolete; that can't be said for this year's crop of prospects – especially Noel and Muhammad.

RELATED: Updated Top 100 rankings   
Noel, a 6-foot-10 center from Tilton (N.H.), reclassified to the class of 2012 on Feb. 1, and immediately became the No. 1 prospect in the country. As a result, a recruitment that would have been heavy for months was jam-packed into eight or nine weeks. Noel's recruitment picked up rapidly, and he began taking visits shortly thereafter. Noel took trips to Kentucky, Syracuse and Providence, and also considered Florida, Connecticut and North Carolina for a period of time.
Heading into Wednesday, Noel has a final three of Kentucky, Syracuse and Georgetown. Kentucky is probably the clubhouse favorite, but Georgetown has made strong movement in the past couple of weeks and Syracuse has been involved longer than nearly every school.
Muhammad, a 6-foot-6 wing from Bishop Gorman (Nev.), proved last summer he was the clear No. 1 player in the country, after dominating the travel circuit and giving a consistent effort every night. While he lost the top spot to Noel, Muhammad drew rave reviews for his performances in the recent all-star game practices. He has kept his recruitment fairly close to the vest for much of the past few years, taking multiple visits to a long list of schools. Kansas and USC received official visits, while UNLV and Arizona were also involved. Memphis and Texas A&M received interest from Muhammad as well.
With only hours until his decision, though, Muhammad has a final three: UCLA, Kentucky and Duke. The Bruins were deemed the favorite during the early parts of his recruitment, with Kentucky also getting plenty of attention as the frontrunner in recent months. Over the past few days, though, Duke is the school getting buzz. The favorite still might be UCLA, but things are still up in the air.
Both players have the ability to significantly change the 2012-13 season for whichever teams they do choose, especially if both pick Kentucky. There is no consolation prize for missing out on one of these two players. Each school involved has invested plenty of time and resources in recruiting Noel and Muhammad. Will it pay off?
We'll find out soon. 

Show Comments
Hide Comments
The 2017 NBA Draft had more freshmen, and fewer seniors, taken in the first round than ever...

A scandal at New Mexico leads to a rarity for the NCAA Tournament selection committee

These two Hall of Fame coaches have been in the crosshairs of NCAA justice in recent years
Will Kentucky have more than two players taken in the first round of the NBA Draft?

Continues to lobby for a college hoops commissioner; hopes the NBA, NCAA can come together

This development means every Division I job is now filled