NCAA Tournament: 15 go-to-guys you want with the ball in their hands
National title contenders need a guy who can get a basket at key junctures in the game. Who are the 15 best?
• 3 min read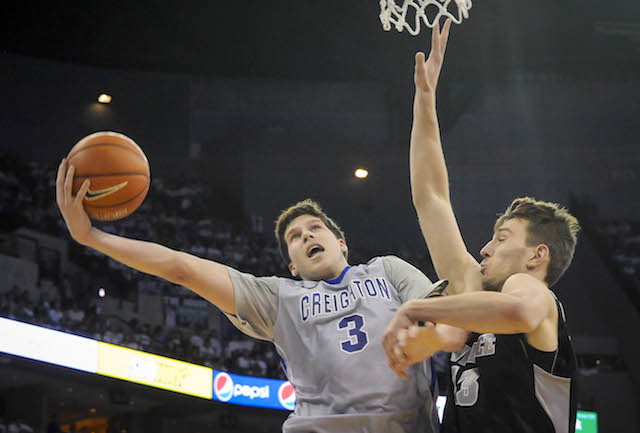 More NCAA hoops: Tournament bracket | Complete coverage of NCAAs | Latest news
There are plenty of ingredients for a national championship team: experience, balanced on the offensive end, ability to play at multiple tempos, etc. But sometimes you just need a guy who can go get a basket, whether it's to stop an opponent's run, at the end of the shot clock, or at the end of the game. It might not be a team's leading scorer or best shooter, but someone who can beat their guy off the dribble or has shown consistency down the stretch of games to hit big shots.
Here's a look at 15 of the best go-to-guys in the NCAA Tournament:
1. Doug McDermott, Creighton: Simply the best player in the country. McDermott's off-games are 25 points. He moves so well without the ball, and has such deep range on his jumper, it's difficult to slow him down.
2. Shabazz Napier, Connecticut: Napier has been Mr. Clutch throughout his career in Storrs. He's hit multiple clutch shots, and always has the ball in his hands late in games. Will carry UConn in the dance.
3. Sean Kilpatrick, Cincinnati: Late in the game, it's Kilpatrick time. He's so strong and tough with the ball, and he can get to spots on the floor to make plays. His pull-up and finishing ability is second to none.
4. Jabari Parker, Duke: Along with McDermott, Parker is the most complete offensive player in the country. He can score in so many different ways, and his shot selection has improved late in the season.
5. Russ Smith, Louisville: Smith is a defender's nightmare, given his changing of speeds and unpredictable style. He's as likely to pull-up from 25 feet as he is to drive off the bounce and make a play.
6. Marcus Paige, North Carolina: Paige has become a better outside shooter this season, and his ability to constantly get by his defender with his left hand makes him dangerous. Has hit game-winners.
7. Nik Stauskas, Michigan: Stauskas' development into a complete offensive player has taken his game to the next level. Still a pure outside shooter, Stauskas is also very good off the bounce, especially baseline.
8. Marcus Smart, Oklahoma State: He's just a big-game player who has shown the ability to take -- and make -- big shots. When he's aggressive off the bounce, Smart is tough to handle.
9. DeAndre Kane/Georges Niang, Iowa State: Couldn't choose just one. Kane has hit big shots, but Niang is the matchup nightmare for most defenses, with his ability to initiate offense at his size.
10. Jahii Carson, Arizona State: Basically impossible to stop off the bounce, especially when his outside is falling. Carson has tremendous speed and quickness, and draws help on most penetration atempts.
11. Bryce Cotton, Providence: Has simply put the Friars on his back at times. When his shot isn't falling, he's a capable distributor, but he's knocked down plenty of late-clock and late-game shots.
12. Scottie Wilbekin, Florida: Not an explosive scorer off the dribble or a knockdown shooter, but Wilbekin is an experienced, tough player who reads ball-screens extremely well late in games.
13. Tyler Ennis, Syracuse: He's lost some luster during Syracuse's losing streak, but Ennis is still very tough to deal with, especially late in games. Gets into the lane for floaters and assists with ease.
14. Xavier Thames, San Diego State: As Thames goes, San Diego State goes, especially offensively. He's become a better outside shooter this season, and has hit clutch jumpers.
15. Tyler Haws, BYU: Haws is a big-time scorer who can get his shot against nearly any defender. Terrific mid-range game, keeps defenders off-balance with his pull-up jumper.
BONUS: T.J. Warren, North Carolina State: If he was assured a spot in the Round of 64, Warren would likely be in the top five. One of the best pure scorers in the country, can get points at all three levels.
BONUS: Roy Devyn Marble, Iowa: Same caveat as Warren. Underrated matchup problem for opponents. Strong enough to finish at the rim, handles the ball effectively, and can knock down shots from the perimter.
Six others: Gary Harris, Michigan State; Lamar Patterson, Pitt; Fred VanVleet, Wichita State; Nick Johnson, Arizona; Langston Galloway, Saint Joseph's; Traevon Jackson, Wisconsin
If Wichita State guard Landry Shamet has a breakout season, he could leave early for the N...

Athletic big man finished 3-day trip to Durham, N.C., with trips to USC, Arizona coming up

Calipari's latest viral social media bit comes just three weeks after the Wildcats head coach...
Buddy Boeheim was so impressive at Peach Jam that Gonzaga offered; others showing interest

The truths and myths about the push for 2018's No. 1 recruit to play college hoops a year...

Here are the under-the-radar players who will have breakout seasons in 2017-18