NCAA Tournament snubs and surprises
Who got snubbed and who was a surprise on Selection Sunday?
• 2 min read
More NCAA hoops: Tournament bracket | Complete coverage of NCAAs | Latest news
Heading into the Selection Show, most bracketologists seemed to reach a relative agreement and consensus on the 68 teams in the field -- and the four No. 1 seeds. Of course, the selection committee isn't part of the bracketology world, and messed up the consensus. So, who got snubbed and who surprised? What seeds caught our eye?
Surprises
North Carolina State gets in: The Wolfpack's win over Syracuse in the ACC tournament must have been enough to convince the selection committee that they deserved a bid. They had multiple close losses and T.J. Warren is tremendous, but their resume did not seem like enough to get a bid. Most had them outside the first four out.
BYU as a 10-seed: The Cougars were thought to be one of the last teams in or out after Kyle Collinsworth suffered his ACL injury and BYU lost to Gonzaga in the championship game of the WCC. However, it seems they were far more comfortable than anyone predicted.
Virginia gets the fourth No. 1 seed: The Cavaliers didn't seem to be in the No. 1 seed discussion after losing to Maryland in the regular season finale -- but a run to the ACC conference tournament championship gave them the edge over Michigan. The Cavaliers won both the regular season and conference tournament championships.
Saint Louis gets a 5-seed: I think the Billikens are a terrific defensive team and can win games in March, but their resume seemed more like a back-end 6 seed or 7 seed. They lost four of five entering Selection Sunday, and their best non-conference win came over Indiana State. Throw in a triple-digit non-league SOS, and that high a seed was surprising.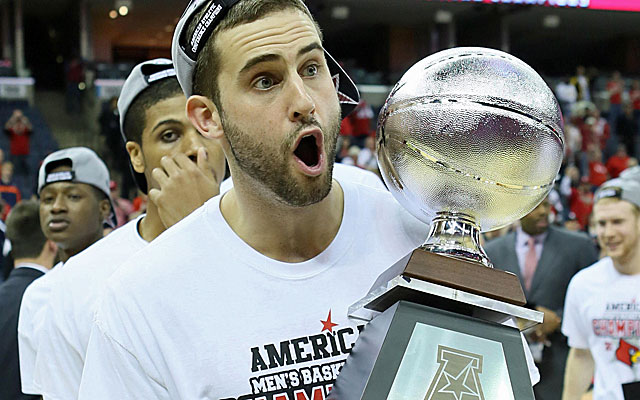 Snubs
SMU: The Mustangs had four top-40 wins, including a sweep of Connecticut -- but those were the only top-100 wins they had. They also had three sub-100 losses and played an awful non-conference schedule. Had they beaten Houston in the AAC tournament, I'm not sure we're having this conversation. But they lose, so they're out.
New Mexico's 7-seed: The Lobos have lost three games since mid-December, by a grand total of seven points. They just beat San Diego State to win the Mountain West title -- yet only received a No. 7 seed. Most people thought New Mexico's conference tournament championship would be enough to get them higher.
Michigan drops to a 2-seed: The Wolverines would have likely received the fourth No. 1 seed had they beaten Michigan State on Sunday -- but they lost and dropped a line. Comparing their resume to Virginia, it would seem that the Wolverines had the edge with five top-25 wins and 10 top-50 wins.
The seeding of the AAC: The committee didn't seem to think very highly of the AAC. Louisville dropped to a 4, Cincinnati was a 5, Connecticut was a 7, Memphis was an 8 and SMU didn't get in at all. Louisville was thought to be in the mix for 1 or 2 seed, while Connecticut was somewhere in the 5-seed range. Both were at least one seed lower than expected. 
Show Comments
Hide Comments
Motley, who averaged 17.3 points and 9.9 boards, is projected as a borderline first-rounde...

Sharpshooter's return figures to send the program to a place it has been only once before
Gary Parrish and Matt Norlander also discuss UNLV's recruiting class

The five-star big man is part of a surprise late-period recruiting coup by Marvin Menzies

It's time for random observers to stop being outraged by players' decisions