New Big East feels weird -- but it's not taking a hit nationally
The Big East has undergone a huge change over the past several months, but that doesn't mean it's going to lose all of its luster.
• 3 min read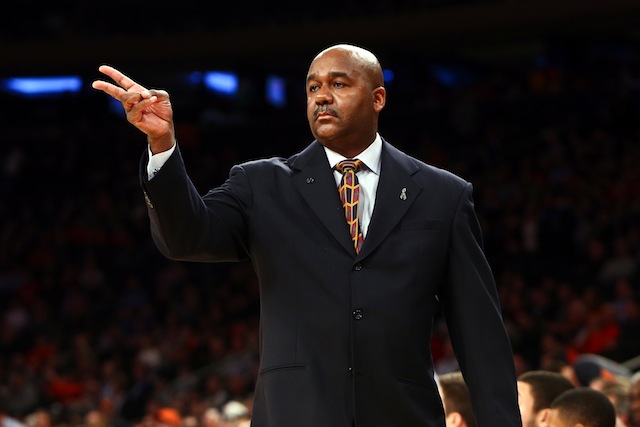 NEW YORK – When walking into Chelsea Piers on Wednesday for Big East media day, one word kept coming up in conversation: weird.
It was weird not seeing Jim Boeheim, Rick Pitino, Jamie Dixon and Mike Brey sitting at neighboring tables.
It was weird seeing Creighton's Doug McDermott as the league's Preseason Player of the Year.
Shoot, it was weird seeing Fox Sports 1 have their fingerprints all over the entire event.
That's a natural thought, of course, as the Big East has "relaunched" without Syracuse, Pittsburgh, Louisville, Notre Dame, Connecticut, Cincinnati, South Florida and Rutgers – with Creighton, Xavier and Butler taking their place to fill out the 10-team league.
"This conference has had quite the journey," commissioner Val Ackerman said.
It might not be over yet, as there have been reports of the new Big East expanding to 12 (or even 14) teams in the near future, with programs like Dayton, Saint Louis, Richmond and VCU among those mentioned. Ackerman said nothing would happen just yet, though.
But while all the changes have resulted in a completely different – and yes, possibly weird – conference membership, it certainly doesn't mean the Big East is taking a major hit.
"The perception has changed," Georgetown head coach John Thompson III said. "But when you start playing games and winning games, that will change. You're going from unquestionably the best basketball conference to, you can make an argument for it. But we're still in the discussion."
The 2013-14 version of the Big East is one of the deeper conferences in the country, as 70 percent of the league could be considered a legitimate candidate to compete for a title. That doesn't even count Butler, which has been one of the most successful programs over the last five years.
"There is an excitement," Butler head coach Brandon Miller said. "When you think about playing in the Big East night in, night out, you think about playing the tradition of the teams in the Big East. The success these teams have had, not only in the regular season, but in the NCAA tournament. As a competitor, that's what you want to do."
"Despite the teams that aren't in this room, there's a whole lot of tradition in this room," added Thompson III.
The TV deal with Fox Sports 1 means nearly every game will be nationally televised (CBS Sports and CBS Sports Network will also televise many games). Media exposure certainly won't be lacking, and the conference tournament still taking place in Madison Square Garden helps immensely.
"It's exciting," Xavier head coach Chris Mack said about moving from the Atlantic 10. "I guess different would be a good word. It's a first-class event; you see all the hundreds of media members."
While there have been zero "new" Big East games played yet, the schools are already winning battles off the court. Six of the 10 teams have recruiting classes ranked in the top 25 nationally, and 18 players ranked in the 247 Sports Composite top 125 have pledged to Big East schools. A few coaches were even mentioning that the league has more top 100 commitments from the class of 2014 than any other conference in the country.
As for the players already on rosters, Doug McDermott has been pegged as an All-American by nearly every outlet – including a couple naming him Preseason Player of the Year.
The Big East might take a hit with some of the nationally-ranked programs departing, but the league won't miss too much of a beat. There are high-profile coaches, elite recruits and top-notch players. Moreover, there is television and Madison Square Garden.
"We are going to make this conference a force," Ackerman said. We are going sure this is basketball at its best."
Even if it is a little weird.
Show Comments
Hide Comments
Motley, who averaged 17.3 points and 9.9 boards, is projected as a borderline first-rounde...

Sharpshooter's return figures to send the program to a place it has been only once before
Gary Parrish and Matt Norlander also discuss UNLV's recruiting class

The five-star big man is part of a surprise late-period recruiting coup by Marvin Menzies

It's time for random observers to stop being outraged by players' decisions