Night Court: Miami dominates No. 1 Duke, plus Shot of the Year?
The ACC is no longer Duke's to lose. Miami took a two-game lead with a 27-point thumping of the Blue Devils. What else happened on a wacky Wednesday?
• 7 min read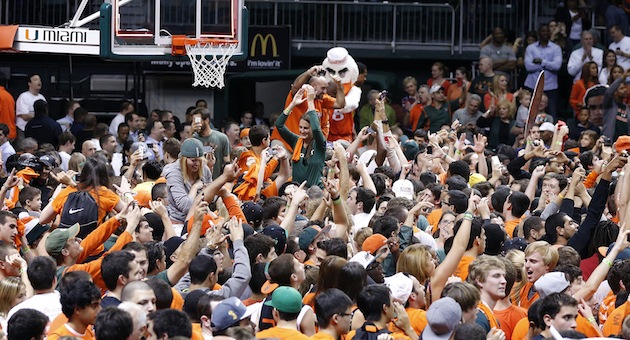 Miami had one of the more dominant performances of the season, steamrolling No. 1 Duke by 27 points. (US Presswire)
Here's everything you need to know from college basketball's Wednesday …  
Game of the Night: Miami (Fla.) Hurricanes sends message with 27-point win over No. 1 Duke Blue Devils .
This wasn't close. Duke took a 14-13 lead on a Quinn Cook 3-pointer midway through the first half -- and then Miami went on a 25-1 run to essentially end the game before halftime. The win gives Miami a two-game lead in the ACC, meaning the Hurricanes have become the hunted in the league. And this wasn't a fluke, either. Kenny Kadji (22 points) is starting to consistently be the matchup nightmare that he should be, while Durand Scott (25 points) and Shane Larkin (18 points) are forming a potent perimeter duo. Throw in the return of Reggie Johnson , and Jim Larranaga has a number of weapons at his disposal.
As for Duke, the loss was troubling. Sure, you can say that the injury to Ryan Kelly has played a factor in the recent struggles, but this was more than that. The Blue Devils didn't play hard once they got down and the shots weren't falling. They gave up a number of easy baskets, not getting back to defend in transition. The backcourt of Cook and Seth Curry combined to shoot 1-for-22 from the field, and Mason Plumlee 's defense was basically neutralized by the ability of Kadji to take him away from the basket. The ACC is no longer Duke's to lose.
What else we'll be talking about in the morning: The Shot of the Year?  Frantz Massenat hits a half-court shot to give Drexel Dragons a win over Hofstra Pride . Just watch the video.
Butler Bulldogs gets Butler'd by La Salle Explorers : No. 9 Butler had arguably the best game-winner in a long time on Saturday, when Rose Jones stole a Gonzaga inbounds pass and hit a runner at the buzzer for a one-point win. On Wednesday, the Bulldogs were on the other end of a game-winning shot. After Andrew Smith hit a layup with eight seconds left to give Butler a one-point lead, La Salle's Ramon Galloway went coast to coast to hit a game-winner with 2.7 seconds left. Galloway (six points) had struggled throughout the game, but his final shot made up for it. With VCU up next, La Salle needed a win over Butler to keep its at-large and A-10 title hopes alive.
That's a good win: New Mexico Lobos nearly blows 22-point lead, hangs on vs. Colorado State Rams .
New Mexico might not be as "sexy" as San Diego State Aztecs or UNLV, but the Lobos have a two-game lead on everyone else in the Mountain West after beating Colorado State on Wednesday 66-61. Tony Snell had 23 points, while Chad Adams contributed 13 points and six rebounds. Colorado State made a late run to cut the lead all the way to three, but New Mexico was able to hang on for the victory. The Lobos have the best NCAA tournament resume in the league and are looking more and more like a potential Mountain West champ.
But that's a bad loss: Creighton Bluejays drops second in a row, this time to Drake Bulldogs .
Losing at Wichita State Shockers is understandable, but Creighton lost on Wednesday to Drake, which was 2-5 in the Missouri Valley heading into the game. Drake had a 14-point halftime lead and made plays late in the game to hang on for the 74-69 win. What was more concerning, though, was the way that Creighton simply couldn't get any offense down the stretch. Doug McDermott had decent numbers, but he was getting pushed around late and couldn't get open. Grant Gibbs couldn't find any creases in the defense, and the 3-pointers weren't falling consistently.
However, this might explain some of it.
So here's the deal with the Creighton game. Doug McDermott threw up at halftime. 17 pts in 1H, 4 in 2H. Flu really, really sucks.

— LukeMeredith (@LukeMeredithAP) January 24, 2013
Another bad loss: Just a couple weeks ago, Minnesota Golden Gophers was right there with Indiana Hoosiers and Michigan as potential Big Ten contenders. Since then, though, the Golden Gophers have lost three in a row -- including a defeat at the hands of Northwestern Wildcats on Wednesday. The loss drops Minnesota to 3-3 in the Big Ten and into seventh place in the league. It's just something about games in Evanston that doesn't agree with Minnesota; the Gophers have lost five in a row at Northwestern. Minnesota has to figure out its offense if it is going to make a run at the upper tier of the Big Ten. It was clueless against Northwestern's zone.
One more bad loss: On Saturday, Iowa State Cyclones will start a five-game stretch that includes two games against Kansas State as well as contests against Oklahoma State, Baylor and Oklahoma. As a result, beating Texas Tech Red Raiders on Wednesday night was essentially imperative to get some momentum. Instead, the Cyclones shot 36 percent from the field and 26.1 percent from 3-point range in a 56-51 loss to Texas Tech. Tech had lost four in a row, and its best win of the season was over TCU. Just a really bad loss.
Players with impact
Colgate Raiders

snapped its three-game losing streak with a win over

Army West Point Black Knights

, and

Murphy Burnatowski

played a major role, going for 35 points and eight rebounds.
It was in a losing effort, but William & Mary's

Tim Rusthoven

had 25 points and 11 boards against

Northeastern Huskies

. In his last three games, he's averaging 21.3 points and 9.0 rebounds. 

John Schoof

simply couldn't miss from behind the arc for

American Eagles

, hitting eight 3-pointers en route to 27 points.

Dayton Flyers

smacked

Fordham Rams

by 45 points on Wednesday, with point guard

Kevin Dillard

scoring 22 points and dishing out eight assists. 
Numbers to figure:
1968: Duke's 27-point loss was the third-largest margin ever for a No. 1 team. Back in 1968, Houston lost to UCLA by 32. In 1951, St. John's lost by 42 to Kentucky (although Kentucky was ranked No. 1 in the AP).
56: That was the margin of victory for Southern Miss Golden Eagles against Marshall Thundering Herd . Wow. Southern Miss is now 16-4 on the season, 5-0 in Conference USA.
1980: That's the last time that La Salle defeated a top-10 team.
1998: That's the last time that Air Force Falcons scored 90 or more points in back-to-back games (via @D1scourse). The Falcons scored 91 over the weekend, 90 on Wednesday.
1925-26: Oregon Ducks hasn't started 6-0 in conference play in more than eighty years. 
Other outcomes of note:
Cody Zeller

had zero field goals and only two points, but Indiana was still able to handle

Penn State Nittany Lions

72-49.

Florida Gators

was down three at halftime to

Georgia Bulldogs

, but a big run at the outset of the second half helped the Gators cruise to a 64-47 win.

Scottie Wilbekin

went for 17 points.
Oregon overcame a 10-point halftime deficit to knock off Washinton State and improve to 6-0 in the Pac-12. This game belonged to forwards

E.J. Singler

and

Arsalan Kazemi

, who combined for 35 points.
No. 20 Wichita State went on a 16-2 run midway through the second half to help get a 10-point win at

Missouri State Bears

.

Cleanthony Early

and

Carl Hall

combined for 32 points and 17 rebounds.
No

C.J. McCollum

, no problem.

Lehigh Mountain Hawks

went into

Bucknell Bison

and took control of the Patriot League with a 65-62 victory.
Maybe

North Carolina Tar Heels

is finally picking up some momentum. The Tar Heels won their third in a row, handling

Georgia Tech Yellow Jackets

.

Reggie Bullock

continued his stellar play, scoring 17 points.
San Diego State bounced back from two straight losses by thoroughly handling

Nevada Wolf Pack

in the second half in a 78-57 win. J.J. O'Brien stepped up with 12 points for the Aztecs.
Guess who is now 16-3 overall?

Charlotte 49ers

, after beating

Xavier Musketeers

63-57. The 49ers might not have the most substantial resume, but Alan Major is no longer on the hot seat.

Boise State Broncos

bounced back from a two-game losing streak with a home win over

Fresno State Bulldogs

.

Derrick Marks

dropped 30. The Broncos have a road game at Nevada this weekend before a season-making five-game stretch. 
Notebook:
-- Leslie McDonald hasn't played in the last three games due to a knee injury, and North Carolina announced before Wednesday night's game that he was suspended for the next three games. Roy Williams said he would be medically cleared to play this week, but McDonald won't play until Feb. 2. He's averaging 8.4 points this season.
-- St. John's is now fourth in the Big East after beating Rutgers Scarlet Knights on Wednesday. Certainly didn't expect to say that at any point this season.
-- Northeastern improved to 7-0 in the CAA with a double-overtime win over William & Mary. Joel Smith dropped 29 for the Huskies while Jonathan Lee played all 50 minutes.
-- Denver Pioneers went more than 11 minutes without a field goal, helping New Mexico State Aggies move to 7-2 in the WAC with a 53-42 win.
-- What's wrong with Saint Joseph's? The Hawks are now just 10-7 overall after suffering a nine-point loss to St. Bonaventure Bonnies at home.
-- Maybe his brother-in-law's inauguration brought Craig Robinson and Oregon State Beavers some good luck. The Beavers won their first Pac-12 game of the season on Wednesday, knocking off Washington Huskies . The Huskies have lost two in a row.
-- Ohio Bobcats and Akron Zips are now 5-0 in the MAC after a couple of easy wins, while Charleston Southern rolled to 6-0 in the Big South with a win over Presbyterian.
-- Texas A&M has lost three in a row since beating Kentucky on the road. The Aggies fell at LSU Tigers on Wednesday 58-54.
-- Arkansas Razorbacks dropped 96 in a win over Mississippi State Bulldogs , and no one scored more than 17 points. The Bulldogs turned it over 28 times.
For more college basketball news, rumors and analysis, follow @EyeOnCBB on Twitter, subscribe to our RSS Feed and subscribe to our College Basketball Newsletter. You can follow Jeff Borzello on Twitter here: @jeffborzello
Archie Miller's debut season at Indiana will be a top-10 storyline in college basketball

Gary Parrish and Matt Norlander discuss last week's NBA Draft and look to next year's

Mizzou's basketball arena has around $1000,00 in damage
The two SEC coaches let everyone know what changes they think should come to the NBA Draft

It's not an outstanding slate, but the Big Ten has good opportunities with the most interesting...

The 2017 NBA Draft had more freshmen, and fewer seniors, taken in the first round than ever...