Night Court: OSU, Oregon escape; UMass, Missouri no longer unbeaten
Saturday's a loaded slate of some pretty nice hoops. It's good to have a Saturday like this before Christmas. Plenty to review. Night Court's here for ya.
by

Eye on Col Basket staff

• 11 min read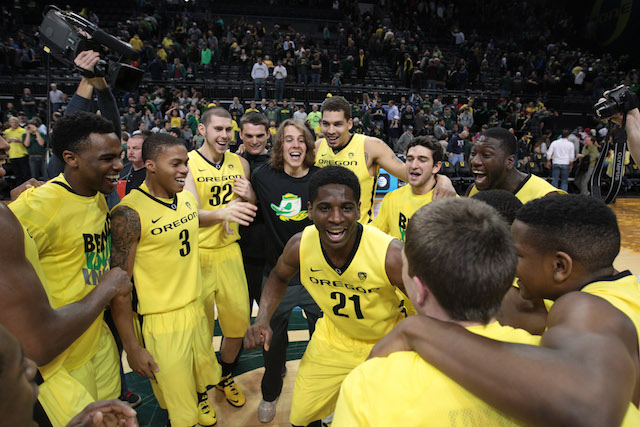 Here's everything you need to know from college basketball's festive, pre-Christmas Saturday … 
Game of the night: Seriously, is there anything else it could be? 
Notre Dame looked well on its way to a marquee win, knocking off Ohio Bobcats State -- the perfect way to follow up a win over Indiana last weeked. The Fighting Irish could enter ACC play with some momentum . . . and then the final minute happened. Up eight with under a minute left, Jerian Grant threw an errant pass -- and the rest was history. LaQuinton Ross made a shot, Demetrius Jackson turned it over, Lenzelle Smith made a shot. Grant turned it over again, Shannon Scott made two free throws. After Jackson hit two free throws, Smith was fouled shooting a 3-pointer -- and made all 3. Another missed free throw, and Ohio State had a chance to win. Aaron Craft drove the lane, dished to an open Smith, who laid it in. Craft then forced a turnover, and Ohio State closed out the 64-61 victory. 
While Ohio State deserves plenty of credit for a terrific comeback win -- and Ross, Smith and especially Craft were all terrific down the stretch -- this was an absolutely epic collapse by Notre Dame. The Fighting Irish went from a team looking like it was probably the third-best in the ACC to a group that will need to respond positively going forward. And how will they react in a close game? It's going to be interesting to watch this team the next couple weeks. Meanwhile, Ohio State remains undefeated. 
Game of the night, Vol. 2: Ohio State wasn't the only comeback team of the night.
BYU was minutes away from getting a monster win on the road, seconds away from handing Oregon its first loss of the season. The Cougars led for nearly the entire 40 minutes of regulation, but couldn't hang on down the stretch. BYU allowed the Ducks to tie the game in regulation (and actually should have won it, as Elgin Cook missed two FTs) -- and then pull away in overtime for a 100-96 win. 
Oregon remains undefeated, sitting at 11-0. The Ducks have now had three close calls in their past four games, but they found ways to pull out wins in each of them. Jason Calliste had 31 off the bench, while Joseph Young went for 25 points. It's another tough loss for BYU, which has now lost five of its last nine games. The Cougars are now 3-4 away from home, and are struggling to beat good teams consistently. They end non-conference play at 8-5. Tyler Haws dropped 32.
What else we'll be talking about in the morning: Missouri and UMass both lose their first games of the season. (These could basically be the third and fourth games of the night, too.)
Missouri was 10-0 heading into Saturday, but two free throws from Illinois' Tracy Abrams with 4.6 seconds left gave the Fighting Illini a 65-64 win. 
The Tigers had taken a one-point lead on Jabari Brown Bears 's 3-pointer, but Abrams capped off a very good night (22 points, six rebounds) with the winning foul shots. Tony Criswell's desperation shot didn't fall. Jordan Clarkson was outstanding for Missouri, cementing himself in the discussion as one of the best guards in the country. He had 25 points, six rebounds and eight assists, but his perimeter partners, Brown and Earnest Ross, shot just 7-for-20 from the field. 
Illinois had taken Oregon to the wire last weekend, and the Fighting Illini broke through this time. They didn't shoot all that well, but Abrams and Rayvonte Rice were solid throughout, and Jon Ekey hit a clutch shot in the final minutes. John Groce's troops were expected to take a step back this season, but they are 10-2 and will be a factor in the Big Ten. 
UMass is also no longer unbeaten after falling to  Florida Gators  State.
The Minutemen played their worst game of the season in a 60-55 loss against the Noles. An iffy no-call on a dunk near the end of the game by Cady Lalanne cost UMass a chance to get an and-1 and tie the affair. But if you're coach Derek Kellogg, you don't even want it to come to that with your team. The team was 1 for 15 from deep and UMass star point guard Chaz Williams had 10 points and seven rebounds on 4-14 shooting. Not good.
Florida State Seminoles now an 8-3 team and still cruising under the radar. This was solid (and ugly). FSU has a VCU win to pair with this one, and it should be in KenPom.com's top 30 come Sunday morning.
That's a good win: K-State shows up big in its win over Gonzaga Bulldogs .
The back injury to Sam Dower is a reason, not an excuse, for the Bulldogs dropping one to Kansas Jayhawks  State in Wichita. 72-62. Bruce Weber's team is now 8-3 and riding a six-game winning streak. This was by far the best -- and only -- win of meaning so far for the Wildcats this year.
We're surely going to have a better game move into this spot as the night goes on, but this was the most entertaining game on national TV that played out in Saturday's first five hours of hoops. K-State only had four turnovers and was totally ready for the guard attack from Gonzaga.
Speaking of turnovers, Gonzaga is yet to play a game where it's committed more than 12 turnovers this year.
Another good win: Oklahoma State handled Colorado for most of the 40 minutes in Las Vegas.
The Buffaloes made a couple of late pushes down the stretch, but a missed 3-pointer by Tre'Shaun Fletcher and two missed free throws by Josh Scott meant they couldn't get over the hump. Spencer Dinwiddie (18 points) struggled in the first half, but picked up his play in the second stanza and helped keep Colorado in it. On the flipside, Askia Booker (19 points) had a big first half. Oklahoma State continues to roll, and it's the play of second and third options Markel Brown and LeBryan Nash, respectively, that are bringing optimism to the Cowboys. Brown had 23 points and 10 rebounds, while Nash had 15 and 6. Throw in Phil Forte's 16 points, and Travis Ford has plenty of weapons at his disposal. (And we didn't mention Marcus Smart.) 
But that's a bad loss: Maryland Terrapins drops a game to Boston University Terriers .
The Terps are by no means an NCAA tournament team. Seth Allen's absence due to injury has hampered the team's potential, but it's still boggling to see Mark Turgeon's team at 7-5 and treading water into the new year. An 83-77 final in Maryland's home floor, and next up is home against Tulsa Golden Hurricane next Sunday.
D.J. Irving was stellar for the Terriers, scoring 25.
North Carolina being North Carolina: The Tar Heels didn't lose to an unranked team this time, but did need overtime to get past Davidson. The same Davidson with three Division-I teams and losses to Niagara and Milwaukee. Moreover, if the Wildcats hadn't constantly turned it over and missed free throws down the stretch, North Carolina would have fallen yet again. However, North Carolina controlled the extra period and ended up with a 97-85 win. J.P. Tokoto led the way for the Tar Heels with 22 points and 11 rebounds -- but Davidson's Brian Sullivan stole the show, with 33 points.
Players with impact
Alec Brown got a 40 burger for

Green Bay Phoenix

in the Phoenix's 74-58 win over

Fairfield Stags

at home. The last Green Bay player to put up that many? Current

Virginia Cavaliers

coach Tony Bennett, who went nuts back in '89. 
Julius Randle had a career-high 29 points in addition to his 10 boards.

Belmont Bruins

was absolutely helpless to guard him within six feet of the hoop, as most teams will be this season.
North Carolina State's T.J. Warren is one of the best pure scorers in the country. For some of Saturday's game against East Carolina, it looked like he might get 50. But he finished with 32 points and eight boards. Ho hum. 

Oakland Golden Grizzlies

's Corey Petros had 19 rebounds and the Grizzlies' Travis Bader sank 10 3-pointers ... in a loss. An 81-79 L, in OT, at home, for Oakland against Eastern

Michigan Wolverines

. 
Bryce Cotton was productive: 22 points and 10 assists for the Friars in

Providence Friars

's 94-70 win over

Maine Black Bears

.
Good performance in a loss for Tennessee-Martin's Myles Taylor: 34 points, 11 rebounds.
Temple's Dalton Pepper went for 26 points, 10 rebounds and six 3-pointers.
Numbers to figure
This is insane:
STAT OF NIGHT: The Buckeyes scored 17 points in the first 19:10 of the second half & 14 in the final 50 seconds. #GoBucks #OSUvsND

— Ohio State Buckeyes (@OhioStAthletics) December 22, 2013
42: VCU had 42 of its 82 points come off turnovers -- in a blowout win over Virginia Tech. That's an insane number for the Rams, especially against a power-conference team. 
5: Travis Bader's current standing on the all-time 3-pointers made list.
152: D'Angelo Harrison became the all-time leader in 3-pointers made at St. John's -- and he's only a junior. 
36-0: Kentucky Wildcats 's all-time record against the Ohio Valley after beating Belmont.
8: The number of wins in a row on the road for Michigan State Spartans against unranked teams, fourth-longest streak in the country. Via.
Kansas had 46 free throw attempts against Georgetown Hoyas , tied for its most in a game over the last 15 seasons.

— ESPN Stats & Info (@ESPNStatsInfo) December 21, 2013
Other outcomes of note:
Michigan State wasn't fully healthy in its 92-78 win in Austin, but boy did it look it for most of the game. The Spartans have the weapons, shooting, defense, speed, smarts and coaching to win it all this year. They are fun. Very fun! Not perfect, but I'm not sure I can remember an MSU team in the past six or seven years that was more enjoyable to watch than this group.

Texas Longhorns

couldn't handle all that Adreian Payne, who had 33 points and went 10-of-13 from the field, plenty of those shots from the mid-range. His game is getting better and better. Gary Harris' tender ankle led him to come off the bench; he had 19. The highlight was this Denzel

Washington

Valentine assist of the glass to Branden Dawson, perhaps the best athlete in college hoops.
Stanford showed us something this week, beating Connecticut on the road and then taking Michigan to the wire in Brooklyn. The Wolverines pulled out the win, 68-65, behind 19 points from Nik Stauskas and 17 from Glenn Robinson III. Mitch McGary didn't play due to various injuries. 
Both Marquette and New Mexico could have used a win on Saturday, with Marquette looking to boost its non-conference resume, and New Mexico coming off two straight losses -- and playing without Hugh Greenwood. Cameron Bairstow and Deshawn Delaney both had double-doubles for New Mexico, but freshman guard Cullen Neal was huge. He had 24 points and six 3-pointers. 
Still unbeaten: 

Toledo Rockets

. Now an 11-0 team after winning 71-67 at home against 

Cleveland State Vikings

. A nice story, but nobody's giving the Rockets any love until they play Kansas next weekend. Keep that one close, and then it's a new conversation.
Also still unbeaten:

Villanova Wildcats

. Wildcats rolled past

Rider Broncs

88-67.
Some other ranked teams that won: Florida (over Fresno State), Memphis (over Southeast Missouri State), Louisville (over Florida International), and San Diego State (over McNeese State).
Naadir Tharpe's play will of course be very critical in determining Kansas winning the Big 12 this year. The Jayhawks have a lot of talent, but Tharpe at the point is now finally showing signs of consistency that can allow us to consider KU a title contender. Kansas won 86-64 at home over Georgetown on Saturday because the big men played so well and Tharpe was in charge.
LSU's frontcourt trio of Johnny O'Bryant, Jarell Martin and Jordan Mickey combined for 41 points and 13 rebounds in the Tigers' win over UAB. LSU looks more and more like the third-best team in the SEC. 

Harvard Crimson

is now 10-1 after beating

Vermont Catamounts

74-68. The #2BidIvy remains a dream following

Princeton Tigers

's win over

Pacific Tigers

Friday night. Tigers are 9-1.

Georgia Tech Yellow Jackets

Tech" data-canon="Georgia Bulldogs" data-type="SPORTS_OBJECT_TEAM" id="shortcode0">'s now done too much damage to hope for an NCAA berth this year. Yellow Jackets dropped a road game to an average Vandy team, 76-63.
Pitt beat

Cal Poly Mustangs

73-56. Not a game of note, except that Pitt wasn't called for one foul in the first half.
North Dakota State has now won seven of eight, with the lone loss coming against Ohio State. The Bison beat CAA favorite Towson on Saturday. Keep them in mind come March.
Alabama has lost five of seven to drop below .500. Xavier beat the Crimson Tide in Tuscaloosa. 
It wasn't pretty, but Virginia snapped its two-game losing streak by holding Northern Iowa to 43 points in a win. 
Notebook:
-- Awesome.
Shortest & tallest players in NCAA D-I hoops: Charles Webb of @DU_Pioneers & Mamadou Ndiaye of @UCIAthletics: pic.twitter.com/LQrI7hlNQz

— Steve Chen (@BigWestMD) December 21, 2013
-- St. John's beat Youngstown State on Saturday, but there was some interesting morning personnel decisions. Freshman guard Rysheed Jordan didn't play due to an illness in the family, and Steve Lavin decided to burn the redshirt of guard Felix Balamou.
-- We talk about Tharpe with Kansas. Kentucky's point guard situation is nearly as cruicial. Of note from Kentucky: shooting guard Aaron Harrison has been scoring 17/game in the past six games. He had a career-best seven dimes today, but his brother is not up to snuff.
Cal: "I want Andrew to be the best point guard in the country … Right now, a lot of times he's not the best point guard on the court."

— Kyle Tucker (@KyleTucker_CJ) December 21, 2013
-- "I'm not a doctor, OK, but if he had a concussion it's very, very, very slight." -- Bill Self, very much not a doctor. He's talking of Perry Ellis, who at the very least has a bruised neck.
-- Ben Howland has been fishing and loving his life away from basketball, for now.
-- Meanwhile. Um, guys, Buzz Williams is jacked. Everything's changed.
-- Damontre Harris will never play a game for Florida.
-- Jordan Dickerson has been cleared to play at Penn State Nittany Lions . SMU transfer.
-- A shoutout to teams that are great from the foul line: Buffalo Bulls and Manhattan Jaspers played 45 minutes and went a combined 60 for 73 on free throws. Most impressive. The Jaspers, best in the MAAC, won it 84-81.
Show Comments
Hide Comments
The former five-star recruit has not yet hired an agent

Shareef picked Arizona over UCLA, USC, LSU and others

Stephen Curry, Damian Lillard, C.J. McCollum and Ian Clark didn't come from college powerhouses,...
The four-year player at VCU will try and make the Colts as a tight end

Letting teams open on a Friday in football season has never made sense

College basketball's season could start earlier