Night Court: Pac-12 play takes center stage
The Pac-12 highlighted Thursday's schedule, with Oregon winning on a buzzer-beater, Arizona State suffering a bad loss, and Cal looking good.
• 4 min read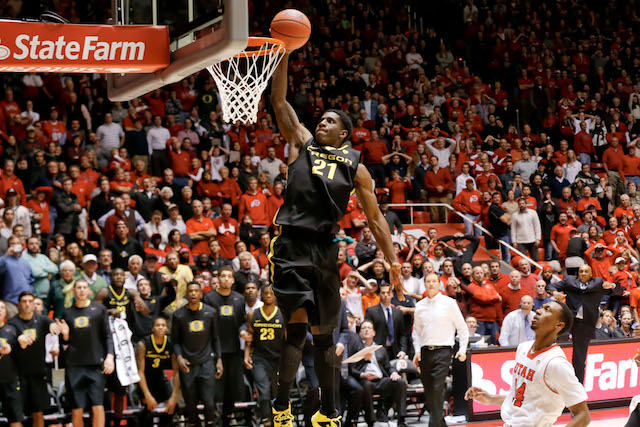 Here's everything you need to know from college basketball's Thursday …  
Game of the Day: Oregon Ducks gets a dunk from Damyean Dotson with 0.6 seconds left to beat Utah and stay unbeaten. (VIDEO)
Thursday looked like it might be the end of the road for Oregon's undefeated season, but the Ducks found a way to go into Utah and come out with a two-point victory to move to 13-0. After missing at the buzzer of regulation, Utah had another chance to win in overtime – but Dotson deflected a pass with fewer than six seconds left, sprinted past everyone in transition and dunked it with under one second left for a 70-68 win. Utah's Jordan Loveridge missed an open 3 at the buzzer.
Oregon has had some close calls over the past month, but they still find ways to win. The Ducks have one of the deepest and most talented perimeter groups in the country, but the frontcourt stepped up on Thursday. Elgin Cook and Richard Amardi combined for 23 points and 13 rebounds, while Mike Moser also grabbed 11 boards despite struggling from the field. Utah had a gaudy 11-1 non-conference record, but Thursday's loss doesn't mean the Utes are suddenly overrated. They are going to be very difficult to beat, especially at home. Loveridge and Delon Wright are two of the best players in the league.
What else we'll be talking about in the morning: Michigan Wolverines goes into Minnesota Golden Gophers and gets a win – but at what cost?
The battle for fifth place in the Big Ten is going to be intense (assuming Ohio State Buckeyes State" data-canon="Ohio Bobcats" data-type="SPORTS_OBJECT_TEAM" id="shortcode0">, Wisconsin Badgers , Michigan State Spartans and Iowa Hawkeyes finish in the top four) – and Michigan picked up a nice early scalp with a 63-60 road victory at Minnesota. The Golden Gophers couldn't get stops down the stretch, and they only shot 5-for-19 from 3-point range. The Andre Hollins-Austin Hollins combined to shoot 4-for-19 from the field, with Austin finishing with two points. Nik Stauskas was excellent late in the game for Michigan, and Jon Horford stepped up in place of Mitch McGary with 14 points and nine boards. Zak Irvin also hit five 3-pointers for the Wolverines.
However, Glenn Robinson III injured his ankle in the second half and didn't return. After the game, head coach John Beilein said Robinson was questionable for Sunday's game against Northwestern Wildcats .
That's a good win: Undermanned California Golden Bears gets a road victory at Stanford Cardinal .
California has been bitten by the injury bug multiple times this season, and the Golden Bears were without Jabari Bird and Ricky Kreklow for Thursday's matchup at Stanford. That didn't matter in the 69-62 win. Tyrone Wallace had 20 points, while Justin Cobbs was terrific down the stretch, finishing with 18 points and five assists. Richard Solomon also had 14 points and 13 boards. This could end up being a huge win come Selection Sunday. If Cal can get healthy in February, it will be a formidable opponent. As for Stanford, this is the sort of game it needed to win. The Cardinal could have trouble guarding the quicker, more perimeter-oriented groups in the league.
But that's a bad loss: Arizona Wildcats State gets steamrolled at home by Washington Huskies .
The 76-65 final wasn't indicative of how much of a blowout the game really was. Washington was up 17 at halftime, and the lead extended to as many as 23 points in the second half. Arizona State Sun Devils was 2-for-14 from the 3-point line, and Jermaine Marshall Thundering Herd was just 2-for-11 from the field, finishing with four points. Jahii Carson had 15 points, but it wasn't nearly enough. The Sun Devils have the talent to make the NCAA tournament, but losses like this make you wonder.
Players with impact
Eastern Kentucky Colonels

" data-canon="Kentucky Wildcats" data-type="SPORTS_OBJECT_TEAM" id="shortcode0">'s Glenn Cosey hit 10 3-pointers and finished with 34 points and six rebounds against Eastern

Illinois Fighting Illini

.
Another 10 3-pointers came from

East Carolina Pirates

's Akeem

Richmond Spiders

, who finished with 37 points.
It was against a non-D1 team, but

IUPUI Jaguars

's Donovan Gibbs still had 32 points and 11 boards.
Two big performances in losses:

Campbell Fighting Camels

's Reco McCarter, who had 29 points and five assists, and

Youngstown State Penguins

's Kendrick Perry, who went for 31 points and four dimes.
Numbers to figure
8: Arizona State has now lost eight games in a row to Washington.
25, 9: Per beat writer Bruce Pascoe, Washington State Cougars set McKale Center records for fewer points and field goals.
31: Montana saw its 31-game home conference winning streak snapped by Northern Arizona.
Other outcomes of note:
The best rivalry in the WCC wasn't much of anything. Saint Mary's made one 3-pointer, had two assists, and ended up with a 73-51 loss to

Gonzaga Bulldogs

. The Bulldogs have a bigger edge on the league than initially thought.
No. 1 Arizona had no issues with Washington State. Literally, none at all. The Cougars had seven points in the first half. The final was 60-25 Arizona. A football score of sorts.
Wisconsin was another unbeaten that cruised to a win, as freshman Nigel Hayes went for 19 points and six boards off the bench in a 76-49 win over Northwestern.
And

Wichita State Shockers

rounds out the four unbeatens that remained that way on Thursday, going to

Southern Illinois Salukis

Illinois" data-canon="Southern Jaguars" data-type="SPORTS_OBJECT_TEAM" id="shortcode0"> for an 82-67 win. Cleanthony Early had 23 points.

Oregon State Beavers

showed signs on Thursday of being more competitive in the Pac-12 than expected, but the Beavers fell short at No. 20

Colorado Buffaloes

, 64-58. The

Buffalo Bulls

es get unbeaten Oregon this weekend.
Notebook:
-- Iona Gaels at Quinnipiac Bobcats was postponed due to the snowstorms in the Northeast and New England.
-- Green Bay Phoenix took an early edge in the Horizon, beating Cleveland State Vikings (perhaps its biggest threat) by 11.
-- Sam Dower returned for Gonzaga on Thursday, playing seven minutes. Gary Bell Jr. is still out.
-- Kennesaw State Owls head coach Lewis Preston is taking a "temporary leave of absence due to medical and personal reasons."
Show Comments
Hide Comments
The information on who harassed John Higgins will now be turned over to the FBI

Some of these future NBA picks might work out, but others won't sniff being drafted

This is a good development for Louisville, which may avoid having its coaches forced to testify...
The athletic guard withdrew from the NBA Draft late Wednesday night

Next step in the case, which began in 2011, is for UNC to face the NCAA's Committee on Inf...

We look at 40-plus teams affected by this year's NBA Draft