Night Court: Syracuse wins Maui Invitational
Syracuse knocked off Baylor to win the Maui Invitational, while Duke and Arizona are poised for a high-level matchup on Friday.
• 4 min read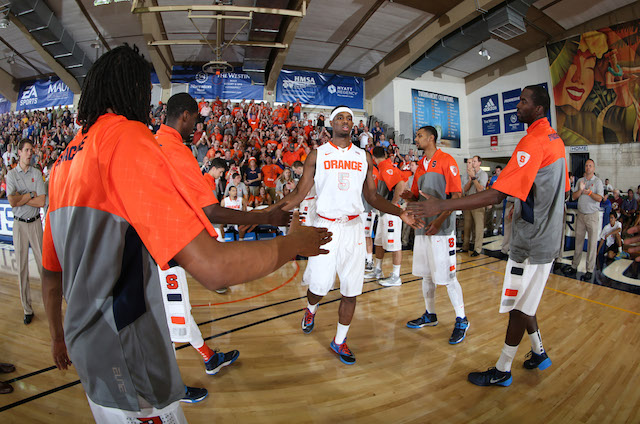 Here's everything you need to know from college basketball's Wednesday …
Game of the Day: C.J. Fair and Jerami Grant lead Syracuse Orange to the Maui Invitational championship over Baylor Bears .
Syracuse hit some bumps in the road while it was in Maui (including C.J. Fair actually getting hit in the face), but the Orange played a complete game on Wednesday night to secure a Maui Invitational title. C.J. Fair had 24 points to help lead Syracuse to a 74-67 win over Baylor in the title game. The Bears simply couldn't get inside the perimeter in the first half, and Fair constantly hit clutch shots in the second half to keep Baylor at bay. Jerami Grant had another stellar game, finishing with 19 points off the bench. Tyler Ennis continued his fantastic first-year play at point guard, going for 11 points, nine assists -- and zero turnovers. Ennis also picked up the game-clinching steal and timeout in the final minute. Syracuse improves to 7-0, while also ending the nation's longest active win streak (Baylor had won 11 in a row dating back to last season). 
What else we'll be talking about in the morning: The stage is set for a top-notch matchup Friday between Duke Blue Devils and Arizona Wildcats .
For the first 15 minutes or so, it looked like the potential matchup between No. 4 Arizona and No. 6 Duke might not actually transpire. Drexel Dragons jumped out to a 27-8 lead on Arizona, and the Dragons were rolling. However, foul trouble and Damion Lee 's injury caught up to Bruiser Flint's troops in the second half, and Arizona ended up coming back for a 66-62 win. Kaleb Tarczewski was dominant late, going for 15 and 10, while Nick Johnson had 20 points. It wasn't nearly as close in the second semifinal. Duke recovered from its near-losses against East Carolina and Vermont, and a 20-5 run late in the first half was all the Blue Devils needed to create separation. Alabama Crimson Tide made a run in the second half, but Duke pulled away down the stretch. Jabari Parker finished with 27 points and eight boards, and Duke got the 74-64 win.  
And now, we'll have the matchup we wanted to see on Friday. Duke vs. Arizona. Jabari Parker vs. Aaron Gordon . Duke's perimeter-based lineup against Arizona's size. To me, it's going to be interesting to see which lineups each team goes with. Arizona tried to go with Gordon at the three against Drexel, but it didn't work and Sean Miller ended up moving him to the four. Will Duke have to go bigger against Arizona – or will the Wildcats have to go small? There are plenty of strategic moves to be discussed over turkey the next couple of days.
That's a good win: Dayton Flyers comes out of Maui with two good wins.
Dayton wasn't picked by most people to finish better than fifth in the Atlantic 10 – but the Flyers are looking like a top-three team in the league, at worst. They went to Maui and knocked off Gonzaga Bulldogs and California Golden Bears , and had a 10-point lead with seven minutes left against Baylor before losing by one. Wednesday would see no sort of comeback, as the Flyers beat Cal by 18. Devin Oliver went for 21 points, and the bench contributed 52 of the 82 points. (Note: Richard Solomon was out again for California after suffering a right corneal abrasion on Monday.)
Players with impact
Kelsey Barlow

had himself a day. The former Purdue transfer had 38 points, eight rebounds, five assists, five 3-pointers, 17 free throws. Illinois-Chicago beat

Wagner Seahawks

.

Boise State Broncos

's

Derrick Marks

is one of the most guards in the country – but he's struggled some to start the season. Wednesday wasn't one of those days. He had 39 points to beat

Idaho Vandals

.
One of the most impressive players in Maui was Gonzaga's

Kevin Pangos

. On Wednesday, he knocked down seven 3-pointers and finished with 34 points.
Big-time double-double from William & Mary's

Tim Rusthoven

. Twenty-six points, 16 rebounds – and five assists.

Youngstown State Penguins

fell to

Kent State Golden Flashes

, but the Penguins got a great performance from

Kamren Belin

: 32 points on 14 shots, plus seven rebounds.
Numbers to figure:
27: Duke has now won 27 straight regular season tournament games.
500: Kentucky Wildcats has now won 500 games at Rupp Arena.
7: Jabari Parker scored 20 points in his first seven career games. Per ESPN, the last freshman to do that was Kevin Durant.
Other outcomes of note:
Kentucky was only up three at the half on Eastern Michigan, but the Wildcats ended up cruising by 18 thanks to

Aaron Harrison

's 18 points and

Willie Cauley-Stein

's 15 points, eight rebounds and seven blocks.
Gonzaga ended up bouncing back from its opening-round loss to Dayton by beating Chaminade – and then handled

Arkansas Razorbacks

on Wednesday. As we mentioned above, Kevin Pangos emerged as one of the most dangerous scoring guards in America. (And Canada.)
Another day, another

Wisconsin Badgers

win. This time, the Badgers knocked off West Virginia in Cancun, 70-63, to improve to 8-0. Twenty-one and 12 for

Sam Dekker

.

Utah Utes

moved to 6-0 after beating

Ball State Cardinals

.

Minnesota Golden Gophers

only exited Maui with one win, and it came against Chaminade on Wednesday. Moreover, the Golden Gophers struggled for much of the game – including a nine-point deficit with 11 minutes to play.
Notebook:
-- Although there were no Battle 4 Atlantis games on Wednesday, the reported altercation between Tim Floyd and Andy Enfield certainly made headlines.
-- Because Arizona came back to beat Drexel, the Dragons' fantastic backcourt might not get the attention it deserves. Matt Norlander wrote about them, though.
-- Unfortunately, one of those talented perimeter players could miss time. Damion Lee injured his knee, but we won't know the extent until later this week.
-- Oregon added three years to the contract of head coach Dana Altman. He's now signed through 2020.
-- This commercial, man. It's got Lute Olson doing the robot, so have at it.
Buddy Boeheim was so impressive at Peach Jam that Gonzaga offered; others showing interest

The truths and myths about the push for 2018's No. 1 recruit to play college hoops a year...

Here are the under-the-radar players who will have breakout seasons in 2017-18
Duke coach says sometimes troubled guard played hurt last season, adding, 'I'm really proud...

Michigan, Marquette, California, LSU and VCU are also in the 34th annual field

The expected rise of Missouri figures to be a storyline once they start playing for real