Night Court: Three top-10 teams escape, but 'Cuse isn't one of them
Wednesday was a wild one in college basketball.
• 5 min read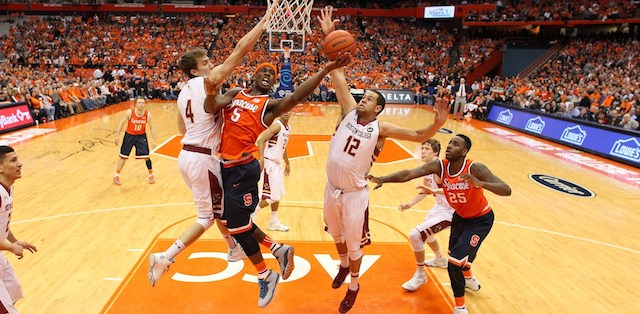 Here's everything you need to know from college basketball's Wednesday …  
Game of the Day: Syracuse loses its first game of the season, falling at home to seven-win Boston College.
We already did a post on this earlier tonight, but it's still a shocker. Boston College was arguably the worst major-conference team in the country, heading toward last place in the ACC, with a head coach on one of the hottest seats in the country – yet the Eagles went into the Carrier Dome and came out with a 62-59 victory. Olivier Hanlan had 20 points for the Eagles, which responded well in overtime after it seemed Syracuse might have had the momentum.
Syracuse has a tough turnaround ahead, tripping to Duke this weekend – and then going to Maryland and Virginia next week. Matt Norlander looked at how the final unbeatens in past seasons have finished in the NCAA tournament.
What else we'll be talking about in the morning: Close wins by top-10 teams: Florida, Arizona, Saint Louis.
Syracuse was almost joined in the upset department by a trio of teams, although all three ended up escaping with wins. No. 2 Florida was aided by some terrible last-minute decisions by Auburn, but the senior-laden Gators were able to come out with their 18th straight win. Another team winning its 18th straight game was No. 10 Saint Louis, although the Billikens needed overtime to take care of George Mason. Jordair Jett's free throw with under one second left tied it up in regulation. And lastly, No. 4 Arizona knocked off Utah in overtime, 67-63. Gabe York provided a nice boost as a starter, scoring 15 points and providing an outside shooting option. The Wildcats needed that win to stay in the No. 1 seed hunt.
That's a good win: UCLA makes a statement, dominating California in Berkeley.
With Arizona struggling sans Brandon Ashley, there is a segment of the college hoops community that thinks UCLA has a chance to be the best team in the Pac-12. And the Bruins certainly looked like it on Wednesday night. They absolutely dominated California, 86-66, shooting 59 percent from the field and better than 53 percent from 3-point range. Jordan Adams had 28 points to lead UCLA, which has won four in a row and seven of eight. California has lost five of its last eight games.
And that's a bad loss: Minnesota sees its at-large resume take a hit with a home loss to Illinois.
The Golden Gophers were in decent NCAA tournament shape prior to Wednesday, sitting ahead of the bubble for the most part. But a 13-point home loss to Illinois will drop them back to the pack. The Fighting Illini had been poor throughout Big Ten play, losing 10 of their last 11 games. But they shot 61.5 percent from 3-point range, while also forcing 15 turnovers. Minnesota couldn't buy a basket from the outside, making just four of its 25 3-point attempts.
Players with impact
Kyle Anderson gets most of the attention for UCLA, and rightfully so. But Jordan Adams' 28 points, six rebounds and five assists against Cal were impressive.
VMI just makes this fun. D.J. Covington went for 33 points, eight rebounds and three blocks in a win on Wednesday.
Terrific all-around line from Buffalo's Javon McCrea: 20 points, 13 rebounds, eight assists, three blocks.
Manhattan is starting to find its way in the MAAC, and George Beamon could be the difference come March. He had 31 points and six 3-pointers on Wednesday.
Perfect from beyond the arc: Kent State's Kris Brewer went 7-for-7 from 3-point range and finished with 28 points.
George Mason suffered a tough overtime loss to Saint Louis, but Sherrod Wright went for 34 points.
Mississippi State's Craig Sword had 33 points, three rebounds, three assists and three steals in a losing effort. 
Numbers to figure
1: That's how many Division-I teams Boston College had defeated since November. Before beating No. 1 and undefeated Syracuse.
6: Six teams are winning streaks of 10 games or longer. Wichita State leads the way with 28, but the surprise of the group is North Carolina Central, with 12.
30: Florida's close win brings the Gators even with Duke and Stephen F. Austin for the longest home winning streaks in the country.
543: Indiana State's Jake Odum passed Larry Bird to set the Sycamores' all-time free-throw record, with 543 made free throws.
Boston College: 1st sub-.500 team to win road game vs #1 team since Georgia Tech in 1955 over Kentucky #BCvsCUSE

— ESPN Stats & Info (@ESPNStatsInfo) February 20, 2014
Other outcomes of note:
Wichita State remained undefeated – now the last unbeaten in the country – with a victory over Loyola Chicago. Fred VanVleet was terrific, with 22 points, eight rebounds and six assists.
Sean Kilpatrick had 23 points to lead Cincinnati to a 77-49 road win at UCF.
Ohio State cruised past Northwestern, 76-60. But there was an altercation during the game, and the Big Ten announced that Nikola Cerina would be suspended one game – but LaQuinton Ross would not have to sit out a game.
Another 25 points for Doug McDermott, as Creighton won at Marquette. It was the Golden Eagles' second home loss in league play in their last 26 games.
New Mexico's final tuneup before its showdown with San Diego State this weekend went well, as the Lobos got 29 points from Kendall Williams to beat UNLV.
Kansas State had four players in double-figures to beat TCU, which remains winless in Big 12 play.
Colorado needed a win on Wednesday more than Arizona State, and the Buffaloes got it. Josh Scott had 13 points and 13 rebounds, while Askia Booker held his own against Jahii Carson with 18 points, six rebounds and three assists.
Jabari Brown had his worst offensive game in months, but Missouri still beat Vanderbilt behind 21 points from Jordan Clarkson.
Xavier, Oregon and SMU stayed in good shape, while Saint Joseph's, LSU, Dayton, Arkansas kept their at-large hopes alive with wins – see how the bubble looks right now with Poppin' Bubbles.
Boston University opened a two-game lead in the Patriot after beating second-place American.
Delaware bounced back from its first loss of the season by hanging on to beat Hofstra on the road.
After Wednesday's action, the Big South race got more complicated. There are three 9-4 teams and four 8-5 teams. Should be a fun finish.
Notebook:
-- We don't see this very often: Winston-Salem State and Johnson C. Smith played to a tie on Wednesday night.
-- Norfolk State head coach Robert Jones received a contract extension through the 2016-17 season.
-- Alabama forward Nick Jacobs has taken an indefinite leave of absence from the team.
Show Comments
Hide Comments
The dynamic athlete and electric SG will be one of the biggest names in college hoops next...

The sophomore forward averaged 18.5 points, 12.5 rebounds and 3.1 assists this past season

On the day of the NBA Draft deadline to return It was good news, bad news for Wolverines
Diallo could be taken in the first round even though he didn't play a minute for the Wildc...

M.J. Walker, the No. 26 player in the nation, is FSU's second top-100 recruit in the Class...

Averaged 7.1 points and 5.1 boards in 14.6 minutes a game as UNC's first one-and-done since...